Thomas Barr believes setting a personal best time indoors in Athlone on Wednesday night was a timely "confidence booster" in an Olympic year.
The 400 metre hurdler finished third at the AIT International Grand Prix behind European bronze medallist Tony Van Diepen and three time World indoor champion Pavel Masla in a time of 46.44 seconds in the 400 metres flat. 
It was 0.3 of a second faster than his previous best on the flat.
WIth the Olympics on the horizon in Tokyo later this year, Barr felt it was a good way to kick off his year.
"It's a good, good confidence booster," he told RTÉ Sport.
"I'd been going well. I found this season a lot easier to get into because the Olympics and our majors are a lot earlier.
"Last year, it wasn't until October the majors. This time it's July. 
"I've hit the ground running this year quite well. Training was going really well the last couple of weeks off the back of a bout of warm weather training.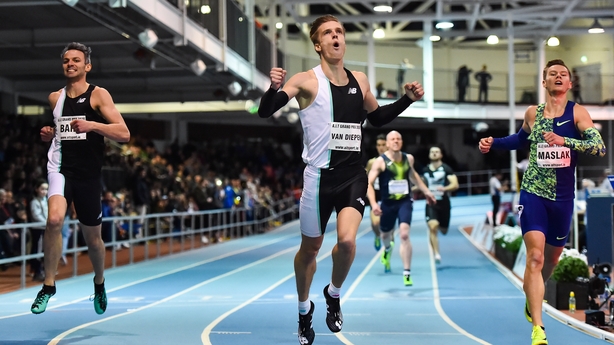 "I ran a really fast 300 in training and even my training group were wondering, 'My god, where the hell did that come out of?'
"So I really wanted to bring that into this and if anything, I felt like had even more in the tank which is a great way to be at this time of the year."
The fact that he has started the year in such fine form makes the remainder of 2020 a tantalising prospect for the Waterford hurdler.
"Because this was my first race. I had no race practice coming into this," Barr said.
"When I ran my PB out here two years ago, I had already run a couple of indoor races. 
"So this one is the first one out. Cobweb, duster and everything and it was a PB. So I'm very happy with that."
But the 27-year-old added that he has not sought to make too many changes to his preparation for this year.
However, the fact that Tokyo 2020 is looming on the horizon, has had a mental benefit.
"Obviously with it being an Olympic year, there is an extra little bit of focus maybe definitely in comparison to last year," he said.
"I found it a lot easier to focus in training because I'm not trying to focus on a goal that's nearly ten months away.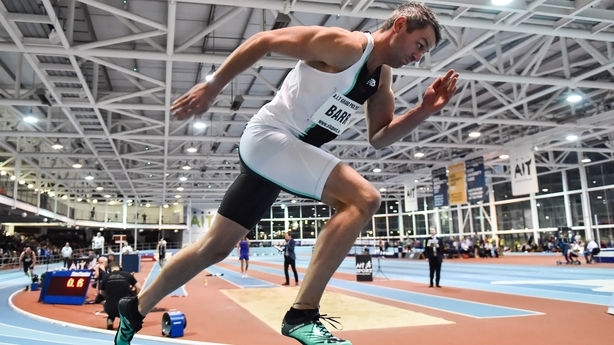 "I'm actually focusing on a goal that's only six months away. So it's much easier in that respect."
However, Barr who just missed out on the podium in the 400 metre hurdles at Rio 2016, still has to seal his 2020 Olympics spot. But he is optimistic that qualification will be confirmed soon.
"I actually have quite a high ranking from last year and it's going to carry forward," he said.
"I'm in sixth place in the rankings. Other than that, I just need to maintain that ranking position.
"So I have to get a couple more races, come out in some of the big races like Diamond League hopefully, if I can get them, and get some good points on the board and that will keep me in a good ranking position. 
"If not, if I run a 48.90 or faster which I should... I'll hopefully get that qualifying time down early in the season and then I don't need to worry about it again."