Jason Smyth told RTÉ 2FM's Game On that he has already switched his focus to next year's Paralympics, just a few hours after claiming an eighth World Para-Athletics Championships gold medal. 
Smyth came home in 10.54 seconds in the T13 class in the 100m, which is just .08 off the world record he set in London back in 2012.
The 2020 Paralympic Games take place in Tokyo, starting in the last week of August.
"Looking forward, I'm really in a good place to kick on moving into the Paralympic Games in nine months' time," he said.
"Things are positive, it was a great year, and looking good moving forward."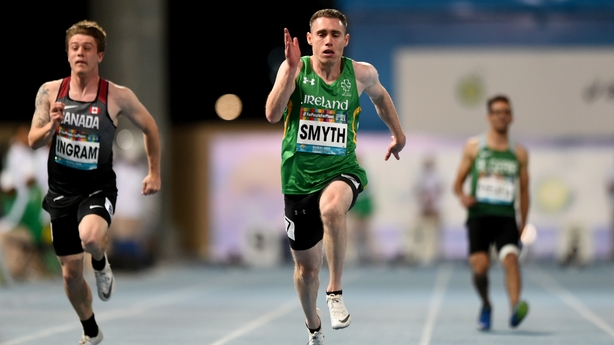 It was a second medal for Team Ireland at the championships, after Niamh McCarthy claimed bronze in yesterday's F41 discus final.
"I can't remember too much of what happens when the gun goes," Smyth admitted.
"From once the gun goes, and then all of a sudden you're crossing the line. It's a major event, and the reality is it's about who crosses the line first.
"It was a championship record, so I knew I was in good shape coming into these championships.
"It's these moments that we're all looking for, the ones we want to be a part of. You have to enjoy them because the reality is in a number of years' time you're not going to be competing at this level.
"These opportunities are going to be gone."
With three T13 100 metres gold medals already to his name from Beijing, London, and Rio, as well as another two T13 200 metres golds from 2008 and 2012, Smyth says he knows what he has to do between now and next August.
"Sport never stops, your competitors never stop," he added. 
"For me, even before these World Championships, I'd already got my plans in place of when I'm back, and what the next number of months look like.
"This is a four-year cycle, and we just move onto another level moving into next year.
"If you want to stay ahead of the field, you've got to prepare in that way."