He may be still glowing after a sensational performance at the Dublin Marathon, but for Stephen Scullion there have been many dark days in leading to his latest achievement.
The 30-year-old bounced back from disappointment in the World Championships in Doha in spectacular fashion, finishing as runner-up to Othmane El Gourmi on Sunday, crossing the line in 2:12:01 the fastest time in 17 years by an Irish athlete in Dublin.
Scullion said what made the day "amazing" was what preceded it.
In desperately humid conditions, the Belfast native battled to 43rd place in Doha last month in a time of 2:21:31.
"I was upset because I didn't really know where I went wrong. It was the hardest I hardest I had ever worked for a marathon and it was the fittest I had ever felt," he told 2fm's Game On.
"I don't know how to analyse a result like Doha. For all the hard work, I wasn't sure how to analyse the end result. Was it a good day? Was it a bad day? I was beating myself up internally."
Paul McNamara, High Performance Manager of Athletics Ireland, told the athlete he had in fact exceeded expectations given the conditions, and a week's holidays helped process the performance.
One training session at altitude in Arizona was his preparation for Dublin, but his confidence was returning.
Scullion has worked closely with the Sport Institute Northern Ireland in the past and that was another reason for optimism ahead of Dublin.
I felt nothing could stop me
Testing before the 2018 London marathon predicted a time between 2.14 and 2.16. In spite of the sweltering heat, the Clonliffe Harriers man finished 12th overall with a personal best of 2:15:55.
Prior to Dublin, tests predicted he could run the Olympic standard (2:11:30) in the Irish capital.
"I felt nothing could stop me."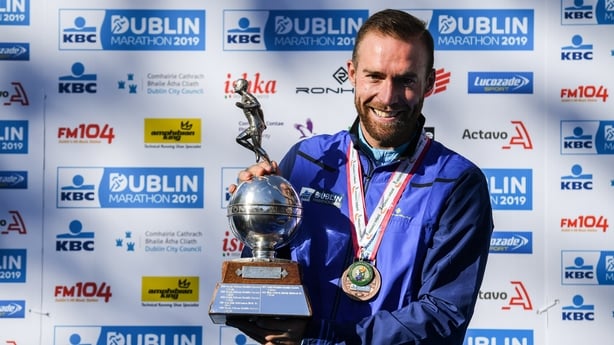 He took the National Championship just outside the Olympic standard, but feels there is more in him.
"One of the hills in Dublin is the same total elevation as the likes of Berlin and Frankfurt – it's quite frightening that I'm able to back up the data.
"If I can get the training done, and I'm in a good place mentally, I'm able to back up the science."
Vindication of his decision to stick with athletics after falling out of love with it previously was there for all to see in Dublin, and Scullion admits that the sacrifices along the way have regularly led him to question the path he was on.
"I was crying my eyes out after Doha I was so upset. It has happened a few times over the past few years.
"I think I almost took this responsibility that maybe it was up to me not to quit. Maybe then I could inspire a junior to be a world beater, to keep going because Stephen Scullion kept going when it wasn't always amazing.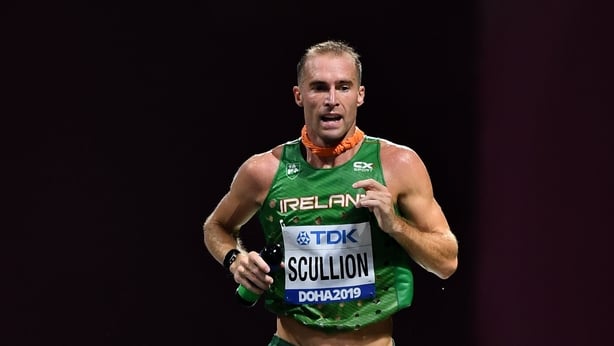 "Sunday was amazing and suddenly you are running times that can win medals at championships. Part of you has to always believe in yourself. That's what kept me going, but there have been so many times when I have been eight miles out on a dusty road in Flagstaff, Arizona by myself and I have just stopped.
"A couple of times I have nearly been brought to tears just thinking, 'is this worth it?'
"I can brush it off. I have this 'I don't care' attitude. I dust off that I don't see my family, that I miss birthdays and I have missed the last three Christmases. I dust it off like it's nothing, but sometimes it creeps up on you.
"It might seem unfair, but I can't ever ignore the fact that that is what it takes."
The 30-year-old insists that the upturn in fortunes is now down to a new found sense of impenetrable mental stability.
Maybe it's because I have been a quitter in life
Dublin he says was the first race he has experienced without a single negative thought cluttering his mind mid-race – "I don't know if that was the crowd, but it was fun from start to finish" – and his steely resolve is paying dividend.
"Most marathons and most races, I go through some really tough moments with myself. One of my mantras is that I'm an animal. I'm proving it to myself more and more. It's almost scary that I have become this person that doesn't quit.
"Maybe it's because I have been a quitter in life. I retired from running, went on to do different things and I stopped respecting myself for it.
"My goal is to see how fast I can run go by just applying myself. If I apply myself, and don't give up on racing, I'll be content."
Scullion clocked the fastest Irish men's time since Mark Carroll's 2:10:54 in New York in 2002, but sees no reason why he can't bring that time down further with Tokyo 2020 in his sights.
"I'm going to predict that I will run 2.08.45 before I retire. I think I could."