Sifan Hassan insists she is a clean athlete after winning the world 1,500m title - days after her coach was banned for doping offences.
Hassan completed a unique 10,000m-1,500m double despite her coach Alberto Salazar being suspended for four years.
Ireland's Ciara Mageean came tenth in the 1,500m final nearly nine seconds behind Hassan in a time that would have won seven of the last eight world finals at the distance.
American Salazar, the head coach of the Nike Oregon Project (NOP), was banned for on Monday by the US Anti-Doping Agency (WADA) for "orchestrating and facilitating prohibited doping conduct".
Nike has denied wrongdoing and vowed to appeal and said it will stand by the coach.
There has been no suggestion of any wrongdoing by Hassan but a shadow has been cast over her achievements at the Athletics World Championships in Doha.
The Ethiopia-born Dutchwoman said she had been winning races well before she joined the NOP in 2016.
"It was a very tough week and I had a lot of things in my head but I have a good manager and he really supported me," Hassan said. "I show the world I am a clean athlete.
"I don't know why they have put the spotlight on me. I have been at the top since 2014, before I joined Nike academy, they can go check my background. What do they think, that the world anti-doping doesn't test me?"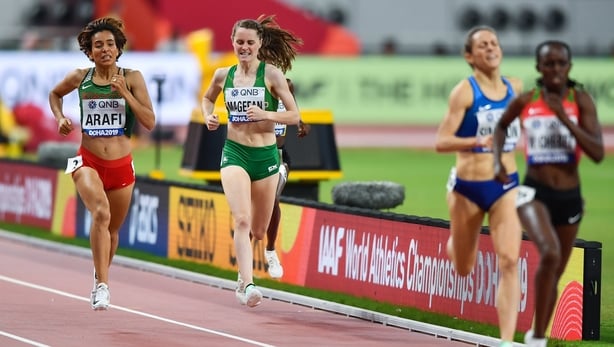 A defiant Hassan said she was inspired to join the NOP by watching Britain's world and Olympic champion Mo Farah, who was also coached by Salazar.
"He always does well in championships, I believe in him," the 26-year-old said, adding that she had "never seen anything" at the NOP.
"Since I joined, I have seen nothing, they have never offered anything to me," she said. "I believe in clean sport, the group is clean, they work very hard, they have really amazing staff, especially the physio. They have good people."
Asked about her tactics for the 1,500m final, which she led from the end of the first lap, she said: "I did not discuss a strategy as I had no one to discuss it with."