So finally, it begins. The climax of what seemed a never-ending season. Under the dark cloud of poor ticket sales and ongoing anti-doping scandals, it's time to pit the world best athletes against each other under the hot desert sun.
With an Irish team consisting of eight athletes, success across the various events would be to finish in tough conditions, progress through rounds, a few personal bests, and maybe have two finalists in Thomas Barr and Ciara Mageean.
First up for Ireland on Friday is Michelle Finn in the heats of the women's 3km steeplechase.
Finn is drawn in heat two of three, with the first three in each heat going through followed by the next six fastest from all heats to qualify for Monday's final.
It's a very tough ask for Michelle to qualify but she is in the form of her life with personal bests over 1500m up to 5km this year. If she can claim a new PB here, it will be a successful outing.
In preparation for Doha she left no stone unturned, spending time at altitude in Spain with Nic Bideau's Melbourne track club under the watchful eye of her coach Feidhlim Kelly.
Ireland's top-ranked athlete Thomas Barr kicks off his World Championships on Friday evening in the heats of an event that may produce a world record.
With three athletes - defending champion Karsten Warholm of Norway (46.92), USA's Rai Benjamin (46.92) and home hero Qatar's Abderrahman Samba (47.27) - running almost over a second faster than anyone else, this is sure to make for a brilliant final and they will likely challenge Kevin Young's 46.78 world record from the Barcelona Olympics in 1992.
Can Barr be in that final? I believe he can. He is a championship performer, running some of his best times when it matters most. He will need to find that championship form once again in order to progress and will have to run well inside his season's best of 49.11.
After being stuck in limbo of not knowing whether he would be competing at all, Mark English finally got that important phone call very late last week.
He's on the men's 800m start list and his first round is on Saturday at 3.15pm Irish time. Mark took the decision to finish off his medical degree this year with a view of training full time ahead of the next year's Tokyo Olympics.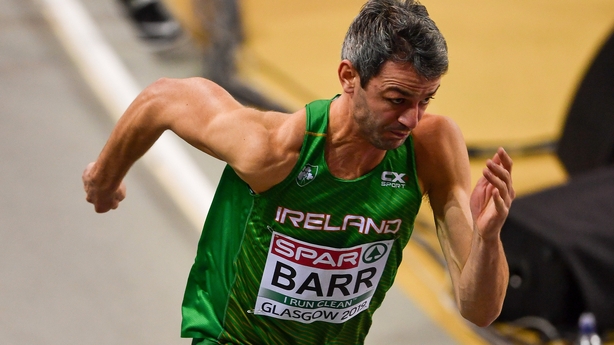 With exams running late into the summer his season only really got going in late July. He struggled with early form but as the pressure to qualify for Doha increased, he found something and thankfully got a quota place. He will need that form and some tactical championship awareness to get out of his heat. 
A big talking point of these Championships are the hot and humid conditions. With the stadium temperature being controlled by built-in air conditioning, track and field events along with spectators should be comfortable. The worry is out on the roads in the marathon and walks events.
Some commentators have called for the out-of-stadium events to be cancelled, but IAAF president Seb Coe has spoken out and is adamant that they'll go ahead as planned, insisting that the IAAF have undertaken a lot of work on heat management including more medical supervision and more water stations.
Our 50km race walker Brendan Boyce is up first on Saturday at 11.30pm local time and our other two long-distance athletes, Alex Wright in the 20km walk and our sole marathon runner Stephen Scullion, will be looking on to see how Brendan fares in the near 40-degree conditions.
All three will have to give serious thought and time to their hydration plan.
I can remember Rob Heffernan and Olive Loughnane briefing us sprinters on their race plan even in 25c heat with coaches, training partners and friends located throughout the course with drinks, ice towels and carbohydrate gels. I used to get worried if my pee had the slightest hint of yellow in it before my 44 seconds of competition, never mind near four hours!
No doubt the heat will affect times and performances; just to finish safely may be a feat in itself.
All athletes will take extra precautions with the heat. My first experience of tough conditions was back at the 2007 Osaka world championships. The heats of the 400m were scheduled for 9.30am. I was up early and as I left the hotel for the stadium, the big digital clock on the skyscraper opposite read 35 degrees at 7.30am, it was sweltering.
Accommodating the conditions, I reduced my warm up from the usual 60 minutes to 40. I warmed up in the shade, wearing white clothing and drinking water with what is now my go-to hangover cure, Dioralyte.
Post-race, I stood along with another 400m competitor in a black wheelie bin full of iced water while eating a banana and fruit bar.
With this being the first World Championship since the retirement of Usain Bolt, it opens the door to some new names.
As we all look to see who will fill the big man's shoes one athlete of talent and character is USA's Noah Lyles, the second fastest American over 200m of all time behind Michael Johnson, running 19.50 seconds this season.
Lyles is extremely competitive over 100m but he has decided to focus on the 200m, and I expect him to take gold in PB time.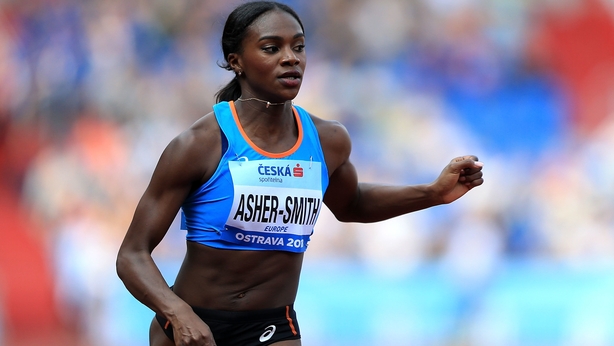 One athlete I'm looking forward to watching is Britain's Dina Asher-Smith. She was brilliant in Berlin last summer winning both 100m and 200m.
Asher-Smith has carried that form into 2019 and has continued to improve, consistently running fast times and it's possible she could become the first British athlete to win three medals at a single World Championships. Can she upset a possible Jamaican 1-2 in the 100m and go on to nick the gold over 200m? It remains to be seen, but she'll be right up there.
Another highlight for me is the women's 400m hurdles.
Like the men's equivalent we could see another world record. It could very well be a head to head between two American athletes, Dalilah Muhammad and Sydney McLaughlin.
Muhammad set a world record earlier this season, but 'Syd the Kid' aged only 20 is leading the head to head battle 2-1.
In the distance races, Dutch star Sifan Hassan will have a busy week and is the big favourite for 10,000m on Saturday night, and she'll then choose between the 1500m and 5000m for a potential golden double.
On the men's side, Jakob Ingebrigtsen will fly the flag for Europe in the 1500m and 5000m and the Norwegian teenager could well win his first global title.
It's the pinnacle of what has been a long and interesting season, all that's left is to see which athletes have planned it correctly.