Ireland's medal heroes returned home today after their exploits at the European Youth Olympic Festival in Baku.
Rhasidat Adeleke won gold medals in the 100m and 200m, while Molly Mayne collected bronze in the pool in the 100m and 200m Breastroke.
Speaking to RTÉ Sport's Clare McNamara at Dublin Airport, Adeleke said, "I just feel so happy, the amount of support here is unreal.
"It makes me so grateful for everything that I've achieved, and for all the support that I have. It's amazing."
Ireland's medal heroes, Rhasidat Adeleke and Molly Mayne, returned home today after their exploits at the European Youth Olympic Festival in Baku. #RTESport https://t.co/03WG04UH7F pic.twitter.com/hGkZFROtW6

— RTÉ Sport (@RTEsport) July 29, 2019
Adeleke had run in the championships before, collecting a silver in the 200 metres, as well as a bronze in the 4x100 metres, back in 2017.
She also took gold in the 200 metres at last year's European Under-18 Championships in Hungary.
Her original plan was to run in the 200m only, but a late change of mind proved fruitful for the Tallaght runner.
"I didn't expect it. I just tried to do my best in each event," she said.
"After winning the 100, I just tried to re-focus for the 200.
"When I won both gold medals, I just felt so surreal because I didn't think it was something I would be able to do."
GOLD

Rhasidat Adeleke wins her second gold in Girl's 200m at #EYOF2019 #TeamIreland pic.twitter.com/n2fTTppHNC

— Team Ireland (@TeamIreland) July 25, 2019
Not 17 until next week, Adeleke's ambition is to compete at a senior Olympic Games.
But first, it's the start of her Leaving Cert year in September at the Presentation Community College in Terenure.
"I just want to continue progressing as an athlete, and see how far I can go with this sport.
"Hopefully I'll make an Olympic Games, the real Olympic Games, because I feel the youth Olympics sets you up for experiences at the real Olympics.
"I'm just really excited to see how I can do.
"Leaving Cert next year, so balancing it will be a bit hard, but I just hope I can do it.
"I'll just have to do my stuff as soon as it comes. I'll have to do my homework as soon as I get it, and I'll have to study for exams as soon as I need to.
"I can't leave anything behind."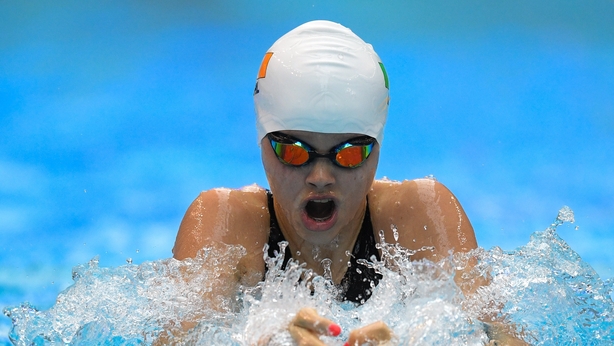 It was a great Games for 13-year-old Molly Mayne.
She admitted to some nerves before her races.
"I was really nervous. In the semis, I got most nervous," she admitted.
"I just came to Baku wanting PBs, and for the experience. But coming back with two bronze medals is just amazing."