By Cliona Foley
Just as she has done hundreds of times as an elite athlete, Jessie Barr was up early on Tuesday morning to catch a flight to a major sports championship.
But, for the first time ever, she didn't pack a pair of spikes in her bag of official Irish gear.
After two years of repeatedly breaking down with injury the Waterford 400m hurdler - a finalist on her European Championship debut in 2012 and an Olympian in the 4x400m in London 2012 - has finally announced her retirement from competitive athletics.
She freely admits how difficult that has been to say two of the hardest words ever for an competitive sportsperson: 'It's over.'
And if that was hard for Barr then imagine how hard it must be for others?
For Barr is an expert in this area, a trained sports psychologist who understands deeply the complex relationship between mind and body.
Her current PhD studies are specifically about mental health in elite athletes, about how they struggle to admit their mental vulnerabilities, especially to coaches and team managers, for fear that they will be labelled as weak, a selection risk or worse.
Making the leap from being an elite athlete to a non-competitor, back among the rest of us plodders out on Fun Run Street, is also something they often struggle badly with psychologically.
Despite all her expertise in this area Barr was no different.
"Since I was 12 running was my favourite thing to do. It was what I was really good at and, for a while, it was my job and the thing I loved to do most so, it was really hard," she says of finally calling it a day. "It was a transition that was two years in the making and it was really hard."
Barr and her younger brother Thomas (they have the same birthday, just three years apart) are particularly close. The Dunmore East duo ran the same event and mirrored each other in their training and progression for many years.
Only two Irishwomen have ever broken 56 seconds for 400m hurdles and her 55.93 run in 2012 is still the second fastest by an Irishwoman ever. That's how good she was.
But as her brother's career soared to an Olympic final and European medal hers, blighted by injury, stalled and went into reverse.
Barr is honest enough to admit it isn't just the endorphins created by daily training that she misses but the accolades and ego boosts.
"It sounds ridiculous but I miss the attention you get from it. I miss being out there and being introduced on the start-line and winning a race. I miss all that comes with that.
"I'm so proud of Thomas, he's doing brilliant. But I'm looking at Twitter thinking 'oh I want someone to write about how great I am as a sports psychologist' but that's never going to happen!" she quips.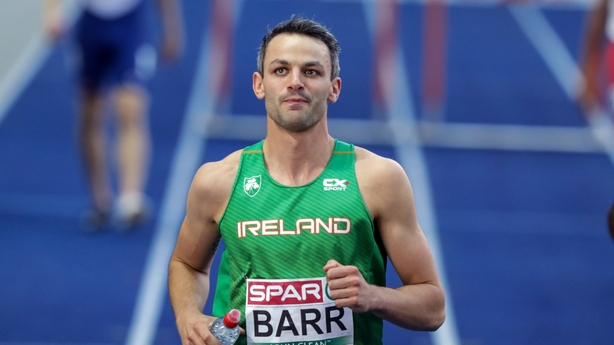 Barr actually knows she is luckier than most.
Many athletes operating just below international superstardom put any other career on hold while competing and often struggle to assimilate back into the permanent work-force but she has already made an apparently seamless transition.
An internship at the Institute of Sport in Abbottstown in 2017 was followed by a spell as a trainee at that high performance HQ and she now has a contract there until 2021.
This week she travelled to Minsk, Belarus, to work as a performance pyschologist with Team Ireland at the upcoming European Games, which is an important Olympic qualifier for some sports.
While Barr has also worked as a pundit for RTÉ, finding herself outside the white lines of sport could still present her with some mental challenge and she's prepared to consult with the Institute's clinical psychologist if she finds any issues.
But perhaps the greatest struggle for her was to re-discover her love of running, something she wanted to do because of its huge health benefits.
In the past two years Barr's running was accompanied by constant fear.
She would build up her fitness with a block of training and then accelerate it and bang! Something would pull or tear and she'd be back to square one again.
Even her sports psychologist's training couldn't stop her wondering "when is my Achilles going to start hurting or my calf? When am I going to pull up? There was that fear always in the back of my head."
It has finally been eradicated by the simple joy of running with her little terrier dog in the countryside around her Limerick home.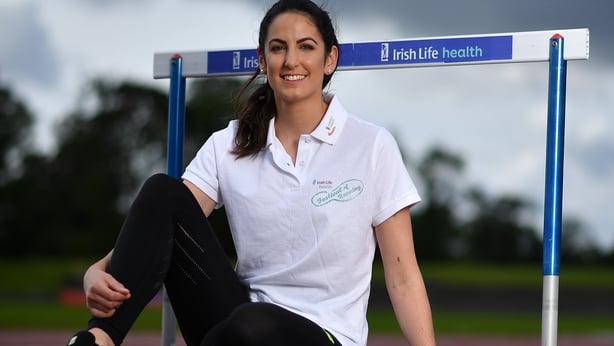 "I just started going for walks or small jogs and then I'd run up the set of steps that are down in Castleconnell woods and feel like Rocky!
"Now, a couple of times a week, I bring her running and I love it. I don't have a sports watch anymore, I don't time anything, I literally run until I'm tired or she's tired, I'm like Forrest Gump!" she laughs.
"There'll be days where I go out and say I'll do 20 minutes and an hour and a half later I'm still out there! I'm only jogging, or sprinting and walking - which is what I'm used to - or finding a hill which I'll run up and then walk (down) for my recovery.
"I'm not training for anything anymore and can just go for run now and see where it takes me and that's why I loved athletics when I was younger. I just loved running!
"I kinda lost that along the way when you're chasing times and  performances and suddenly your funding depends on getting this or that (time)."
Her PhD supervisor Dr Tadhg MacIntyre is a leading experts on the benefits of exercising in 'green space' where, research shows, that even five minutes of running outdoors can have long-term positive effects on mood and confidence.
"The fact is that people are lacing up their runners to go running now because they want to look after not just their physical health but their well-being," Barr notes.
"This festival of running is all about people recognising that running is not just to get fit but to engage in exercise outdoors, to get in nature and how that benefits their mental health too.
"Running outdoors, in the beauty of nature, reduces my stress, improves my mood, increases my self-confidence and how I feel about myself. I really feel like I've come full circle and am just enjoying running again, which anyone can do."
** The Irish Life Health Festival of Running, in Santry Park on Sunday July 28, will include a children's 1Mile Fun Run and a 3km run. All races will finish on the home straight of the legendary Morton Stadium and taking part also includes free admission to Athletics Ireland's National Senior T&F Championships that afternoon where the cream of Irish athletics' talent will be competing.