Ciara Mageean says the days of regret are over and she is determined to run with a smile on her face.
The Co Down runner took a 1,500m bronze at the European Indoors in Glasgow yesterday, adding to her third-place finish over the same distance outdoors at the 2016 European Championships.
After struggling with injury and ill-health in 2017, the 26-year-old found a new sense of calm and worth on the track.
"I set foot on the track today and I said I'm going to run my best race, I'm going to lay it all out there. I don't know if it's going to mean a medal or not but I'm going to walk off the track with my head held high," she told RTÉ Sport.
"That's all any athlete can do. I've come off and I've beaten myself up after too many championships. I'm going to enjoy my athletics and go out there with a smile on my face.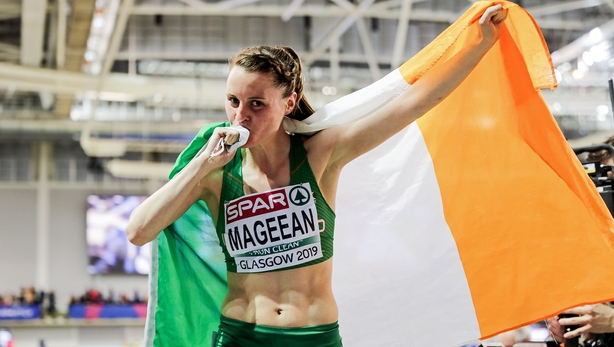 "I live to run for the green, white and gold. People talk about different things but you don't do athletics for the money and you don't do athletics for the amazing good times because they are very few and far between.
"I run to race in this vest and it means the world to me.
"Other people can look at peaks and troughs; I'd like to see them be constantly on a peak, peak, peak, peak. It doesn't work like that in life. I ran my whole underage career on an upward tangent and had a really tough injury and missed out on my whole Under-23.
"I feel I am becoming a much more consistent athlete and hopefully my troughs will be not quite as low. I know that those times will come but my athletics career so far has made me tough and made me realise that the lows will be low but the highs will high."
Mageean was pipped for silver by Poland's Sofia Ennaoui and admits she felt a little annoyed having overtaken her opponent near the end before being caught on the line.
She said: "It's funny, I'm obviously happy to have bronze and there's that little part of me that is a little bit annoyed it's not silver but that's the athlete and the competitor in me.
"I'm just glad to be able to put my form out there on the track. I know I've been in good shape and I'm training well.
"I'm delighted. I came into this championship with the aim of wining a medal and I've come away with it."