European bronze medallist Thomas Barr is looking forward to his first ever indoor season as he builds up his preparations for the World Athletics Championships in Doha later this year.
Barr rarely races indoors, preferring to concentrate on getting ready for the outdoor season, and he has never had a full spring campaign before.
But with the Worlds so far away - they start on 27 September and run to 10 October, a month later than usual - the Waterford 400m hurdler has decided to try something new.
He said: "I'm looking to get an indoor season done for the first time because Doha is so late, which means we'll have plenty of time coming out of an indoor season and still prepare properly for a full outdoor season."
His main aim for the first portion of the season is the European Indoor Championships in Glasgow in early March.
"It'll be my first time doing an indoors where I'm going to a championship and I love going to championships so I'm hoping that brings the best out of me on the flat," said Barr, who made the podium at last year's Europeans.
Hurdles are only run over 60m at major indoor competitions so the 2016 finalist at the Rio Olympics will be running 400m flat with the aim of improving his speed.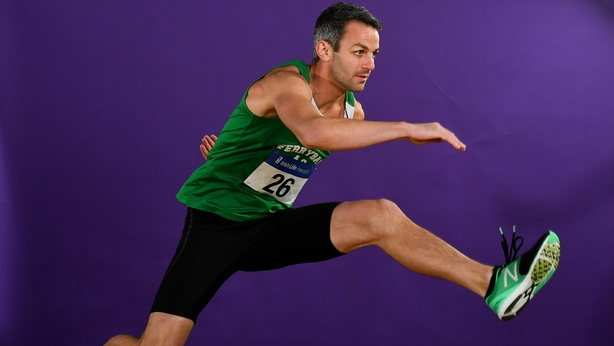 The reason that Doha is so far away in the calendar is concerns over the heat in the middle of the summer in the Persian Gulf.
It's not ideal with 2020 an Olympic year; athletes won't get time off until October or November, which may mean a later than usual return to training ahead of the Tokyo Games.
But as he is with most things, the 26-year-old prefers to look on the sunny side.
"Apparently the stadium is fairly enclosed and air conditioned, so I'm not too worried about the heat - I've competed in 33, 34 degrees before and I love the heat, the warmth," he said.
"We're just back from a training camp in Tenerife and at 22, 23 degrees, I loved getting up in the morning and just going, warm and ready to go. That's not a big concern of mine.
"The concern is that it's much later and that makes the season a lot longer. That might work in my favour because sometimes I'm a bit slower getting going in the season so it will actually give me extra time to get some quality race practice in.
"I'm taking the positives from it 100% and every athlete is in the same boat and there's not really much I can do about it!"
Barr was speaking at the announcement of Irish Life Health as an official partner to Athletics Ireland.