Kevin Seaward was the best placed of the Irish runners in the men's marathon at the European Championships in Berlin this morning, finishing 15th and posting a season's best time of 2:16:58.
The Belfast native was seven minutes behind the runaway winner, Belgium's Koen Naert who destroyed the field in a championship record time of 2:09:51.
Naert, whose previous best performance in a largely journeyman career had also come in this city when he finished fifth as the top European in the 2015 Berlin Marathon, was a revelation as he broke the field with a well-timed acceleration between the 25 and 30 kilometres marks.

The 28-year-old demonstrated superb form to stretch away from his pursuers and had enough time to grab a Belgian flag from the crowds lining the finish and lift it aloft as he became the first man from his country since Karel Lismont in Helsinki 1971 to win the title.
The Irish men's team performed strongly overall, finishing 6th in the team event and Seaward wasn't the only Irish runner in the top 20, being closely followed home by Mick Clohisey.
The 32-year old Raheny Shamrocks runner finished 18th in a time of 2:18:00.
Sean Hehir was next home among the Irish competitors, finishing 25th and posting a time of 2:18:58. The remaining two Irish competitors in the men's race, Sergiu Ciobanu and Paul Pollock, finished 36th (2:19:49) and 47th (2:23:26) respectively.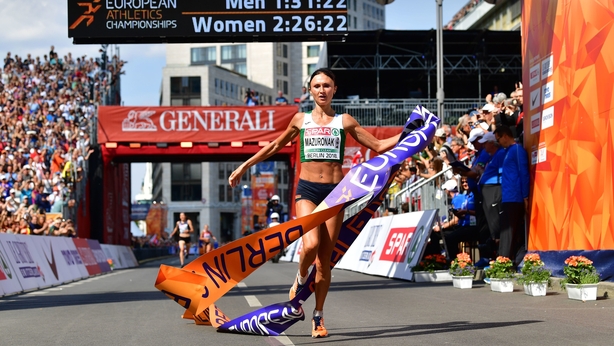 Lizzie Lee, meanwhile, was the best placed of the Irish women's team, placing 29th in a time of 2:40:12. Breege Connolly was two places back in 31st, posting a time of 2:41:53.
Gladys Ganiel O'Neill was 33rd in a time of 2:42:42.
The Irish women's team finished 8th overall and the women's race by Belarus's Volha Mazuronak in a time of 2:26:22.
Mazuronak produced the steeliest of displays to take the title after twice suffering nosebleeds which left her face covered in blood in the early stages of the race around the streets and tourist attractions of Berlin city's centre.

After dousing herself in water so she could see properly on a warm morning, the 29-year-old race favourite, who was fifth in the Olympics, retained her poise, kept pacesetting and broke everyone except for French marathon debutant Clemence Calvin.
RTÉ Sport's @DavidGillick speaks to the Irish men's marathon team after a strong showing at the European Championships. #rtesport pic.twitter.com/UxnTs8htAZ

— RTÉ Sport (@RTEsport) August 12, 2018