Leon Reid made a most memorable debut for Ireland at the European Championships in Berlin as the sprinter powered into the final of the 200 metres.
The English-born athlete has been waiting two years for international clearance to race in the green of Ireland, having previously run for England at youth level.
And the 24-year-old wasted no time in making his mark for Ireland as Reid eased into the Berlin final, finishing second in his heat, which led to automatic qualification.
Drawn in lane three, Reid had world champion Ramil Guliyev inside him and while the Turk led throughout, following an excellent first fifty, the Menapians athlete closed the gap on the bend and went head to head with the reigning world champion to the finish with both athletes through to Thursday's final.
"I thought I'd stick with him, and then when I came off the bend, my strongest part, he didn't go, so I said 'I'll go at you'" - Leon Reid went head to head with the world champion and looked comfortable and confident in the Euro 200m semi-finals. pic.twitter.com/JWKwt7GSYE

— RTÉ Sport (@RTEsport) August 8, 2018
"It's like a super suit," Reid told RTE Sport's David Gillick after the race, when suggested that the green vest suits him.
"I thought I'd stick with him [Guliyev], and then when I came off the bend, my strongest part, he didn't go, so I said 'I'll go at you'.
"Went at him, gave him a little look to make sure he knows I'm there. And now everyone is going to recognise the green when we come off that turn."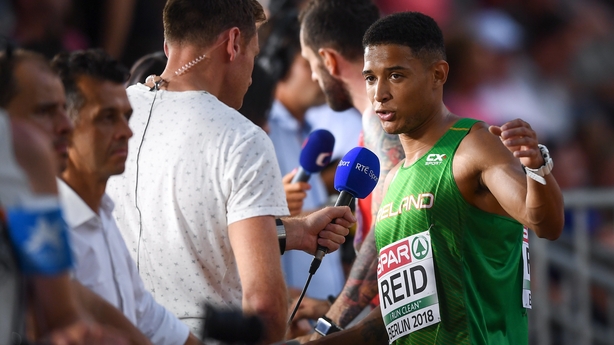 Reid represented Northern Ireland in the Commonwealth Games and secured the bronze in Australia earlier this year, but there was a delay getting clearance to race for Ireland as a result of an international freeze on such moves.
But clearance came through just ahead of these European Championships and with Reid's mother, who is Irish born, in the crowd to support her son, he admitted that he was never going to let her down in the semi-finals.
"It's good. Another final. I have lots of family here and my Mum got off work again to fly out and see me so I couldn't let her down.
"It means everything. When I put it on, it felt like I was putting on a super suit so I don't want to take it off right now.
"But we'll get it ready, get it washed, and go again tomorrow, even faster."
Reid goes in the 200m final tomorrow night, which is scheduled for 20:05 (Irish time), and while he hinted that there might be a new Irish record at the end of it, he is just focusing on executing his game plan.
"Just execute the race. No times, nothing like that. Maybe an Irish record, maybe not so we'll have to wait and see."
Look back as Leon Reid went through to the final of the men's 200m at the European Championships. The Menapians athlete automatically qualified, finishing second in his semi-final in 20.38secs. pic.twitter.com/sTjZWxejF7

— RTÉ Sport (@RTEsport) August 8, 2018
Meanwhile, it was a disappointing night for Emma Mitchell in the final of the 10,000 metres as the Banbridge athlete finished 18th in a time of 34:08.61, over two minutes behind gold medallist Lonah Chemtai Salpeter from Israel.
The time was well outside her own personal best of 32:49.91, which she recorded at the Commonwealth Games in Australia last April.
"It was far from what I wanted but I'm walking away knowing I gave everything that I possibly had." - Emma Mitchell was disappointed following her 18th-place finish in the 10,000m final. pic.twitter.com/peLXxFsJBy

— RTÉ Sport (@RTEsport) August 8, 2018
Earlier. Marcus Lawler was left bitterly disappointed after he struggled in the men's 200m heats at the European Championships and failed to advance to the semi-finals.
The 23-year-old was the number one ranked athlete in his heat, but after a decent start, faded over the last 50m to finish fifth in Berlin.
His time of 20.80 seconds was 0.40 slower than his season's best in Cork last month and he couldn't hide his annoyance after the race.
"It's not good enough. I set myself a realistic goal of making the final, and now I'm gone in the first round. I'm very disappointed with that."
While Lawler conceded he had some "massive positives" over the course of the season, he now will have review the race and regroup after today's setback.
Marcus Lawler devastated by his performance in the Men's 200m at the European Championships, saying it was not good enough pic.twitter.com/GdedP61RuH

— RTÉ Sport (@RTEsport) August 8, 2018
"I was ranked number one on that heat in paper...I'm not sure. It doesn't take away from the season I had. It was so strange.
"I'll have to keep the head up and move forward."