The last time Thomas Barr was supposed to run a major championship race he ended up watching it from his hotel bed, a big DNS beside his name.
The reason the Waterford runner Did No Start his 400m hurdles semi-final at the 2017 World Athletics Championship in London was due to an illness.
Norovirus cut a swathe through competitors in the British capital, knocking a number of them out of competition.
In fairness, my hobbies - I could be doing knitting or something a lot less strenuous, but my hobbies are, unfortunately, adrenaline seeking
Famously, Botswana's Isaac Makwala made the 200m final after missing his semi due to the vomiting bug, given special dispensation to run a one-off, one-man qualifier at London Stadium, scene of the much of the drama at the 2012 Olympics.
There was no such redemption for Barr, who saw his hopes of a medal on the back of his fourth place in the Rio Olympics final 12 months previous stuck in the starting blocks.
That's why he's more motivated than most as he tunes up for the European Championships in Berlin, with his 400m hurdles semi-final on Tuesday.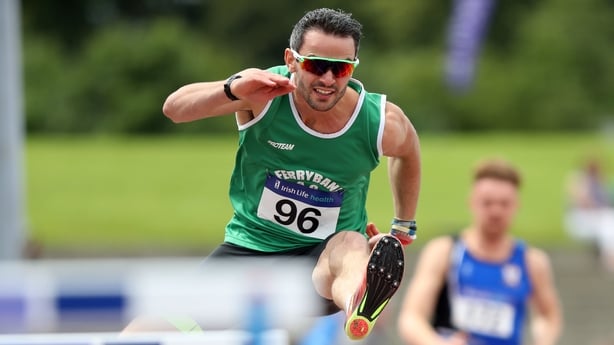 "For me, 2017 was a non-starter," said the Ferrybank Athletics Club flyer. "It was a slow season to get going and when I got going I picked up an injury.
"I got back again and I was actually getting into good shape for the world champs and then I picked up the norovirus, so I was wiped out after the heats.
"It shouldn't happen. The funny thing is I rarely ever get sick. I was completely zapped, even just trying to get up out of bed was a struggle for a day or two, but I was fine after that.
"It was frustrating; I watched my semi-final from my bed in a hotel room. Thomas Barr, DNS - it was a bit weird. I'm not bitter over it or anything because there was nothing I could do about it and it was unlucky the way it was. I could as easily have been anyone in the race as me."
As one of the top 12 ranked one lap hurdlers in Europe, the 26-year-old has a bye into the semi-final, avoiding the heats, and has a favourable lane draw with the first two in each of the three semis progressing plus the two fastest losers.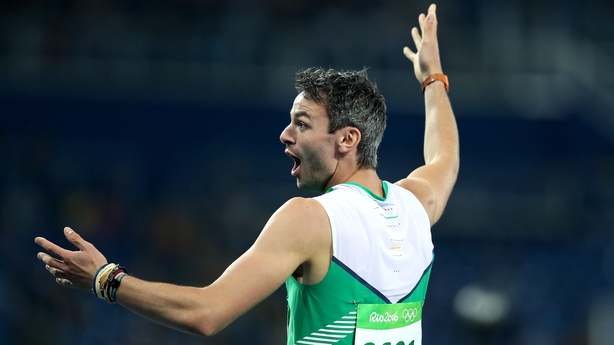 After the highs of 2016, when he made the final in Rio, finishing fourth and just outside the medals in a national record 47.97, last year was tough. This isn't unusual for athletes who have performed well at a major championships, particularly their first Games.
He admits that he had a lot more off-track commitments due to his increased profile, which didn't help his preparations, but it's not something he'd change.
"I just drew a line under the year and came into 2018 with a bit more hunger," he explained.
"I was such a high off of Rio that I came into the following year with a lot more commitments which lead to me slotting in training. I don't regret it, it was a phenomenal year and I enjoyed every bit of what Rio brought, but I'm looking forward to getting back into that sort of shape this year.
"I'll be getting back out into the championships, trying to replicate what I did, get myself consistently into those 48s and dipping down into 47 seconds more often than not."
So focused is Barr this year that he didn't go snowboarding as usual before the start of the season and he isn't spending so much time in his drift car - much to his coaches' relief.
Drifting involves a fast car screeching around a track, the driver using the brakes to slide it around the bends at high speed.
Delighted to make it an 8th consecutive national title today even though it does make me old??????. But better than that is the fact that I'm ready for Berlin ?? pic.twitter.com/lwwYQ224No

— Thomas Barr (@TomBarr247) July 29, 2018
"When I'm training I give my training 100 per cent focus, but I do like to switch off and I don't like to overanalyse - I don't get into all that, eating, living, breathing athletics. I'm terrible like that because I haven't a clue what's going on on the sport half the time," he said.
"Luckily I have Twitter so I can catch up on that because I don't follow it as much as I probably should because I like to switch off from it. It's like anything, if you are completely immersed in your job, 24/7, it becomes stressful and you get burnt out and you end up resenting your sport.
"In fairness, I could be doing knitting or something a lot less strenuous, but my hobbies are, unfortunately, adrenaline seeking.
"That's because I don't want to get to the end of my athletics career and feel that I missed out on going snowboarding, so I feel like I'm getting a good balance."