Thomas Barr (Ferrybank) will be looking to add national title number 8 to his collection with Paul Byrne (St Abban's) his chief rival.
Catherine McManus (DCH) is on the entry list for the 400m hurdles and will be a strong contender if she starts with the likes of Kate McGowan (Tir Chonaill) and Kelly McGrory (Tir Chonaill) in the hunt for medals.
Jerome Caprice (DSD) is one of the leading contenders in the men's 10,000m race walk.
The men's 110m hurdles should be a three way tussle between Ben Reynolds (North Down), Gerard O'Donnell (Carrick on Shannon) and Matthew Behan (Crusaders) with the athletes looking for a 13.75 clocking or faster for a spot in Berlin.
In the 100m hurdles Sarah Lavin (UCD) and Elizabeth Morland (Cushinstown) have had some good battles this season and it will be interesting to see who comes out on top.
Leon Reid (Menapians) could be in the hunt for double gold on day 2 as he settles in his blocks for the 100 with Jeremy Phillips (Clonliffe Harriers) one of his key rivals.
Gina Akpe-Moses (Blackrock-Louth) will be aiming to win her first national senior title in the women's 100m.
The women's and men's 400m races should deliver fireworks. Cliodhna Manning (Kilkenny City Harriers) was a surprise winner last year and will bid to retain that title with young guns such as Davicia Patterson (Beechmount Harriers) and Ciara Deely (Kilkenny City Harriers) in the mix.
Christopher O'Donnell (North Sligo) starts is the fastest in the men's 400m this season with Craig Newell (Ballymena &Antrim) and Brandon Arrey (Raheny Shamrock) looking to cement places on the podium and the relay team.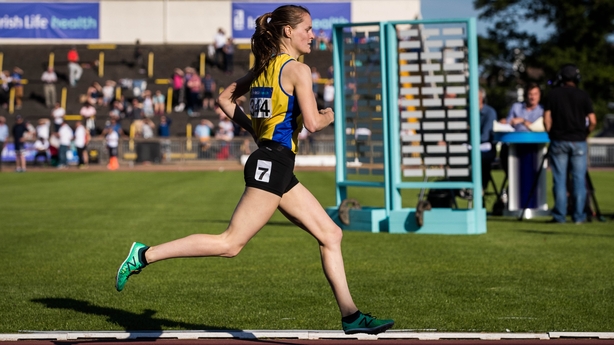 Eric Favors (Raheny Shamrock) is a new name to look out for in the shot put which will see Sean Breathnach (Galway City Harriers) being at his very best to win the national title.
Ciara Mageean (UCD) is set double in the women's 800m and 1500m which should be fascinating to watch. The Portaferry athlete is rounding into excellent shape ahead of the Europeans and this will provide an excellent test ahead of Berlin. Claire Mooney (UCD) will be a main contender in the 800m while Siofra Cleirigh Buttner (DSD) is due to step up in the 1500m.
Mark English (UCD) is entered in the men's 800m which also includes Zak Curran (DSD) and John Fitzsimons (Kildare). It's a race that always entertains.
Michelle Finn (Leevale) is the leading entry in the women's 3,000m steeplechase but looks unlikely to run at the moment having sustained an ankle injury midweek when winning in Karlstadt. This will leave the door open for those who toe the line on Sunday.
Stephen Scullion (Clonliffe Harriers) contests the 5,000m in search of gold and sharpening ahead of the 10,000m at the Europeans.
In the pole vault Michael Bowler (Enniscorthy) and Ariel Lieghio (Clonliffe Harriers) will be aiming to go high for national gold in respective men's and women's competitions.
Adam McMullen (Crusaders) is just shy of the magical 8m mark in the long jump and he will be aiming seal European selection with another national title. Saragh Buggy (St Abban's) has the potential to make it a golden weekend by adding the women's long jump.
Rising star Michaela Walsh (Swinford) will be a strong contender to win the women's shot put and hammer.
Youth could have their day in the high jump competitions with junior athletes Sommer Lecky (Finn Valley), who made the headlines winning world u20 silver, and Ryan Carthy Walsh (Adamstown) the leading lights.