These are golden days for Irish women's athletics and Phil Healy is leading the way.
In recent weeks global medals have been brought back to Ireland, personal bests were set and national records have tumbled.
First Rhasidat Adeleke took gold in the 200m and Sarah Healy won double gold in the 1,500m and 3,000m at the European Under-18 Athletics Championships in Hungary, with Sophie O'Sullivan coming second in the 800m.
Just days later at the Under-20 worlds the 4x100 squad of Gina Akpe-Moses, Patience Jumbo Gula, Ciara Neville, Molly Scott and Adeleke, the latter running in the heats, finished on the second step of the podium, where they were joined by high jumper Sommer Lecky.
I'm in the shape of my life - 100m, 200m, 400m PBs - Phil Healy
And blazing a trail at senior level is 23-year-old Phil Healy, who has been in record breaking form all season as she targets some more fast times at the European Athletics Championships in Berlin on 10, 11 and 12 August.
"Even the exposure that athletics has received across the board with the youths Hungary and the juniors in Finland - it's absolutely super," she said, speaking to RTÉ Sport, which will broadcast action from the Berlin.
"It was brilliant to see the girls get the medals, but it's not all about medals; there were PBs in the heats and for some getting to a semi-final is as good as a medal to them. It's been super-positive and that carries on through.
"It gets everyone to step it up. The juniors at the minute are running 11.5s and 11.6s and the record was 11.4 for many years.
"They now see that the record is 11.28 so there's a bit of a gap there which gets them to step it up. It's great all around because they see that they have to step it up and I know I have to step it up because I want to lower those records."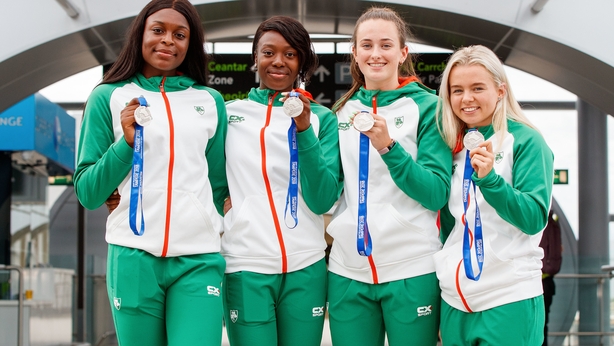 Healy set that Irish 100m record of 11.28 earlier this year and in Monday's Cork City Sport she came close to equalling it before going on to break the national 200m record, which had belonged to Sarah O'Reilly for 17 years, lowering the mark to 22.99.
"My home town, it was absolutely super!" she grins at the memory. "The stand was full and it's a credit to the Cork City Sports committee for organising such a great event, getting absolutely top class athletes over.
"It was world standard. For the 200m I was one of the slowest on season's best rankings so to come third I was absolutely delighted and the icing on the cake was the national record.
"Conditions weren't ideal going into it, I knew that because there was a strong headwind so it was about going for the places not the times, but I was rewarded with the national record.
"It was absolutely super when Feidhlim (Kelly, stadium announcer) called out that it was a national record. It was just insane; the atmosphere was electric."
The thing about Healy is, even though she is collecting records at 100m and 200m, her sights are set on the 400m long-term.
On Thursday she will run 400m at the Morton Games, follow that up with the 100m and 200m double at the National Championships on the last weekend in July and double up again at the Euros.
She has a 400m qualifying standard for the Europeans in Berlin as well, but is likely to let that slide to concentrate on the two shorter events.
In the middle of all of that she'll be part of a 4x100m squad that'll run in this weekend's Diamond League meet in London featuring Gina Akpe-Moses, Patience Jumbo Gula, Ciara Neville and Phil and her sister Joan Healy. The final four will be picked closer to the race.
"I'm in the shape of my life - 100m, 200m, 400m PBs," said the Waterford IT masters student.
"The 400m is all about speed; it's about doing the first 200 as quick and as comfortable as you can and then having the reserves to come home.
What a night @CorkCitySports 😬 Breaking @irishathletics National 200m record with 22.99😬 And 11.30 in the 100m. Next up @MortonGames 400m before 4x100m relay duties at the London diamond league this weekend. 🙌🏻 pic.twitter.com/W7bUSnbnig

— Phil Healy (@philhealy2) July 16, 2018
"It's definitely about capitalising on your speed in 100m and 200m and trying to transfer it to 400m. I have done the 400m season indoors and I want to have fun, switch it up and hopefully build on performances that I've done this year already.
"The 400m is the long-term game and what I'm doing now is improving on the speed I have, get as quick as possible and then transfer that to the 400m.
"This has been my first proper year at 400m, I moved to Waterford this year so I'm around my coach Shane McCormack, who is based between Wexford and Waterford.
"When I was based in Cork I didn't have training partners and it made sessions very difficult; I thought I was pushing myself, but in comparison to now I wasn't pushing myself.
"The majority of the training squad are lads and it gets them to step up because they don't want to be beaten by me and I'm also chasing them. So it's an absolutely super environment with PBs left, right and centre."