There's a part of international athletics you see, and then a part you don't.
In the hour before athletes walk out on the track, most of it is spent cooped up in a place hidden from view, where so many races are lost before they even begin: the call room.
At this week's European U18 Championships in Gyor, Hungary, 23 Irish athletes will be experiencing the tension of that tiny box, and next week in Tampere, Finland, another 18 Irish teenagers will get to feel it at the IAAF World U20 Championships.
Already in Hungary we have seen eye-catching performances from Sophie O'Sullivan and Patience Jumbo-Gula.
A lot of these athletes won't have experienced it before and if they have, it won't be to the same level as at these two championships.
It's a place rarely seen on TV, a small room, or cordoned-off area, deep in the grounds of the host stadium. Athletes are typically called there 40-60 minutes before an event so you have to make sure you're planning for that in terms of your nutrition, travel to the track, your warm-up.
There's usually two call rooms: number one will be just off the warm-up track, and you could be in there for 15-20 minutes. That's where officials will go through everything, from your spikes to spike length, the branding on your clothes, making sure there's no mobile phones, no music, no earphones – none of that is allowed. It's literally you in your kit and your competitors and that's where the nerves really come to the fore.
At the World Championships in 2009 I saw one athlete break down, not wanting to go out on the track into the stadium because of the stress
Then you walk to call room two, which could be a 10-minute walk away, beside the competition track, to face another-recheck and you could be in there another 10 or 15 minutes before you're out on the track.
It's a really interesting place, and it's where you see plenty of mind games. It's awkward, sitting alongside your rivals in silence, and you can cut the tension with a knife.
As a senior, at the World Championships in 2009 I saw one athlete break down, not wanting to go out on the track into the stadium because of the stress – long before the race, he was completely shot.
You also get some really competitive athletes that jump up and down, slap themselves, really intimidating other athletes and you see how it affects others. Sometimes it's an act to put others off and athletes just don't know how to deal with it.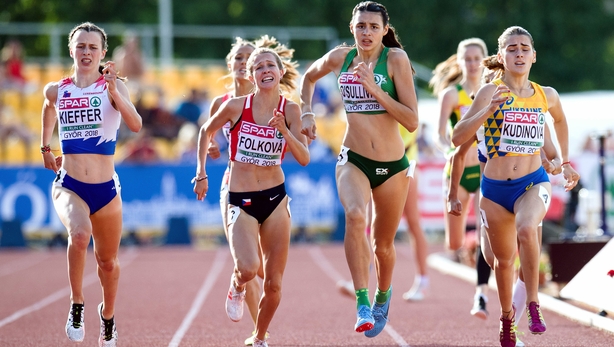 A lot of these athletes are coming from domestic competitions where they are the 'big fish' with others focusing their attention on them, but at events like this nobody knows who you are, and suddenly your focusing your attention on another.
Some have different strategies to cope. I did little things to put myself in my own zone: I used to wear sunglasses and keep them on in the call room, which kept me in my own cocoon and meant I didn't have to make eye contact with anyone; I had little breathing techniques when I got a bolt of nerves, a bit of visualisation that you're not in the call room, that you're on a beach just chilling out... focusing to calm myself down.
I'd repeat little mantras in my head, little sayings that resonate because your internal dialogue is vitally important at that stage and the key thing is not to get worked up and always stay relaxed.
It can be one of the trickier parts of major championships to cope with, but the best way to learn is just by doing it. Once you've come through it a few times, you get used to the process and know how to cope.
It's one of the big reasons I'd advocate that as many young athletes as possible are exposed to top-level competition at this age, in their mid to late teens.
In the second 100m semifinal, Ireland's @Patience_Jumbo lowered the championship record to 11.59 to reach the final at the European U18 Championships. pic.twitter.com/oLaXoaPih5

— European Athletics (@EuroAthletics) July 5, 2018
For me, the World Junior Championships in 2002 was absolutely everything for my future career. My underage career wasn't all that great and I didn't run quick enough to qualify as an individual, but got sent to Kingston, Jamaica on the 4x400m team.
There were 40,000 people in the stadium every night, going wild for their star man Usain Bolt, who took the 200m title at those championships on the way to all that came after. To be amongst it, around the best athletes in the world, like-minded people, was an incredible buzz.
From an Irish perspective, David McCarthy and Joanne Cuddihy made finals out there, and I was envious – I wanted to perform like that.
I had played a lot of GAA and soccer through my teenage years and was still playing GAA when I went there, but when I came home from Kingston I packed in GAA – I wanted to be an athlete, and that exposure was everything for me, a huge turning point in my career.
Some people say young athletes need to be protected from big events like that before they're fully developed, but when you look at global sport there's no shortage of teenagers making first teams at the highest level, and in my view, youngsters need the exposure. It takes a while to get used to it so by exposing them to it at a younger age, it bodes well for the future.
There's always going to be a certain amount of attrition, but the ones that come through at senior level will one day look back and realise that going through it all in their teens prepared them for everything that came after.