There is no better way to kick off a track and field season than with a personal best. In fact, waking up the day after is a little better.
It's what all athletes crave during the long, hard slog of winter pre-season training. Eight months of hard graft in order to get yourself in the best possible shape to open the season, fast!
For one Irish athlete in particular, Phil Healy, it's been a good week. In a rare warm and balmy Wednesday night, the famous Morton Stadium witnessed yet another Irish record.
Healy (Bandon AC) posted 11.28 to take .12 off the previous women's 100m record. In only her sixth 100m of the season it clicked, crossing the line while punching the air.
100m Irish Record for Phil Healy 11.28 (Wind 2.0) pic.twitter.com/Uct0Au3yED

— Jumping-The-Gun.com (@Jumping_The_Gun) June 6, 2018
This is something Phil and her coach Shane McCormack (Menapians AC) have been working towards and her previous races suggested she was in good early season form with some very fast runs, although wind-aided.
The stars aligned on Wednesday on a warm evening with the perfect +2.0 tailwind, perfect sprinting conditions. Yet she still had to execute, and that she did.
To be fair to Phil, she posted fast times during the indoor season over the 400m and has showed good progression over previous seasons. If this was an Olympic year, she would be close to qualifying standards for all three sprint events - 100m, 200m and 400m.
In saying that, she will still have a decision to make ahead of the European championships and which events to focus on, as she currently has standards in 100m, 400m and B standard 200m.
Right now, I'm excited to see what she does over both the 200m and 400m as the season progresses and it moves on quickly with Phil's next outing on Saturday in Geneva where she is on the starting list for both the 200m and 400m.
Last Wednesday night, she jumped straight back into the blocks after her 100m success and ran an outdoor personal best over 400m (52.63). Bringing that base speed over 100m into a 400m where she has already ran 52.08 indoor back in January, illustrates that the strength is there, so combining both is a great recipe for a fast 400m.
Good position to be in in this European championship season.
"The technical, tactical, physical and mental aspects of competition can all take time to perfect"
I've no doubt she will go quicker in all events which bodes well for Berlin (7-12 August). Fast early season runs are a massive boost in more ways than one. Confidence is a valuable asset coming into a season, and for some athletes it can take a number of races to get "race fit'.
The technical, tactical, physical and mental aspects of competition can all take time to perfect. Bouncing from the training environment on to the competition track and immediately posting quick times off the mark is very encouraging and suggests the plan is working and can help take away the element of pressure trying to "chase" times.
Each session, week and month is all mapped out to fit an overall training plan for the year (Macrocycle) with the goal to be running fast when the season comes into view.
Different coaches will have different approaches but generally, breaking the training year into key training blocks (Mesocycle) built around general preparation, specific preparation, pre-competition, competition and then peak.
Each block will be broken down into weeks (Microcycle) with training and rest days planned accordingly.
The key is obviously maintaining form over the course of the season in order to peak at the championships. This current season is a short season with the European's taking place early August, giving only eight weeks from now, so again coming out early in good form is positive.
Most athletes will have an idea of where their form is at through their training, ideally hitting key markers during sessions or time trials. Athletics is all about stats, so both athlete and coach know what times they should target in training which will correlate to the target personal best/qualifying times and sessions are then built off percentages of these potential times.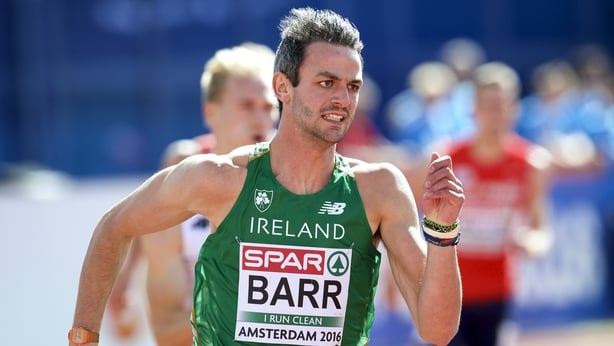 A headache I always had early season was getting into good quality races. There are only eight lanes (sometimes nine) in a sprint event so trying to get a lane in a grand prix race dominated by American and Caribbean athletes is hard.
Best way of getting in? Running fast early and banging on agents doors. Late Wednesday night Thomas Barr (Ferrybank AC) got a phone call to say an athlete pulled out of the Oslo Diamond league 400m hurdles taking place Thursday night, and as Tom said himself "you don't look a gift horse in the mouth".
So Tom got himself to the airport Thursday morning on a flight to Oslo to take up his place in a tight lane 1. Tom has started his season slowly, but last night in his third race of the year posted a season best of 49.53 finishing eighth in a top quality field, taking nearly a second off his season's best, which he only posted in Finland on Tuesday night.
A quick turnaround is not ideal prep for a Diamond League but with each race Tom is getting race fit, if he keeps on this trajectory he'll be in good stead come Berlin.
Finally, another athlete who has wintered well and coming into form is Zak Curran (Dundrum South Dublin AC), who bagged his qualifying time for Berlin last night in Oslo finishing second in the national 800m with a season's best of 1.46.88.