Eliud Kipchoge defied soaring temperatures to win the London Marathon for a third time on Sunday, while Mo Farah finished in an impressive third place, breaking the British record in the process.
           
Kipchoge raced out of the start, with the leading group registering a blistering opening mile of four minutes 22 seconds, but the Kenyan could not maintain that pace as temperatures rose over 20 degrees Celsius.
           
Farah, who overcame early problems with his drinks bottle, fell well behind Kipchoge but still registered a time of 2:06:32 to break Steve Jones' British record achieved in 1985.
Farah was unable to locate his water bottle at the 10km mark, picking up and discarded another runner's bottle. At the 20km point he repeated the mistake.
           
Having taken a break from the London Marathon last year to try to run a sub-two-hour marathon in Italy, Kipchoge returned to add to his 2015 and 2016 titles with ease, finishing ahead of Ethiopias Tola Shura Kitata in 2:04:27, two-and-a-half minutes off Dennis Kimmettos world record.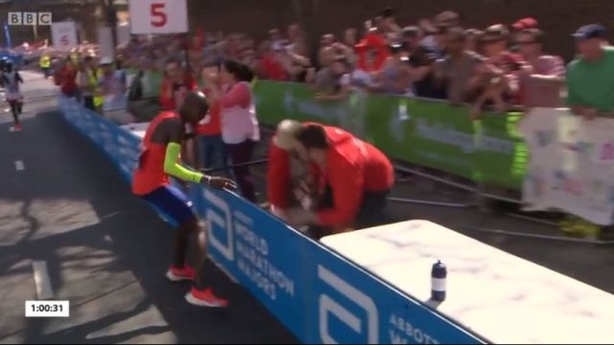 Meanwhile, Vivian Cheruiyot shocked favourite and fellow Kenyan Mary Keitany to win the London Marathon for the first time on Sunday but failed to break Paula Radcliffe's world record as high temperatures took their toll.
           
Keitany, who set the womens world record in London last year, ran this years race with the aid of male pacemakers, as Radcliffe did in 2003 when setting the unsurpassed time of 2:15.25 to break the mixed race record.
           
Having shot into the lead, the 36-year-old Keitany looked to be on course to break that 15-year record, running 32 seconds quicker than Radcliffes 10-mile time, but as the temperature rose above 20 degrees Celsius her pace tailed off, allowing Cheruiyot to steal in.
           
Brigid Kosgei completed a Kenyan one-two.
           
Cheruiyot, who won her first marathon in Frankfurt only last October, came out of nowhere to race past Keitany, who struggled over the finish line fifth and remains stuck on three wins in the English capital, one behind Norwegian Ingrid Kristiansens career total.