The International Olympic Committee (IOC) require former Olympic Council of Ireland (OCI) president Pat Hickey to remain on the OCI board as long as he is a member of the IOC.
In September, Hickey resigned from his position on the executive board of the IOC, having 'self-suspended' himself while facing charges related to alleged ticket touting at the Rio Games in 2016.
Hickey, 72, stayed on as an ordinary IOC member though, and the world body have insisted Hickey be subject to no term limit.
That entitles him to remain as a member of the OCI board, a rule that's proved to be a bone of contention.
This issue will to be dealt with at another EGM in January.
We need your consent to load this Facebook contentWe use Facebook to manage extra content that can set cookies on your device and collect data about your activity. Please review their details and accept them to load the content.Manage Preferences
"The current executive committee have proposed that an IOC member, whoever that was, should not automatically have the right to sit on the board and should not automatically have a voting right," Honorary Secretary General Sarah O'Shea said at at a pre-EGM press briefing today.
"Also the executive committee felt they should be subject to terms of office like every other director on the board.
"However, since we issued the papers out to our members in November, the IOC subsequently came back to us after those papers were issued and advised us they wouldn't accept that change.
"They have come back to us to advise us that the IOC must sit on the board and they must have a vote on the board and that they would not be subject to term limits. The IOC have explained to us that this is mandatory under the Olympic charter.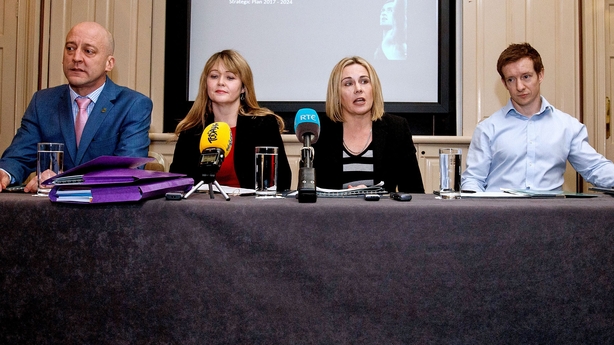 "This would mean in Irish company law that they would be a full director but that also means they would also be bound by company legislation, so they could be removed under company law in Ireland potentially.
"We are working very closely with the IOC. Their approval is required for the changes and we have to date had an excellent working relationship on all the governance changes with them.
"They have however made it clear that the issue of the IOC member is non-negotiable and that no exceptions can be made to that and also that it applies to all 206 countries so it's not an Irish issue; it applies to every one of the 206 Olympic countries."
The OCI will also launch a new seven-year Strategic Plan aimed at improving athlete welfare, and the lines of communication particularly in the run-up to the Games.
Last year the OCI commissioned Deloitte to review its governance arrangements.
And at this evening's EGM all changes to the OCI constitution - including term limits - were voted in, meaning that all of the Deloitte report recommendations have now been acted on.
"Later today we hope that members will vote in a number of changes to the OCI constitution that will radically reform how this organisation operates," OCI President Sarah Keane said before the meeting.
"We will finally have a modern, fit for purpose constitution that will stand the organisation in good stead for years to come.
"We still have some issues to resolve with regard to our Internal Olympic Committee (IOC) obligations and we will return to these in a separate EGM in January. The matters concerned are important. The Board takes them seriously and we are committed to handling them correctly."