Freddy Sittuk says he accepts the decision by Athletics Ireland (AAI) to declare Gary O'Hanlon Irish national marathon champion after the Kenyan was awarded the title on Sunday.
Racing for the Raheny Shamrock club, Sittuk finished fourth in Sunday's Dublin marathon and was declared the highest-placed Irish runner on the day.
O'Hanlon, who ran a personal best of 2:18:52 to finish 11th overall, was under the impression he was the national winner, but was informed after crossing the line that Sittuk, by virtue of passing eligibility rules, was the champion.
After a controversial finish on Sunday, Gary O'Hanlon has been named Irish national marathon champion. pic.twitter.com/RmFdNjl2gz

— RTÉ Sport (@RTEsport) November 2, 2017
Under the rule agreed by the delegates at the 2016 AAI Congress, an athlete is only eligible to compete for the national championships title and medal positions "with an unbroken six months residency in Ireland immediately prior to the championship".
The AAI confirmed on Saturday evening, hours before the marathon, that Sittuk was eligible, something O'Hanlon was unaware of, and believed he would be battling it out for the title with Sergiu Ciobanu (reigning Irish champion) and Stephen Scullion.
Raheny Shamrock's Freddie Kerron Sittuk is eligible to win the national title and for team score at the Dublin Marathon tomorrow

— Athletics Ireland (@irishathletics) October 28, 2017
"The three of us were racing against each other for that title," O'Hanlon told RTÉ Radio One's Liveline Programme.
"I didn't think he [Freddy] was here for six months, but I wasn't sure. I couldn't understand how he had won it, but it wasn't that. It was that I wished I was told he was in the race."
Sittuk, who has been running for Dublin club for the past five years, has been in Ireland since April, but returned to Kenya for family reasons for a few weeks in September, which meant he wasn't eligible to compete having broken the six-months unbroken residency requirement.
A meeting of the Competition Committee of AAI on Wednesday night confirmed this and O'Hanlon was declared the winner.
Sittuk says he has no complaints with the decision.
"I did know," was his response when asked whether he was aware of the residency rules which stated he had to be present in the country for six months up to the race, "but I didn't know if it was continuously".
"I don't feel disappointed because the rules are the rules. I have to follow the rules. I don't blame the AAI. I was happy to come fourth."
"If I had qualified through the rules, I'd take the trophy, but that's it. Those are the rules."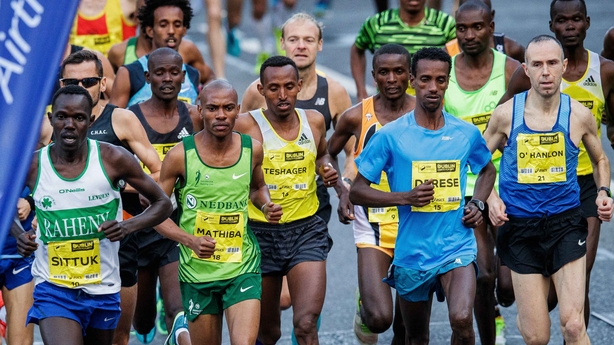 While Sittuk contends the rules in place are not discriminatory, fellow Raheny Shamrock member Bernard Roe informed the programme that he takes a different view.
"He's a Kenyan runner, but a fully paid up member of an Irish club. As far as I'm concerned, he should be allowed compete in Irish club events.
"It's unreasonable to expect any non-Irish runner not to leave the country for six months before an event they want to compete in for their club.
"Now he's not able to do that and if you ask me it's unfair."
Asked whether he felt he is a Kenyan runner in Ireland, or somebody resident in Ireland competing in races, Sittuk told listeners: "I think I'm both".
Roe also believes the confusion could easily have been avoided as Dublin City marathon had to have known he was in breach of the residency requirements as the organisers paid for his flight from Nairobi to compete in the race.
"Freddy was entered by the Dublin marathon as an elite athlete. The AAI then said he was eligible to compete for Raheny Shamrock and the national championship."
O'Hanlon says he bears no ill-feeling to Sittuk and believes the case is different to some high-profile cases in athletics of African runners declaring for European countries and not spending any time in the country.
Sittuk has spent more than 200 days in Ireland in between the 2016 and 2017 Dublin marathons, is an active club member, coaches juveniles and is involved in fundraising.
"Freddy has come to Ireland for the last four or five years and has competed for his club throughout races," says O'Hanlon, who at 43 only resumed his competitive career five years ago, having previously been a top-ranked junior.
"A lot of people would say he has an entitlement to run for national championships. He's not like your average Kenyan that comes over for the Dublin marathon and you never see him again.
"It's hard, but I run to survive" - Freddy Sittuk
"I like the chap. A lot of people would consider him a friend on the running scene."
The Kenyan is a professional runner, and competes in the country under a Performance/Tournament visa which means he cannot supplement his race income with any form of paid work.
Running allows him to provide for his family back home and says he saves money to buy cows back home. He adds it is important to return home to see his sick mother.
"I have to visit her once a year. I have to travel home in back. It's hard, but I run to survive. To make some money.
"It can be hard to get sponsorship as you normally have to run below 2:12, 2:10. I'm an average runner, I don't run under 2:10."