After 10 exhilarating, exhausting  days – and that's just for those of us watching – the curtain has finally been drawn on the World Championships in London.
It's been fantastic, though maybe not for those of us hoping for some Irish success on the track or roads, our one top-10 finisher coming in the race walk yesterday in the shape of the ever-reliable Rob Heffernan.
From a broader perspective, the championships were a huge shot in the arm for the sport after the negative media in the last few years.
The organisation was good, and a great way to judge the health of the sport is through how many bums were on seats. Almost every night was packed to capacity, and there's an argument that we should be putting athletics in places where you know you're going to get those crowds.
With all the stuff that's gone on with the IAAF over the last few years, they've given the sport a major boost, but in two years' time the World Championships are going to go to Doha, to the desert, a place that's hard to get to and will be very uncomfortable for spectators.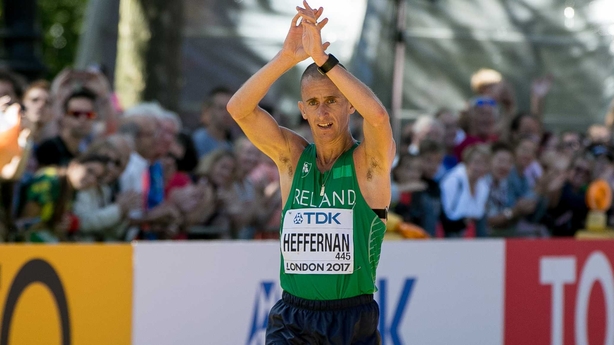 People just won't travel, and going off the lack of crowds that attend the Diamond League meeting there, it's hard to imagine it being anything close to what London produced.
It wasn't just the performances, though there were plenty of brilliant displays of athleticism; it was the stories, the drama, the controversy.
To pick out just three races, the women's 1500m was incredible – a crazy atmosphere, the crowd going bonkers, and a brilliant finish with Kenya's Faith Kipyegon kicking away to gold ahead of Jenny Simpson and Caster Semenya, breaking British hearts as Laura Muir was demoted to fourth.
The women's steeplechase was another cracker. We had an athlete missing the water jump on the first lap, falls mid-race, then a complete shock as Americans Emma Coburn and Courtney Frerichs upset the Kenyans and went 1-2.
For me the highlight, though, came on Saturday night, when the British men's 4x100m team brought the house down and took gold in what many expected to be a victorious salute to Usain Bolt in his last ever race.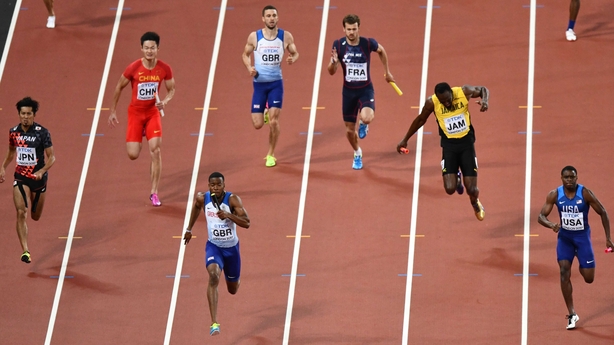 Was it the cleanest World Championships we've had? Quite possibly.
There was very little way out there in terms of performances where you're going, 'hang on a second', but you could argue that was down to the conditions as it was often cool in the evenings.
It could also be a reflection on the increase in testing and bio-passport procedures the IAAF are implementing to crack down on doping in recent years.
From an Irish perspective, there was no avoiding the reality: it was a bad championships. Medals are always going to be a stretch for us, but it should be a viable goal to get our athletes to perform on the big stage and over the last 10 days many of them didn't.
Of course Heffernan and Brian Gregan acquitted themselves well, as did Claire McCarthy and Mick Clohisey in the marathons, but elsewhere many of our strongest athletes were well off their best.
You could certainly argue Ciara Mageean and Mark English weren't in the best shape coming into it, and Thomas Barr got unlucky with a bout of norovirus, but when athletes of their calibre fall short of their goals it's time for a bit of self-reflection.
I'd be the first to put my hand up and say that I've underperformed at championships, so I can empathise with the athletes, but any time it does happen it should be an opportunity to reflect and critically analyse everything.
In the next couple of weeks they have to debrief and for those who didn't perform well, especially who did it for the second or third time at a major event, you have to be honest with yourself.
From an Irish perspective, there was no avoiding the reality: it was a bad championships
You need to question everything and whether it's working, which is hard to do especially if you've a great relationship with your coach. But if you're toeing the line with people you feel you can beat and you're finishing out the back door, there's no other option.
There's a wider issue here about where we're going as a sport. I feel we're too happy to come to a championships, get it done, but there's are few take-home messages about what we can improve. The services and facilities are something we can't complain about, but there's something missing.
In recent days the same discussion was happening in the British set-up, and long-time coach to Jessica Ennis-Hill, Toni Minichello, made the point that too often they get hung up on the icing and cherry (read: support services) when it comes to building the high-performance cake, rather than the foundation itself, which many believe is good, high-quality coaching.
In Ireland we've got all the fluff, all the icing, but we need to look more at the base. Whether that's the talent pool or the coaching resources, structures, there's a gap there.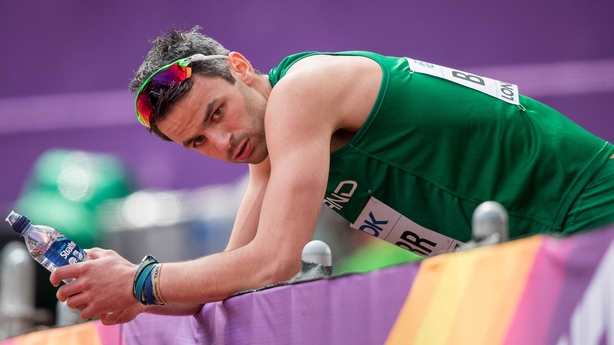 Clear objectives and a strategy, based on current talent pool and best support these athletes through coaching, be it a full-time coaching system or exposure to high performing coaches who can add value, and upskill existing coaches.
The more you come to championships the more you see what other countries are doing and if they put all these resources into it, then it's tough to beat them.
We need to be creative if the resources aren't there, to create link with other athletes, coaches, groups and agents abroad to expose Irish athletes to that high level as early as possible. You can't just wait until the World Championships and hope it'll come off. In sport, I hate the word hope.
There is an onus on the system and the governing body to sit down and look at the athletes and do a debrief, and it has to show where different elements can add value to the overall project.
I feel we have talented athletes, as results in the U20 and U18 championships have shown this year, but it's about transferring that to senior level now. We have had talented underage athletes before, but the lack of a system hasn't encourage that potential.
We need to learn and makes changes. The worst thing is to do nothing.
So many races in London threw up surprises, with outsider athletes pulling off medal heroics despite being well down the rankings, either through athletes who ran smart or came in in decent shape.
There's no reason that at the next World Championships in 2019, or Olympics in 2020, Irish athletes can't do that.  But first both them and those within the system need to look in the mirror, and face a few uncomfortable truths.