Caster Semenya claimed another global title when she won the world 800 metres gold while seemingly barely taking a breath on Sunday, biding her time before surging clear to record the fastest time in the world this year.

The South African won in one minute 55.16 seconds, ahead of Francine Niyonsaba of Burundi, who took silver behind her in Rio, in 1:55.92 with American's Ajee Wilson claiming bronze in 1:56.65.

South Africa's Semenya, who won bronze in the unfamiliar 1,500m on Monday, looked much more at home in her preferred event.

Niyonsaba led the field round at a sharp pace, hitting the bell at 57.98 seconds, with Wilson, who set a U.S. record this year, hot on her heels.

Semenya, however, maintained her languid stride a few metres back before closing the gap, easing past both on the final bend and running clear.

Semenya, 26, is the 2016 Olympic and 2009 world champion and is poised to gain two more golds after Russian doper Mariya Savinova-Farnosova was stripped of her 2012 Olympic and 2011 world titles.

"I just love you guys, it feels like home in London," said Semenya.

Her victory will again raise the issue of hyperandrogenism and the perceived advantage of her raised natural levels of testosterone, though she said this week she was sick of talking about it.

IAAF head Sebastian Coe said on Sunday that the governing body is in the process of making new submissions on the matter to the Court of Arbitration for Sport and that a date for a meeting was still being discussed.

Wilson said she had not expected a medal despite running into her best form at just the right time.

"I was trying to focus on my own race, I tried to speed it up for the last 100 metres not matter if I came up short," she said.

"I pushed it 100 percent and I'm super-happy. The crowd was super-awesome and super-special tonight. It was electrifying."

Kenya's powerful Margaret Wambui, third behind Semenya in the Rio Olympics, had been expected to be in the medal mix but was never on terms with the leaders and, despite a strong finish, had to settle for fourth in 1:57.54.
Meanwhile Asbel Kiprop failed in his bid for a fourth consecutive 1,500 metres gold medal - but Kenya still celebrated a dazzling one-two with new champion Elijah Manangoi leading home his friend Timothy Cheruiyot.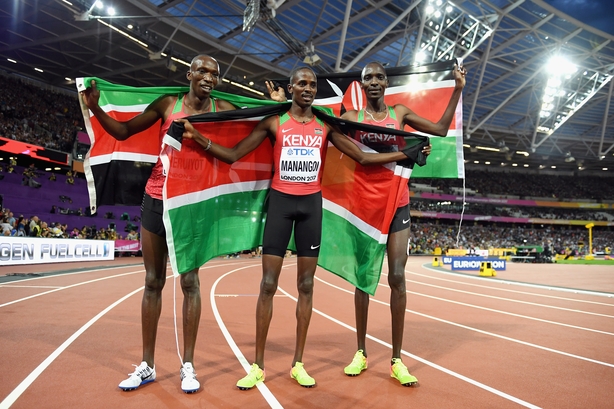 Manangoi, the fastest man in the world this year, sped past his young training partner on the home straight of the last individual track event to take the title in 3 minutes 33.61 seconds, just ahead of Cheruiyot (3:33.99).

Kiprop, who had briefly threatened to make it a Kenyan clean sweep, found the pace too hot on the last lap, fading into ninth place in 3:37.24.

It was a fairly tame attempt to emulate the four straight metric mile world golds of Moroccan Hicham El Guerrouj from the enigmatic 28-year-old Kiprop, who had one of his off-days.

Norway's European champion Filip Ingebrigtsen snatched the bronze, throwing himself across the line to just oust Spain's Adel Mechaal for the medal by 0.18 seconds in 3:34.53.

Manangoi's first major title had come with a little help from the master Kiprop, from whom he reckoned he had learned so much over the years.

"I knew I was in pretty good form and thought I could make the podium but to win this gold is wonderful," added Manangoi.

Elsewhere Olympic champions the United States reclaimed their women's 4x400m relay world title as Jamaica suffered more injury heartbreak in the World Championships final on Sunday.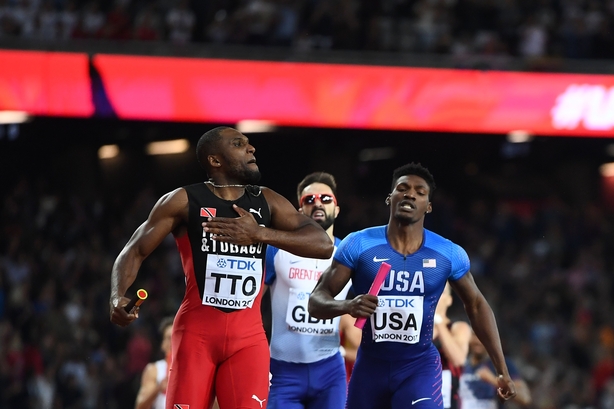 Twenty-four hours after Usain Bolt sensationally pulled up in his relay event, Anneisha McLaughlin-Whilby slowed down clutching her leg 20 metres into her second leg and went to ground, ending Jamaica's reign as world champions.

Jamaica had been in the lead, but American Allyson Felix surged clear of the field to open up a 15-metre gap in a superb split of 48.7 seconds.

Team mates Shakima Wimbley and individual 400m champion Phyllis Francis duly extended the gap to win gold in a world leading time of 3 minutes 19.02 seconds.

Felix enhanced her record as the most decorated athlete in World Championships history by winning her 11th gold to equal Bolt's haul. It was her 16th medal overall.

In the men's race, the final event of the Championships, Trinidad and Tobago denied United States a seventh successive world 4x400 metres relay title when they won a breathtaking final at the World Athletics Championships on Sunday.

The U.S led for most of the race until Lalonde Gordon ran a superb final lap for the Caribbean islands to overhaul Fred Kerley on the home straight and give Trinidad their first world title in this event.

Martyn Rooney put up a brave chase for Britain but was unable to haul in the leading pair and the hosts took bronze.

Trinidad's time of 2:58.12 was the fastest this year.