Here in London, most of the athletics media along with athletes, coaches and team managers have been taking crash courses in the last 24 hours on gastroenteritis, an infection that has wreaked havoc on some of the world's best athletes.
The first confirmed case we heard about was Thomas Barr, who had to surrender his place in the men's 400m hurdles semi-finals last night after falling ill with symptoms in the early hours of Monday morning.
Since then the stories have emerged from everywhere, with several cases reported in the Canadian team, at least five athletes hospitalised, and global stars such as Jamaica's Elaine Thompson and Botswana's Isaac Makwala also reportedly vomiting in recent days.
Yesterday evening, Makwala had attempted to shrug off the symptoms and compete in the heats of the men's 200m, but reports emerged of him vomiting in the warm-up area and eventually officials intervened to stop him competing.
Today a statement from the Tower Guoman Hotel, where the Irish and Botswanan teams are staying, stated that the origins of the illness did not come from the hotel itself.
That's not much use to Thomas Barr, whose championships have been brought to a premature end because of this, though it'll be interesting to see if other athletes are willing to roll the dice and continue to stay there.
The Irish race walkers are due to arrive on Thursday and plans are already in motion to try find alternative accommodation for them.
The reaction from the organisers has been swift and professional, though you do have to wonder what the response would be if this happened in Rio last year, where it seemed British media outlets were keen to jump on every little organisational imperfection. Will they do the same when dozens of athletes' championships have been ruined on their own turf?
What's certain now is that the air appears to be gone from tonight's men's 400m final, with Makwala, the chief threat to race favourite Wayde van Niekerk, now questionable to even appear.
Last night word on the ground here was that Makwala is being denied the chance to compete in the final as organisers and medics enforce a 48-hour quarantine on all affected athletes.
That could cost him huge sums in prize money, endorsements and sponsorship deals in the year ahead, and if something has been amiss from an organisational standpoint, either in food hygiene or cleaning standards at the official hotels, then someone should have to compensate athletes like him for what they've lost.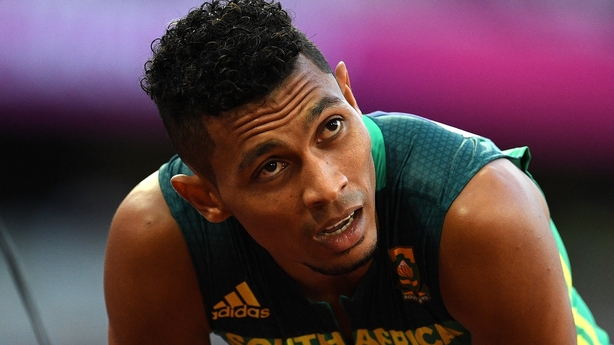 But back to the track, and who's left on it. Tonight Van Niekerk looks an unstoppable force in the men's 400m final, with the world record holder attempting the first part of a 200m-400m double.
Last year he in Rio he clocked 43.03 to win gold, but can he go even faster tonight? My hunch is no, and certain journalists I've spoken to suggested Van Niekerk is only running for gold tonight, keen to conserve his energy for a tilt at the 200m title.
After the heats yesterday evening I spoke to Jamaica's Yohan Blake, the Olympic silver medallist in 2012, about the impending challenge of taking on Van Niekerk over 200m. "He's strong, he's going to bring a lot of strength and I've got to stay on my toes," said Blake.
Undoubtedly Van Niekerk will be feeling the effects of his three races in the last three days - two rounds of the men's 400m and the first round of the men's 200m - and it's not just the physical effort but all the emotional energy it can drain coming to and from the stadium each day.
Van Niekerk's closest rival should be Steven Gardiner of the Bahamas, who ran a national record to win his semi-final and dipped below 44 seconds for the first time, but he was flat on his back after that run and I'd be surprised if he can go any faster in the final.
Elsewhere tonight on the track we've got the men's 800m final, which looks a lottery, and the men's 3000m steeplechase final, where Evan Jager of the US is capable of ending the Kenyan dominance at long last.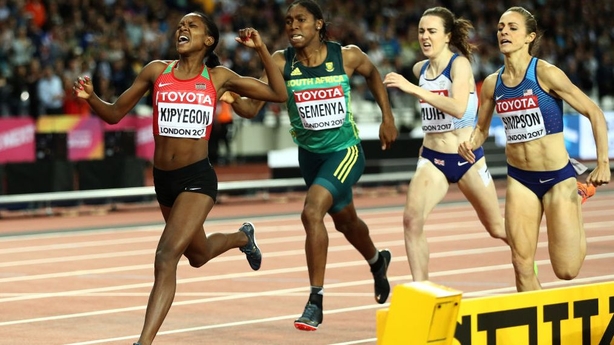 If it's anything like last night, we'll be in for a cracker. The women's 1500m final, won by Kenya's Faith Kipyegon, was undoubtedly the race of the championships so far, and it proved yet again that there is no sport like athletics when it comes to gender balance.
It was hard to think of any other sport where you have that atmosphere, that support, for a women's event, and what it also showed was that far from athletics slowly dying,  as many in the media have suggested, it continues to thrive.
More than 300,000 people have attended the first six sessions of these championships, and while the issue of doping hasn't gone away, we've seen enough to know that it hasn't been a death knell for the sport's popularity.
London, for all its issues with gastroenteritis these past few days, has shown what's possible for the sport, and in the future the IAAF should be keen to stick to places like this as host sites, where the city and its people are athletics-mad – and have no problem showing it.