Justin Gatlin insisted his pariah status was undeserved as the least popular world 100 metres champion in history still refused to see his triumph over Usain Bolt as a setback for the sport.
The two-time drug cheat's victory on Saturday night in 9.92 seconds was greeted by a cacophony of boos, as his every appearance at the London Stadium has been.
There is no hiding from the embarrassment that the unrepentant American's victory will cause to a sport still struggling to regain credibility in the wake of repeated doping scandals.
The retiring Bolt, cast as the 'saviour' of athletics in his battles with Gatlin, had his goodbye gatecrashed - and by the one man almost no one wanted to spoil the party.
Gatlin was effusive and gracious in his praise of bronze medallist Bolt after the race, bowing down to him on the track and lauding him in interviews, but for the 35-year-old sorry still seems to be the hardest word.
His first ban in 2001 he blamed on an amphetamine contained in attention deficit disorder medication. The second in 2006, which resulted in a four-year suspension, reduced from eight on appeal, he attributed to a testosterone massage cream applied to his body without his knowledge.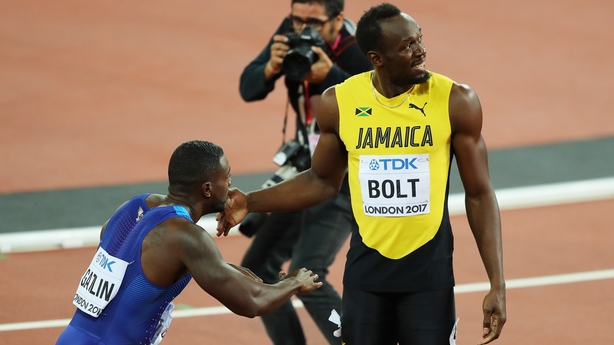 Remorse has not been forthcoming - and still, at least publicly, is not.
Asked if he could understand why his victory was seen as a disaster for the sport, he said: "I really don't need to understand.
"I can understand the rivalry that I have with Usain, but it's not a bitter rivalry. I respect the man and every time we come across the line I've shaken his hand, given him a hug and told him congratulations and that's all the really matters for me.
"I'm just a runner, I'm back in the sport, I've done my time.
"I've come back, did community service, I talked to kids and inspired kids about the right path. That's all I can do.
"Society does that for people who have made mistakes and I hope track and field can understand that to. That's why I'm back in the sport and that's why I'm still running."
Gatlin has Bolt's backing - "he deserves to be here, because he's done his time," said the Jamaican - and he is of course far from alone in having a doping past.
Plenty of athletes have returned from bans and won medals and received far warmer receptions.
Asked about his "bad boy" reputation, Gatlin said: "What do I do that makes me a bad boy?
"Do I talk bad about anybody? Do I give bad gestures? I don't. I shake every athlete's hand. I congratulate them, I tell them good luck. That doesn't sound like a bad boy to me.
"It seems like the media want to sensationalise it and make me a bad boy because Usain is the hero. That's fine, I know you've got to have a black hat and a white hat, but guys, come on.
"I keep it classy and I never talk bad. I try to inspire other athletes. I don't see where the bad boy comes from."
"I'm just a runner, I'm back in the sport, I've done my time."

The fact is, though, that the 100m is the blue riband event and has been particularly beset by drug problems.
Of the 30 best 100m times in history, 21 have been achieved by athletes who have served drug bans - with the other nine all coming from Bolt.
It is grovelling rather than winning that Gatlin has to focus on if he wants to silence the boos.
There will inevitably be more when he returns to the stadium on Sunday to take to the top of the podium, a ceremony that has been brought forward from 8.00pm to 6.50pm.
And, after landing the 100m crown 12 years after his last global title, Gatlin looks set to be around for some time yet.
While Bolt, at 30, has run his last individual race and will hang up his spikes after Saturday's 4x100m relay final, Gatlin has no retirement plans. Indeed, he indicated the Tokyo Olympics in 2020 could be a goal.
"One millisecond when I crossed the line, I was like, 'I'm retiring'," he said.
"My son wants (me) to go to Tokyo 2020, so I'm just going to take it year by year, race by race, and work hard."