And so begins the final countdown – those nervous final days before the biggest event of the year, a time when you can't conjure up medal-winning form out of nowhere, but if you're not careful you can certainly make your medal chances disappear.
As Paul Hession, a long-time teammate of mine used to say: this is where you have to learn to do nothing.
That's easier said than done, because so often the temptation at this time for athletes, no matter how good, is to overcook things. But you have to realise the computer is already programmed.
That's where the role of the coach comes in: as an athlete you want them to take the reins because if left to your own devices, you can easily go out and test yourself running against the clock, trying to bolster the confidence before the big event, but it may not be needed.
I think Athletics Ireland have an opportunity now to look at that talent and think: how do we nurture that?
This is a time to look back on the season and all the good work you've put in, the good races, and give yourself that level of confidence knowing you've done everything you possibly can.
For the 11 members of the Irish team heading to London for the World Championships – which are now just ten days away – that will be their approach over the coming days.
Last weekend, many of them had their final outings at the national championships in Santry, where Thomas Barr, Mark English, Ciara Mageean and Brian Gregan were all hugely impressive in winning their events.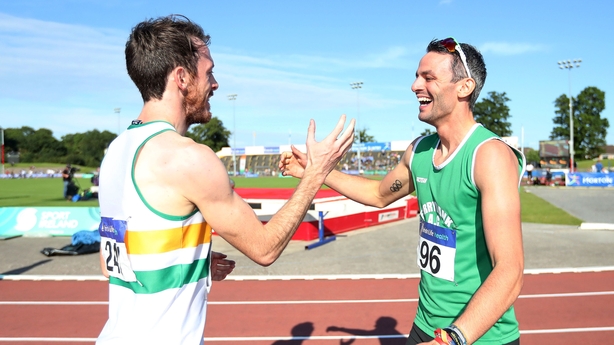 Of all of them, I'd imagine Barr was the most nervous. He came into the weekend having not raced in four weeks after picking up a minor hamstring tear late last month, and that sort of mishap dents your confidence. Anytime you come back from injury you don't trust your body and it takes a couple of races to be able to again. Time didn't matter last weekend for him; it was just about getting around in once piece.
In the end, he still managed a fast run, taking his seventh consecutive title in 49.79 ahead of training partner Paul Byrne. That should give him the confidence to go back to the track, put in two key sessions this week, and then start to shut it down. Hopefully that's enough.
In the men's 800m, Mark English seemed to go through the motions to get the job done
The way Tom was last year – finishing fourth in the Olympics off minimal training – he'll know what he's capable of and will be hoping to replicate those heroics again.
In the men's 800m, Mark English seemed to go through the motions to get the job done, which is often the case for an athlete as classy as him against guys a few seconds slower. But his 25-second last 200 shows there's speed there and you need that kick to survive the rounds of the 800m; if he can produce it like that in London then he'll be in a good position to qualify from the first round.
Ciara Mageean, meanwhile, looked at the weekend from a training perspective and got in two hard 800m efforts, bagging another national title along the way. She's had a great season to date, so should take a lot of confidence to London.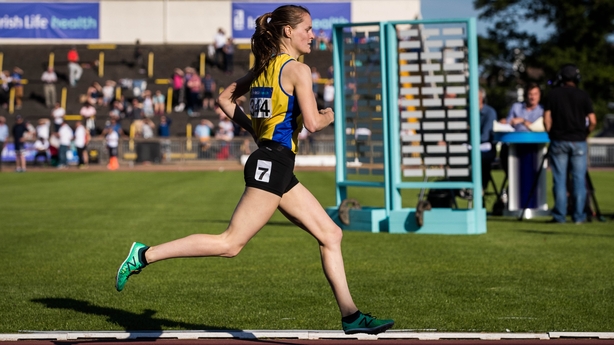 Brian Gregan looked really good, winning the men's 400m in 45.74. The great thing for him is he's on a winning streak which is really important for that all-important confidence heading into the cauldron of the Olympic Stadium next week.
He'll be in with lots of sub-45 guys and even a few sub-44 guys, so he could get dragged around to a fast time, which can help him make it through the first round.
Other London-bound athletes to show up in Santry included Alex Wright, who had a nightmare in the men's 10,000m race walk, getting disqualified after 8km after judges deemed him to be lifting, while marathon man Mick Clohisey finished a decent second in the 10,000m, the many training miles he's been racking up undoubtedly still in his legs.
To me, the performance of the weekend came in the women's 400m, where Kilkenny's Cliodhna Manning hammered her rivals in her first ever outing at the distance to win in 53.25.
She's a young girl that doesn't know her own talent in the event, and is only beginning to gravitate towards it after running a leg of the 4x400m at the European U23 Championships a week earlier.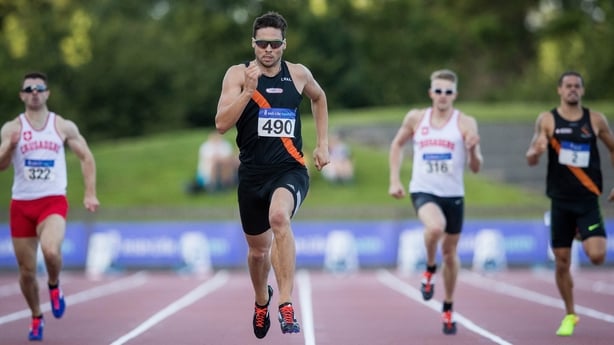 With an evening programme, blissful weather, a live prime-time television audience and some great performances, it was a hugely successful national championships, but if we're looking at the overall athletics picture last weekend, there's no doubt that the U20s stole the show.
The Irish team came home with three medals from the European U20 Championships in Grosseto, Italy: Gina Akpe-Moses won the 100m, John Fitzsimons took a surprise bronze medal over 800m and Michaela Walsh a bronze medal in the hammer.
What was really encouraging was that we got a field event medal. It's been so long since Eileen O'Keeffe had Irish throwing on the map internationally and to see a junior like Michaela acquit herself so well brought about hope of it happening again in the future.
But that, and the success of other junior stars, will depend on how they progress in these coming years. They'll all be going through a lot of changes, heading off to college, moving out of home, and that all takes its toll. What you don't want is that talent to drift away and not fulfil its potential.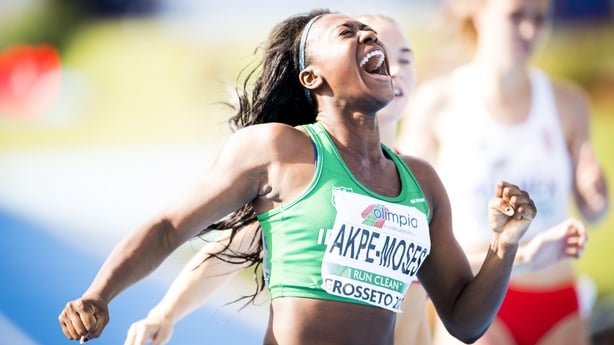 I think Athletics Ireland have an opportunity now to look at that talent and think: how do we nurture that? Is it a case where someone comes in and tries to manage it to the next level? Perhaps, because we always have talented juniors but the key is what happens to them next.
Is it time to bring in a full-time relay or sprints co-ordinator? Obviously athletes in every area such as throws, jumps or distance running would want a similar investment, but when you look at the junior and U23 ranks, we've got a rake of good sprinters coming through.
It might be time to invest in a coaching structure that can keep this talent in the pipeline, because we want to make sure our World Championship team in 2027 is just as strong, or better, than it will be in 2017.