Thomas Barr, Ciara Mageean, Brian Gregan and Mark English all won at the Irish Life Health National Championships at Morton Stadium as they gear up for next month's World Championships in London.
Barr won a seventh consecutive 400m hurdles title, showing that he's over his recent injury concerns by clocking 49.79, just ahead of his training partner Paul Byrne, who pushed him right the way down the home stretch.
The Ferrybank athlete finished fourth at last year's Rio Olympics so will travel to London in positive humour.
European bronze 1,500m medallist Mageean held off a late challenge from the fast-finishing Claire Mooney to win the women's 800m as she fine-tunes for the worlds in August.
Brian Gregan lost most of last season to injury and illness, losing 7kg in the process, but he's back and won the men's 400m in 45.75. Cliodhna Manning (Kilkenny City Harriers) scored a surprise victory in the women's 400m in 53.25 in her first proper outing over the distance.
English added another 800m title to his growing collection, taking gold in 1:50.89 as he looks to sharpen his preparations for the World Championships.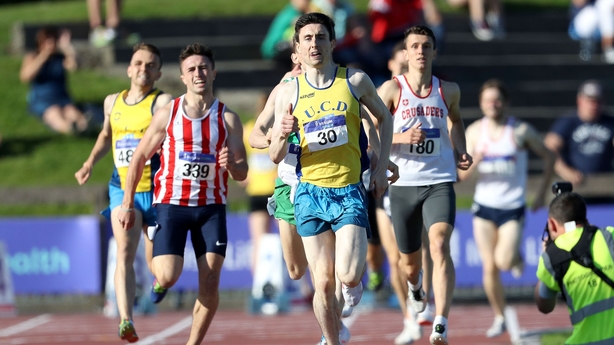 Sarah Lavin won the women's 100m hurdles in a crisp 13.62 seconds while Gerard O'Donnell came back to win the men's 110m hurdles in 13.92 seconds ahead of Matthew Behan in 14.09.
Kerry O'Flaherty won the women's 3,000m steeplechase in 10:01.40 from Michelle Finn in 10:31.14.
Conor Dooney made it a happy household winning the 5,000m in 14:25.60 with his brother Kevin winning the 10,000m the previous day in 29:30.16 – both their first senior titles.
Saragh Buggy added the long jump to her triple jump crown with a leap of 5.87m. Ellen McCartney won the pole vault with a best of 3.55m with Thomas Houlihan beating Michael Bowler in the men's on countback – both cleared 4.55m.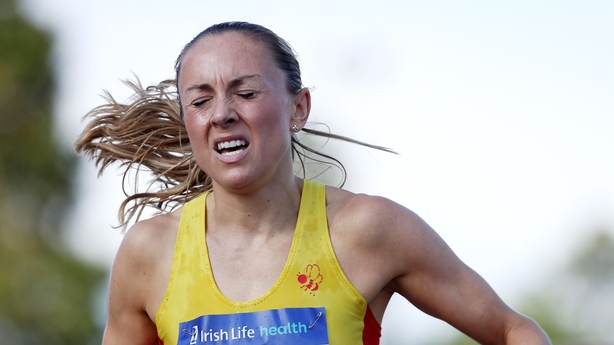 John Kelly won the men's shot putt with a best of 16.46m. Adam McMullen won a brilliant long jump competition with 7.74m ahead of Colm Bourke with 7.46m and Keith Marks who had a best of 7.12m.
Amy Foster was the fastest woman in Ireland once more winning the 100m in 11.43 while Jeremy Phillips ran a nippy 10.39 in the men's race.
Sean Tobin crowned an excellent couple of weeks to win his first national 1,500m title in a tactical 3:53.90. It was also a very successful weekend for Emma Mitchell who made it a golden double winning the 1500m in 4:31.55 to add to her 5,000m title.
Irish Life Health National Senior Championships, Morton Stadium
Women
100m
1. Amy Foster (City of Lisburn) 11.43
200m
1. Phil Healy (Bandon) 23.56
400m
1 Cliodhna Manning (Kilkenny City Harriers AC) 53.25
400m Hurdles
1. Nessa Millet (St Abbans AC) 1:01.34
800m
1. Ciara Mageean (UCD AC) 2:04.06
1500m
1. Emma Mitchell (Queens) 4:31.55
3000m S/C
1. Kerry O'Flaherty (Newcastle & District AC) 10:01.40
5000m
1. Emma Mitchell (Queens) 16:27.08
100m Hurdles
1. Sarah Lavin (UCD AC) 13.62
4x400m
1. DCH 4:02.48
4x100m 
1. Mullingar Harriers 49.36
Pole Vault
1. Elizabeth Ariel Lieghio (Clonliffe Harriers AC) 4.10m
Long Jump
1. Saragh Buggy (St Abbans AC) 5.87
Triple Jump
1. Saragh Buggy (St Abban's) 13.01m
High Jump
1. Philippa Rogers (Sli Cualann AC) 1.73
Hammer
1. Cara Kennedy (Ferrybank AC) 53.17
Shot Putt
1. Claire Fitzgerald (Tralee Harriers) 14,96m, 
Discus
1. Claire Fitzgerald (Tralee Harriers) 51.17m
Javelin
1. Grace Casey (Eire Og Corra Choill) 43.42m
Men
100m
1. Jeremy Phillips (Clonliffe Harriers) 10.39
200m
1. Eanna Madden (Carrick on Shannon) 21.07
110m Hurdles
1. Gerard O' Donnell (Carrick-on-Shannon) 13.94
400m
1. Brian Gregan (Clonliffe Harriers) 45.74
400m Hurdles
1. Thomas Barr (Ferrybank) 49.79
800m
1. Mark English (UCD AC) 1:50.89
1500m
1. Sean Tobin (Clonmel) 3:53.90
5000m
1. Conor Dooney (Raheny Shamrock AC) 14:25.60
10000m Walk
1. Joseph Mooney (Adamstown AC) 53:12.69
10,000m
1. Kevin Dooney (Raheny Shamrock) 29:30.
4x400m
1. Crusaders 3:17.28
4x100m
1. Nenagh Olympic 42.94
Shot Putt
1. John Kelly (Finn Valley AC) 16.46
Pole Vault
1. Thomas Houlihan (West Waterford) 4.55m
Long Jump
1. Adam McMullen (Crusaders) 7.74m
Triple Jump
1. Denis Finnegan (An Riocht) 15.39m
High Jump
1. Ryan Carthy Walsh (Adamstown) 2.11m
Discus
1. Colin Quirke (Crusaders) 55.12m
Hammer
1. Ryan McCullough (Donore Harriers) 65.84m
Javelin
1. Stephen Rice (Clonliffe Harriers) 62.94