Ireland's leading marathon runners say they were interested by Nike's recent Breaking2 marathon attempt, but don't feel it will inspire anyone to take up athletics.
Two of Ireland's leading female 26-milers would love to see a similar project for the world's elite women runners, but they don't see it happening any time soon.
Earlier this year the sportswear giant sponsored an attempt to run a marathon in under two hours - a barrier that no athlete has broken, with the men's world record standing currently at just under two hours and three minutes.
They hand-picked three runners, with Kenyan Eluid Kipchoge falling just short, clocking 2:00:25 around the motor racing circuit at Monza in Italy.
Conditions were perfect, the course was flat, the runners were led out by hand-picked, rotating pace makers and drinks were delivered from moving mopeds, which all meant that the time didn't qualify as a world record.
"From a scientific point of view it was fascinating to see what went into it - the aerodynamic bandaging and clothing, rotating pacemakers, perfect course in perfect conditions, the drinks coming in on demand on the mopeds," said Sean Hehir, who will represent Ireland at August's World Athletics Championships in London.
"From an inspirational point of view, have I taken inspiration from it? I don't think so."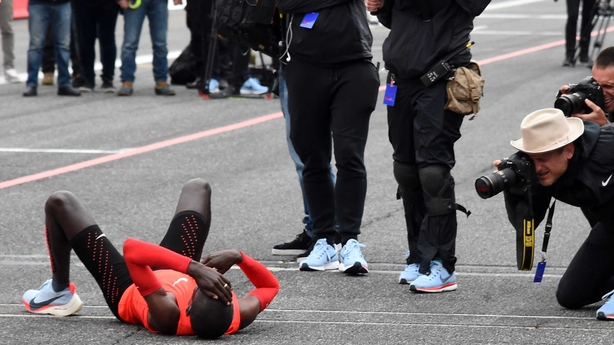 Rio 2016 Olympian Mick Clohisey added: "It's like an unbelievably organised training session - that's exactly what it is.
"None of that stuff is allowed in a race. It's not a world record. It's like when you go training and you run an unbelievable time you can't say 'that's my personal best', which happens every week.
"This was in front of the world's media, but it's still not a world record."
Us women aren't deemed the same, are we? It's frustrating - Claire Gibbons-McCarthy
Claire Gibbons-McCarthy and Laura Graham are two of Ireland's leading female marathon runners and they say the didn't even watch the Breaking2 attempt because they were out training at the time.
"I thought it was all a bit unreal," said Cork's Gibbons-McCarthy. "I didn't think they'd get as close as they did - I thought they'd be out the gap around 35km so it's good to go back and watch out they did it.
"It was a good experiment, but that's all it was - an experiment because it was pretty unrealistic. If you put these people in a proper race, a proper marathon, I don't see it happening.
Graham said: "t was pretty much an experiment."
The four were speaking recently at the launch of the Dublin City Marathon, which is set to draw nearly 20,000 runners to the streets of the capital on Sunday, October 29.
This was essentially a marketing stunt by a major sportswear manufacturer with the idea of selling more of their product.
But they still put a huge amount of money behind the bid and even developed state-of-the-art footwear for Kipchoge, Ethiopian Lelisa Desisa and Eritrean Zersenay Tadese in their bid to go sub-two.
Gibbons-McCarthy and Graham say they would love to see someone do something similar with the women's marathon, but acknowledge that it is unlikely to happen any time soon in the unequal world of sport.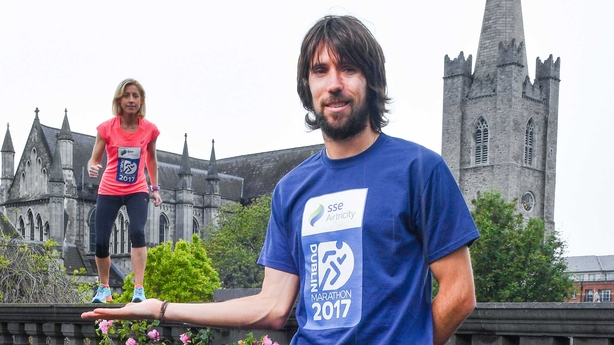 "I'd be interested to see how fast a woman can actually run for the marathon, with as much help. I'd like to see it," said Gibbons-McCarthy.
"We run with men in the big marathons, not in championships, but us women aren't deemed the same, are we? It's frustrating, but it's down to sponsorships, Nike and so on… I couldn't see them doing it for the women, but they should. Why not?"
All of the runners took something different from Kipchoge's remarkable efforts, with Hehir and Clohisey admiring the science behind the bid.
"There are lessons in terms of fuelling that I'll take on board, a lot of science went into what the guys were having - a sugar, algae kind of mix that I looked into in the building up to the London Marathon," said Hehir.
While Raheny Shamrock runner Clohisey said "It's something I could learn from as well because I have been to casual about that sort of things. A lot of people could.
"Watching Kipchoge is great because he's just the ultimate athlete. All the other stuff, I'm not into it even though it has it's benefits. The talk about the shoes, but Kipchoge would be class without those shoes.
"Watching his form, the fact that he's able to look after his body and the discipline he has. What I was interested in was watching his form later on after 68 seconds 400m reps over 42k,.
"Shoes can give you and advantage, but I think it was Paula Radcliffe who said the shoes had a bit impact and I think that's disrespectful to what Kipchoge did."