Doubts: every athlete has them, and this time of year they can fester in the mind worse than ever, no matter how confident an athlete appears.
This was brought home to me in recent weeks when watching I Am Bolt, the documentary film following Usain Bolt's journey to the Rio Olympics last year.
Midway through, there is a moment when the fastest man in history, beset by injury and having not raced since the summer of 2015, wonders if he might have missed too much training; if for once in his life, he won't have the speed to obliterate the field.
"I always get nervous before my first race," he says. "Every year I worry, 'am I still fast'?"
Of course, no one else has Bolt's talent - and we all know how it worked out for him in Rio - but athletes everywhere can empathise with that panic, when the many months of training build to that first race of the summer.
For a lot of athletes the gap from the end of one summer to the start of the next is spent training, waiting and hoping.
In Shanghai last weekend, some of the world's best athletes were opening their season on the second stop of the Diamond League, while around 6,000 miles away, on a damp track in Waterford, Ireland's fastest men and women were doing the same.
In many ways, the two meetings span the full range of international competition, and though I wasn't present at either, checking in on results from afar brought back memories.
It's a strange sport, athletics, particularly for sprinters and field eventers.
While distance runners have cross country or road races to keep them engaged through the winter months, for a lot of athletes the gap from the end of one summer to the start of the next is spent training, waiting and hoping.
While soccer, rugby and GAA players can spend 10 or 11 months of the year playing, athletes often step on the track at this time of year having not raced in nine or 10 months, and that's where the doubts creep in.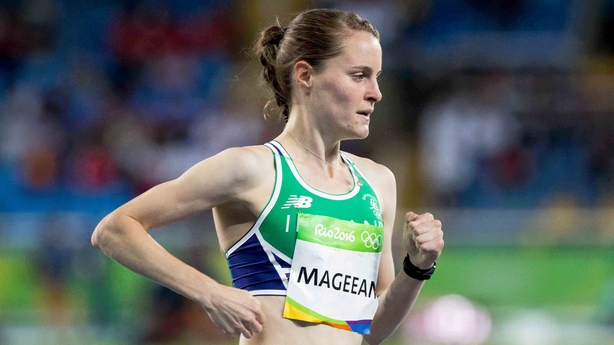 Even for those who raced indoors in the spring, the step up to the outdoor season is like the difference between a mid-table Premier League fixture and mixing it with the European heavyweights in the Champions League.
That's why events like Tón Le Gaoithe in Waterford, which is run by sprints coach Shane McCormack, are so valuable to Irish athletes.
It allows them to blow the dust off early, with races set up to be run with tailwinds so athletes can post a good time to help them get into quality races on the circuit.
How you experience that circuit depends a lot on your ability, and I've been at every level.
In the early days, it was all about trekking around to small meetings, the lowest rung on the ladder - booking your own flights, trains and buses, calling organisers and begging them to give you a lane in their meetings.
When I managed to get quicker and win a European Indoor title, it helped open the door to compete at the biggest meetings, the Golden League, as it was known at the time.
You knew the minute you stepped in the room, thinking to yourself, 'I'm going to have a fun two nights stuck with this guy'.
To outsiders, it looks quite glamorous. You're turning up at these great places - Paris, Monaco, Rome - but it can be lonely at times, particularly as an Irishman.
Other nations might have five, 10 or 20 competitors of the same nationality so they're bound to know someone at each meeting, but as an Irish person I was always hoping there was a 200m race and fellow Irishman Paul Hession was coming so we could room together.
Otherwise you'd get lumped in with someone random, and it can make for some funny, and occasionally awkward, experiences.
You knew the minute you stepped in the room, thinking to yourself, 'I'm going to have a fun two nights stuck with this guy'.
One time I roomed with a guy from Japan, and no matter how we tried, the two of us couldn't get a word across the entire time.
Another time I was in with a shot putter from Russia, a monster of a man. There wasn't much chat out of him either, nor was I looking for it.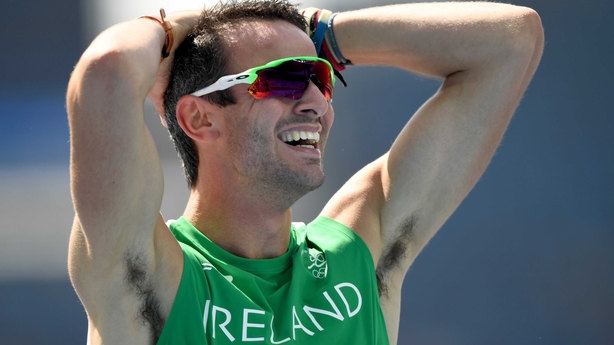 There was an Austrian fella who would chat while lying back, legs spread in Y-fronts on the bed, with me awkwardly trying to talk while looking away.
One of the worst was a man from the Bahamas who had zero interest in making conversation and was playing PlayStation in his bed for the entire night before the race as I was trying my best to get some sleep.
It's one of the reasons some athletes don't like to get on the circuit, because they can't control the environment and don't want to be put in a room with someone who makes them uncomfortable.
Some opt for lower-down races because it keeps you under the radar a bit ahead of the championships, but me, I always grasped it because I grew up watching Sonia O'Sullivan competing in the Golden League and I wanted the chance to be up there racing the best athletes in the fastest races.
These were the guys I was likely to meet at the major championships.
For Irish athletes like Thomas Barr, Mark English and Ciara Mageean, this will all be ahead of them this summer, and with 11 weeks until the World Championships in London, it'll be exciting to see that talented trio kicking their seasons into gear in the coming weeks.
Right now, all of them will have those doubts, asking themselves, just like Bolt, 'am I still fast?'.
When that thought comes, it's about having faith those around you, reminding yourself that you've done all the work and to trust your coach, and most importantly, yourself.
As soon as you step on the track, and post that first performance of the season, the doubts disappear.