Ciara Mageean failed to finish in the Women's 1500m European Indoor Championship Final after an Achilles injury flared up in the closing stages of the race.
The 24-year-old Portaferry woman qualified as a fastest loser from yesterday's heat, but struggled with two laps remaining as Great Britain's Laura Muir powered to gold in a Championship record time of 4:02.39.
Muir took control early and never let up the pace from the front, though Mageean appeared relatively comfortable and after four laps was less than two seconds behind Muir as she battled for sixth position.
From there she began to drift and her race came to a premature finish as she limped off with 400m to go.
Speaking to RTÉ Sport afterwards, an emotional Mageean said that while she found the pace of the race okay, her Achilles quickly began to impact her progress.
"I felt comfortable with the pace," she said.
"I don't know why my foot is so sore right now. I usually have a pretty good pain threshold."
"Going around there I just felt like I was losing power out of my right Achilles. And I just wanted to get off and get to my physio.
"I don't have any answers."
The Irish athlete said that she was more than happy with her preparation for the Championships, but the pain was just too much to take.
"Something is uncomfortable. Training had been going so well...something's up," she said.
"I don't know why my foot is so sore right now. I usually have a pretty good pain threshold.
A frustrated Ciara Mageean reflects on her 1500m final performance at the European Indoor Championships #RTESport #Belgrade2017 pic.twitter.com/VfHrGxH9rz

— RTÉ Sport (@RTEsport) March 4, 2017
Mageean's coach Jerry Kiernan was in the RTÉ studio and says that the runner is at a disadvantage compared to race winner Muir in that, so far, injuries are affecting her ability to fulfil her potential.
"She had an operation on her left Achilles about three years ago. The right one has been a little bit of an issue.
"She also suffers from a little bit of plantar fasciitis on the left foot, so it's always a juggling act in pitching training.
"At the moment she cannot train.
"Laura Muir never gets hurt so she can really bang out the training. Ciara can't do that."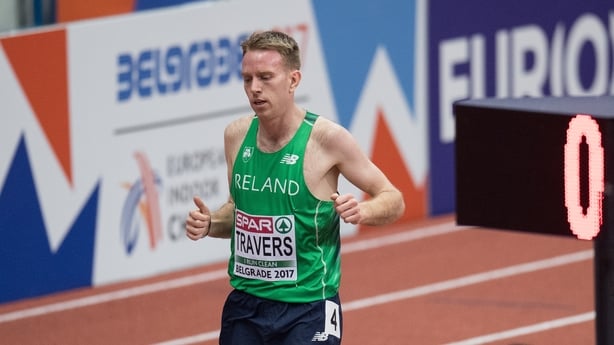 In the men's 1500m final John Travers finished in 11th place.
"It was an under-par performance and I'm not going to make any excuses. It was no one's fault but my own." – John Travers on his 1500m final pic.twitter.com/MJ1wxtCL4D

— RTÉ Sport (@RTEsport) March 4, 2017
The Donore Harriers man reached the decider in somewhat controversial circumstances following an appeal.
Travers, along with Spaniard Marc Alcala, stopped half way through his heat yesterday when it sounded like the starting gun had fired for a false start.
The remaining five athletes carried on and while the pair sprinted to try and make up the deficit, neither were able to keep the pace and both finished in the final race places.
Both reached the final after appeals.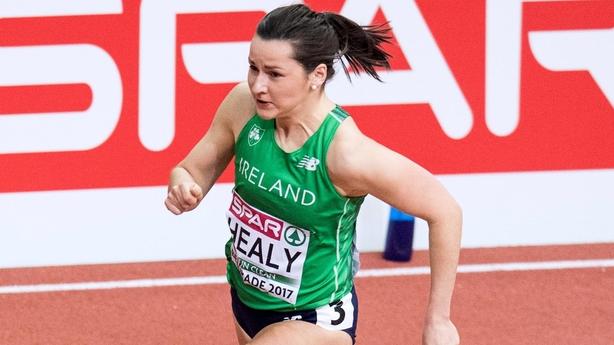 This morning Irish women Phil Healy and Ciara Neville have both progressed to the semi-finals of the 60m in Belgrade.
Both sprinters finished fourth in their heats, with 17-year-old Neville taking automatic qualification on her senior championship debut.
Neville's time of 7.46 is slower than her season's best of 7.30 and she'll hope to improve in Sunday's semi-final.
Healy also has room for improvement as she has run faster than her qualifying time of 7.39 this season.
"I'm absolutely delighted," said Neville afterwards. "I ran that race like a final. I thought really hard about competing here, but I decided to come in case this opportunity never came around again. There's more to come."
Healy was equally delighted with her automatic qualification in the 60m. "A big Q, that's what I came out here for, so I have to be happy," said Healy who ran in the 400m heats yesterday.
"After the 400, if I let myself think the legs are heavy, then you're fighting a losing battle. You have to believe you're coming out fresh, then it's going to happen."