The decision to move the SSE Airtricity Dublin Marathon from its traditional October Bank Holiday Monday slot to 24 hours earlier on the Sunday has paid dividends.
Last year 16,000 people ran the 26.2 miles [42km] around the streets of Dublin and in 2016 that has jumped nearly 25% to 19,500.
According to race organiser Jim Aughney, they could easily have passed the 20,000 mark, with 3,156 applicants not getting a spot on the start line.
That's because organisers wanted to keep it below the magical 20,000 number this year for operational reasons. However, if everything goes well on Sunday they will up their numbers again next year.
Moving the race has facilitated more people to travel from around the world to participate because the last Monday in October isn't a bank holiday everywhere, Northern Ireland included.
More Irish people are keen to take part too as the Monday off work allows them an extra day to recover from their exertions.
"Northern Ireland entries are up hugely," noted Aughney. "Interestingly, the entries from all of the countries Ireland played at the Euros are way up too - France three-fold. They must all want to see Ireland having met our fans!"

WEATHER FORECAST
The forecast for Sunday is dry, with light southerly winds and temperatures in the capital hovering around 10 to 14 degrees - ideal for marathon running.
START AND FINISH LINES
The SSE Airtricity Dublin Marathon starts on Fitzwilliam Square and, more than 26 miles later, finishes just a few yards away on Mount Street Upper.
START TIMES
The wheelchair racers will be first off at 8.50am with elite men and women and the rest of Wave 1 [yellow race numbers] - runners aiming for a sub 3:35 race - off at 9.0am. The next three waves will go off at ten-minute intervals. Wave 2 [sub 4:05 - green race numbers] at 9.10am, Wave 3 [sub 4:35 - blue race numbers] at 9.20 and Wave 4 [over 4:35 - purple race numbers] at 9.30am.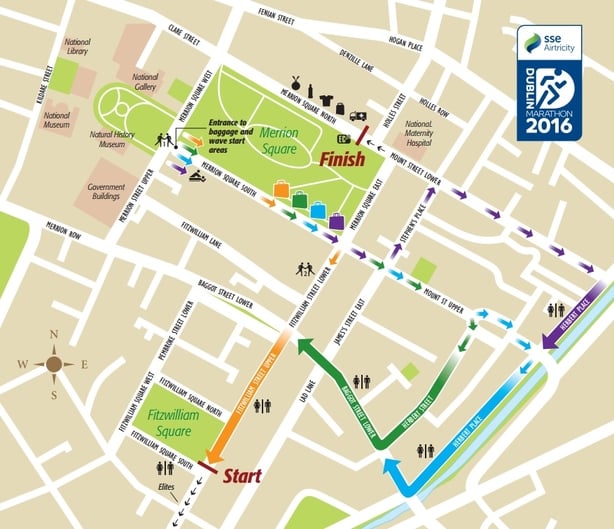 THE COURSE
The route runs along Patrick Street, down the quays, turning up Blackhall Place before entering the Phoenix Park. After visiting Castleknock and another section through the Park, the race passes through Dolphin's Barn, Crumlin, Terenure and Stillorgan before heading back to the city centre.
"You have to respect the course and the distance," said Aughney, offering advice to both first-timers and more experienced marathon runners.
"There is a steady incline up Chesterfield Avenue in the Phoenix Park, but thankfully the weather forecast says there won't be a headwind. The highest point in the run is at Myo's pub in Castleknock and after that it's good running back down through the Park.
"Roebuck Road outside UCD isn't that steep or high, but competitors find it tough because of where it comes in the course. After that it's good running to the finish and runners love the long finishing straight because there's lots of colour and noise."
View the full Dublin City Marathon map here
FINISHING TIMES
Ethiopian Dereje Debele Tulu has run a 2:07 marathon, even though that was three years ago, so this is a fast field. Expect the early finishers to be crossing the line on Mount Street shortly after 11am.
"The group coming in between four hours and 4:10 are the biggest - last year we had 183 runners a minute coming over the line at those times," said Aughney.
PACERS
There will be 39 pacers, easily spotted as they'll be wearing balloons displaying their target times, in ten-minute brackets from three hours to five hours. If you are running and want to complete the race in a particular time, just find your pacer and stick with them. Simple!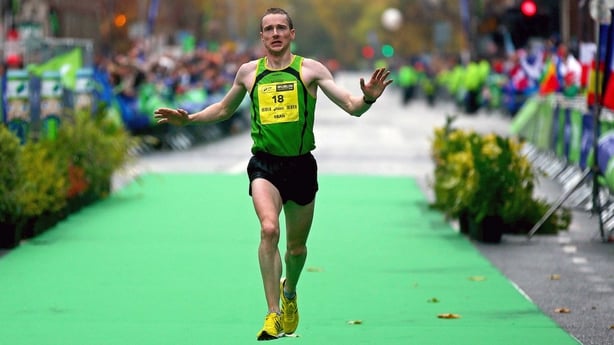 DUBLIN MARATHON IN NUMBERS
Of the 19,500 entrants, 13,849 are Irish. There is a record 5,700 international participants, with 3,825 coming from the UK, 1,897 from the rest of Europe and 489 from the United States.
There will be 1,250 volunteers helping out on the course on the day.
There will be ten water stations along the route at miles 3, 5, 7, 9.5, 11, 13, 16, 19, 21 and 24 giving out 171,510 330ml bottles of Tipperary water, 56,000 bottles of Lucozade Sport and 26,000 sachets of High5 energy gels.
The men's and women's winners will receive €12,000 apiece and the total prize pot is in excess of €120,000, with time bonuses on offer to Irish athletes for breaking certain times. Any Irish man who breaks 2:09 or woman who comes in sub-2:30 will pocket an extra €10,000.
Sean Hehir [above] and Pauline Curley are the current Irish marathon champions and they are back to defend their crowns. Hehir is the last Irish winner of the Dublin Marathon, back in 2013.
With nearly 20,000 runners, the Dublin Marathon is now the fourth largest marathon in Europe.
RECORDS
The men's world record is held by Kenya's Dennis Kimetto, who posted 2:02.57 in Boston in 2014. The women's world record holder is Great Britain's Paul Radcliffe, with her 2:15.25 ran in London in 2005.
The Dublin record holders are Geoffrey Ndungu from Kenya in the men's with 2:08.33 from 2011 and Tatyana Arysova of Russia for women with 2:26.13 from 2010.
CHEERING ZONES
There are ten cheering zones around the course where fans will gather to cheer on the runners. There will be face-painting and other activities to keep children occupied.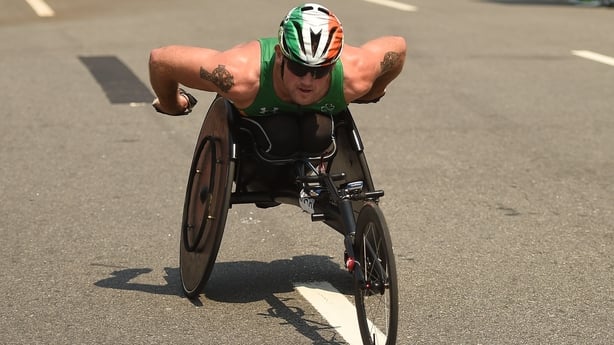 VIEW FROM THE EXPERT
Patrick Monahan
"I'd have plenty of carbs the night before; pasta. I'm not a big eater, but I try to get as much in to me as possible. I like to get to the start way earlier than I have to, so that you have plenty of time to get ready and there's no stressing. For first-timers, my advice is to check out the course well and know where it's going to be tough - through the Phoenix Park and Heartbreak Hill [Roebuck Road]. Drink plenty of water and try not to get too caught up in the atmosphere and go off too quickly. It's an achievement just to get to the end."
Patrick Monahan competed in the Rio 2016 Paralympic marathon for Ireland. He first raced the Dublin Marathon in 2013 just weeks after getting his first wheelchair following a car accident.