Ten days ago we narrowly missed out on qualifying for the Rio Olympic Games. It's been well documented by this stage as to how close we were to gaining a place in the world's top 16 teams in order to qualify, but one man with plenty of miles in his legs summed it with "you were only a pubic hair away".
Of course I'm very disappointed to not go to Rio, but I'm more disappointed for the the other lads on the team who have not and may never experience an Olympic Games. Thoughts also go the wider 400m Irish athletes who this year didn't make the team but in the last two seasons put the relay team within reach of qualification.
Over the last ten months Ireland lay in 13th position but as the 2016 season commenced other nations began putting in performances and slowly we dropped down the rankings. With injuries hampering the preparations, the team was forced to pull out of two competitions, one in Doha in May and another in Luzern in June.
It's ironic that the amazing times the lads laid down in the previous two years were what many thought would be easy to replicate this Olympic year and solidify a top 16 ranking.
On the day it was .07 seconds that left us outside the top 16, .07s between becoming an Olympian and not, .07s away from people asking did you ever go to the Olympics and you replying, no.
Relay programmes are important for the future, as individual standards for sprint events are getting tougher - it's hard to see anyone running the 100m qualifying standard of 10.16.
However, it's important to keep young athletes in these disciplines, therefore relays provide a collective approach to nurture and motivate talent with the view of making championships.
Currently we have a men's 4x100m relay competing at the IAAF World U20 Championships in Poland. We don't have any individual qualifiers in the 100m, but collectively they are there and that has to be positive for the future.
As an U20 I was only running 48.48 seconds over 400m, the qualifying standard was 48.00, but Ireland sent a 4x400 relay team to the 2002 edition of the U20 Champs and that experience was the clincher for me to give up GAA and stay in the sport of athletics.
My first ever senior major championship was at the World championship in Paris 2003, where I ran the last leg of the 4x400m relay. We didn't get out of our heat but again who's to say that experience didn't stand to me.
However, this is Olympic year and strange things happen.
Some people rise to the challenge and gain qualification, other suddenly lose form or the most robust athletes are unusually hampered with injuries.
The Olympic games has a certain spell and it can affect how athletes act, train, compete and even prepare. Some think that they need to do more, raise everything by 10%. Why? Because it's an Olympic year. Others begin to completely change a winning formula be it their environment or coach because its Olympic year.
I will be completely honest, in my run up to the Beijing Olympics I changed things. My environment and coaching set-up stayed the same, but outside of that I tried to raise everything by 100%. I put so many rules and regulations around my sleep, rest, recovery and nutrition I ended up stressing myself out, driving myself mad.
Even some of the top athletes make mistakes, I can remember having a conversation with Eamonn Coughlan about his Olympic preparation. He told me that his room-mate shaved every hair on his body in the days leading up to his race, Eamonn decided to do the same the day before his own race, thinking it might help keep him cool in the LA heat. Unfortunately, he was kept up all night scratching himself. Maybe that was the difference between finishing fourth or getting on the podium.
The important thing is stick to what you know and trust yourself. Whilst in Amsterdam last week amongst the Irish team, you notice little things certain athletes do. Their routines, habits and how they mentally prepare for competition.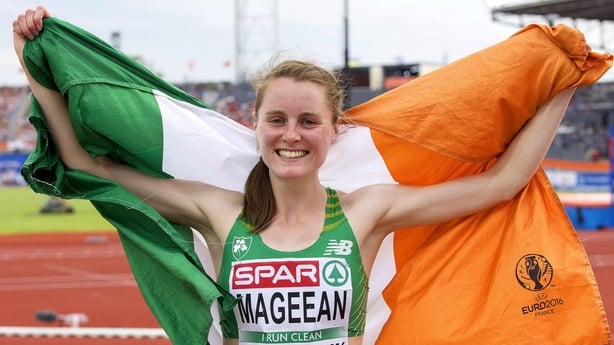 It's very easy to say this now, but the attitude and presence of Ciara Mageean suggested to me that this athlete was here to do business. She carried herself like a true professional all week and you just sensed that she was going to do well.
She exuded confidence without arrogance or ego but at the same time there was steeliness. She was ready, she trusted herself and every training session that she put in over the last number of years. The computer was programmed, she just needed to turn it on.
Of course there was plenty of successes on the track for all nations but overall I think our sport of athletics took another major public relation hit.
After the recent uncovering of systematic drug programmes, doping allegations and bribes we were witnessed to a rise in Turkish athletics. Finishing fourth on the medal table thanks to athletes born in Kenya, Cuba, Jamaica, Ethiopia and Azerbaijan.
Only two of their ten individual medalists were actually born in Turkey. There is a genuine difference between immigrants, individuals with family connections and those competing under a financially backed passport.
It frustrates me that the IAAF has allowed this to happen. This has been ongoing issue in countries like Qatar and Bahrain and if you go back to 2003 the Kenyan athlete Stephen Cherono moved to Qatar. He then went on to set a world 3000m steeplechase world record and win two world titles under a new name of Saif Saaeed Shaheen.
Again, the governance of the sport will be reactive as opposed to proactive, leaving many athletes like Fionnuala McCormack rightly annoyed and frustrated. Fionnuala finished fourth in 31.30.74, just outside her personal best of 31.29.22 in the women's 10,000m in Amsterdam, a race which was won by a Kenyan born athlete, Yasemin Can, who acquired Turkish citizenship in May this year.
Overall it has been a very eventful couple of weeks and of course with Rio just around the corner I envisage a lot more talking points both on the track and off it too.