Thomas Barr missed out on qualification for the 400 metres hurdles final at the European Athletics Championships, finishing fifth in his semi-final.
The Waterford man nonetheless set a second season's best in two days with a time of 50.09secs, but that wasn't enough in a race won by Spaniard Sergio Fernandez in 49.20.
While he was disappointed with the result, Barr was happy to be able to continue his recovery from a long-term injury absence as he prepares for next month's Rio Olympics.
"I'm not long back so I'm glad to be here," Barr told RTÉ Sport. "At the same time I felt like I could have gone quicker, I felt like I had a big race in me.
"I kind of lost the head a little and couldn't get into a rhythm.
"I'm not sure I had another race in me though, so maybe it's a blessing in disguise."
Brian Gregan was also left disappointed after he was eliminated despite showing a big improvement on yesterday's heat.
Gregan clocked 46.37 - narrowly outside his season's best - in the 400m but that was still only good enough for seventh place in his semi-final.
"It was my fastest ever out of lane one so it was OK," said Gregan. "Obviously I would to have liked to have gone faster but I'm coming around and my focus is fully on the relay now."
Sinead Denny finished eighth in her 400m semi-final in a time of 53.27, just one hundredth of a second outside her personal best.
"I would have liked to have gone a little bit faster but I've got to be pleased with my first major championships," Denny said.
"My goal was to make it to the semi-final and run a PB. I was just outside that but it's made me hungry for more."
'It just wasn't there,' said Tom Barr who's done remarkably well to get to this point #ECH2016 pic.twitter.com/KNDlXeARLS

— Athletics Ireland (@irishathletics) July 7, 2016
Eoin Everard ran in the first heat of the 1,500m but found the pace on the final lap too much to handle and drifted back to finish 11th of the 12 runners in a time of 3:45.46
Earlier, Amy Foster (100m) and Marcus Lawler (200m) qualified for their respective semi-finals in Amsterdam.
Foster was third in heat 3 in a time of 11.57secs to book her place in Friday night's semi-final.
"I got the job done," she said afterwards. "I would expect of myself to get through to the semis but now it's a different ball game getting into a European final. I hoped to run faster but maybe the semi-final will be the time."
Lawler was fifth in his heat but qualified for the semis as a fastest loser with his time of 21.06.
Lawler had a brief layoff before the championships due to a niggle but was back in form and ran a good bend to put himself in position to advance.

"I'm into bonus territory now," said the Carlow sprinter. "The atmosphere was brilliant and that's what motivates me. I'm here to learn and keep progressing."
Karl Griffin recorded a season's best time of 1'49.37 in the 800m but still finished last in his heat, while 1:50.10 earned Declan Murray sixth as he also exited the competition.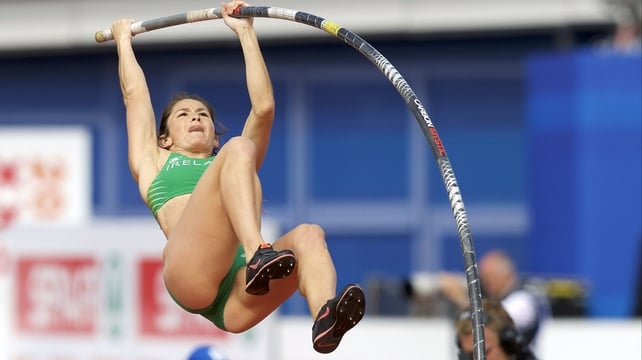 Murray rued not getting to the front after 200m to aid his chances of a fastest non-automatic qualifying spot.
"My plan was to assess at the 200m mark whether to push on," said Murray. "I hesitated slightly as we all came on top of each other so I just raced it tactically. I was in the right position but it's always going to be difficult leaving it to a sprint."
In the pole vault, Tori Pena cleared 4.20 metres and 4.35 but failed three times at 4.45m to miss out on a place in the final on countback. She finished seventh in Group A and 15th overall.