Olive Loughnane admitted it felt both "surreal" and "emotional" to receive a gold medal for her 2009 World Championship performance seven years after her heroics in Berlin.
The now retired athlete was upgraded from her silver medal at the 20km race walk after Russian Olga Kaninska's competition results were annulled by the Court of Arbitration for Sport (CAS) earlier this year.
Loughnane produced a season's best time of 1:28:58 to chase home Kaniskina at the Berlin championships and saw off the challenge of Chinese walker Liu Hong for the battle for silver.
Kaninska's case saw the Irish woman awarded her gold medal in Amsterdam during the ongoing European Championships.
A lot has changed for 40-year-old in the intervening years, but says she got goosebumps when she arrived at the Amsterdam Olympic Stadium to receive her gold earlier today.
"It's all a bit surreal now. I'm retired three years," she told RTÉ Sport.
"I have two small children at home. My daughter who was three then is 10 now. It's a bit of a different world."
GOLD for @OliveLoughnane - Seven years after the Berlin World Championships, Olive is recognised as the race winnerhttps://t.co/XCCy0AEPTg

— RTÉ Sport (@RTEsport) July 6, 2016
The athlete still has fond memories of that glorious day in Germany and is happy that here perseverance on the day has paid off with the race win.
"I went there and I wanted to win a medal. It's still so clear even though it was seven years ago," she said.
"From about 13km in I was in a medal position. I was over and back with the Chinese girl (Liu Hong) for silver and bronze and the Russian girl (Kaniskina) had gone clear.
"I did eventually win that battle and obviously that has been so crucial because instead of going from bronze to silver, I'm going from silver to gold."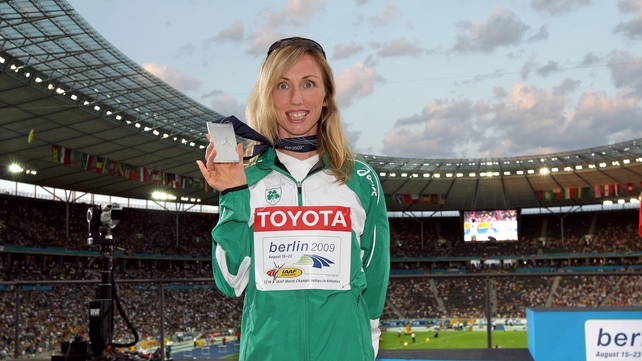 The highs of Berlin contrasted sharply with her disappointment of the London Olympics three years later.
The Cork-born athlete said it was an "emotionally draining" experience and evidence of her high standards can be found in her recollection of the day.
"I went out there to win a medal and I got absolutely hammered," she says, reflecting on her 13th place finish.
The annulment of Kaninska's results is yet another example of the drugs controversy engulfing Russian athletics, but Loughnane does not harbour any bitterness to the athletes themselves, and indeed is thankful that Irish athletics takes a much harder line on doping.
"I didn't ever dwell on the 'what might have beens' then and I'm not dwelling on them now," she added.
"A gold medal is the icing on the cake, I truly feel like I have it all now"
"In a sense, those girls are victims because the system is such that you can't compete without being part of the system, and that system involves drugs.
"As an athlete who comes from a country where far from being encouraged, you'd be hunted down if you were dirty, I'm very proud to be from a country like that.
"I wonder what those girls go through, what it's going to be like for them."
The day however belongs to Loughnane and is a recognition of the outstanding achievements from one of our most talented athletes
"A gold medal is the icing on the cake, I truly feel like I have it all now."