Wheelchair athlete Patrick Monahan recently started heading out around Mondello Park for training spins.
He thought that it would be good to mix it up and he also thought that it would a way of steering clear of traffic and road rage. He was wrong.
"I only started training there recently because I only live down the road," explained the Kildare man, who his hoping to qualify for the Rio Paralympics on the track.
"They let me out on the international loop, which is exactly a mile so if you're out for a long push it can get pretty boring.
"It's good to have a variation of places to train though. I train in Santry (Morton Stadium) and the Institute of Sport for my strength and conditioning so I'm not sick of being in the one place.
"Most of the time, as least, you don't have to be worrying about cars, but just on my last lap the last day a rally car came around the corner so maybe I'm just as safe up at the Phoenix Park!
"It's happened twice now. The circuit would be open, but I'd be at the back on the international loop.
"The marshals would be there all day and they were supposed to know that I was still out there, but he didn't expect me to still be out pushing. It wasn't too much of a close run thing, but 30 seconds earlier and I might have been in trouble!" he laughs as he remembers.
Monahan, the son of 2005 All-Ireland football final referee Mick Monahan, was an active young man living a normal life up until a catastrophic car accident in 2007.
He was 21-years-old, by his own admission driving too fast to work, and it left him in a wheelchair.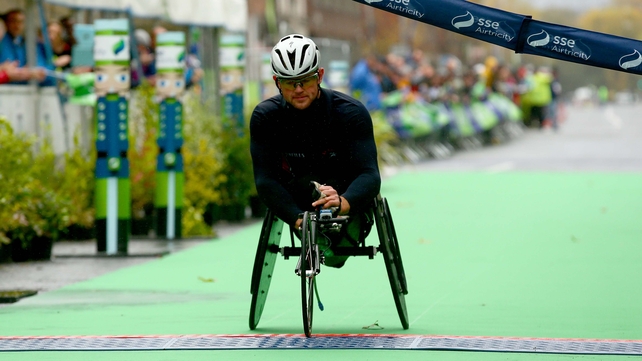 I tried a few other sports, but it wasn't until he saw the wheelchair marathon at the 2012 London Olympic Games that he realised what he wanted to do.
He completed his first marathon in Dublin in 2013, when he was misdirected on the course and ended up doing an extra two miles.
"It didn't work out too well for me - it nearly killed me!" he jokes.
"I remember with about a mile to go the crowd kept me going because I just wanted to stop. I did 2:38 that year, so I'm a bit quicker now."
A whole lot quicker, in fact. His personal best is now 1:29. That's ten minutes off the world record, but still enough to get him into the elite category.
He left his job in Ulster Bank and now works part-time as a peer mentor with Rehab, the charity which helps people with disabilities to live more independent lives, and is a full-time athlete.
There is prize money to be made on the international circuit, but it's hard won and more often than not his sport costs Monahan money.
"You spend a fortune, not make a fortune!" he quipped "There's really good prize money now and some of the guys have stepped away from the track side of things to focus on the marathons and they go where the money is.
"London was £15,000, Boston is more. There's a world series now of six major marathons and it's like a grand prix with a leaderboard and there's big money in that."
Monahan is currently gearing up for next month's Swiss Open Nationals, the most prestigious para track meet in the world, and after that he's off to the US for a fortnight of competition and training - all funded out of his own pocket.
After that he will sit tight and hope that he makes the cut-off when Ireland's Paralympic squad is announced in July.