Fionnuala McCormack says that the marathon is her goal at the Rio Olympics, but she's aware that she may have to settle for the 10,000 metres.
McCormack is one of five Irish women currently with a qualifying time for the Olympic marathon but only three can go.
They may be joined by others before the May cut-off and until then she won't know which event she will compete in at the Rio games.
"I don't want to think too much about it because if I don't end up going and doing the marathon I want to be 100 per cent committed to the 10k," she told RTÉ Sport after winning the SPAR Great Ireland Run in Dublin's Phoenix Park on Sunday and taking her third national 10k title in the process.
"I don't want to just go and do the 10k because I didn't get to do the marathon. I want to go and it right so it's easier for the time being not to focus on one or the other yet.
"I think it's the best way to look at it at the moment. It's only April so I wouldn't be in marathon training yet for August."
Along with Lizzie Lee, Breege Connolly, Gladys Ganiel and Barbara Sanchez, McCormack has run run the qualifying standard for Rio, but each country can only send three athletes to the event.
She could run another marathon before decision day in May to try to improve her time and better her chances of selection, but the Wicklow runner says that this isn't on her radar.
"I decided when I ran the qualifying time that time that I would risk waiting to see what would happen"
"I decided when I ran the qualifying time that time that I would risk waiting to see what would happen and preparation-wise I think it's better not to run another one at this stage," said the 31-year-old.
"It has been controversial for different reasons and it's always going to be hard on the person that misses out.
"It's a good thing though that more people are going for times - it's better to have six people with a qualifying time and three going rather than only two with qualifying times.
"It shows that there's competition and quality there so it's a good thing really. It doesn't have to be controversy - it's competition."
McCormack ran the marathon qualifying time late last year and earlier in April she achieved the 10,000 metre standard, which gives her a fallback should she miss the marathon cut.
Whatever event she ends up doing in Rio, she's determined to learn from her experience at the Beijing and London Games and deliver the performance on the biggest stage that she feels she's capable of.
"I probably feel that I underperformed a little bit at my last two Olympics so maybe I can improve a little bit this time. That's the plan anyway!" she smiled.
"This will be my third Olympics and even though they're always different I know in a way what to expect. It's hard to believe how fast the last four years have gone! The biggest thing is the year leading up to it.
"Athletics is really a minority sport and in the months leading up to it people are interested in what you are doing.
"It's like going to any other championships, worlds or Europeans, and it's the same routine, but it's the attention from the general public and the media that's something you have to get used to a bit."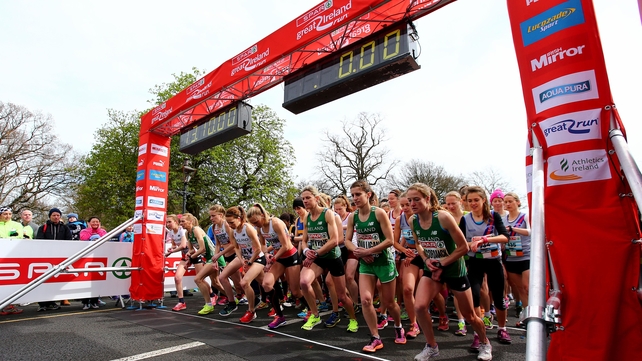 McCormack retained her 10k national title today in a time of 33 minutes 30 seconds.
The Great Ireland Run, which doubled as the Athletics Association Ireland (AAI) 10k National Championships, saw an Irish clean sweep, with second and third place going to Deidre Byrne in 34 minutes 41 seconds and Maria McCambridge in 34 minutes 52 seconds.  
The men's winner was Andy Maud, who finished in 29 minutes and 55 seconds. He was followed closely by Mick Clohisey who took the Irish 10k National Championship title in 30 minutes flat and Kevin Maunsell, who came in third in 30 minutes 23 seconds.
Over 10,000 elite athletes, runners, walkers and cheerleaders took part in the event, which also featured a 5k race for the first time.
Emmet O'Briain of Phibsboro won the 5k race in 16 minutes and 19 seconds, Siobhra O'Flaherty from Carlow the fastest woman in 18 minutes and 40 seconds.
John Travers from Drimnaghclaimed first place in the Elite Mile race in a time of 4 minutes 11 seconds, two seconds ahead of the UK's John Ashcroft. Philip Seseman was a further three seconds back in third.