Rob Heffernan is refusing to dwell on the heartache of his fourth-placed finish at London 2012 as he looks set to finally get the bronze medal he so agonisingly missed out on four years ago.
Cork walker Heffernan said there'll be muted celebrations if he is awarded Olympic bronze, as he focuses all of his energy on making sure he's on the podium in Rio this summer.
The Court of Arbitration for the Sport will meet on Friday to decide whether or not to strip Russian Sergey Kirdyapkin of his gold medal from the 50km walk. That in turn would promote Heffernan from fourth to third.
Kirdyapkin was banned for three years by the Russian Anti-Doping Agency last January, but Heffernan is philosophical about his near miss in England, and instead only has eyes on making the podium in Brazil.
"I've been back and forth in my mind about this for the last couple of years but I'm 100% concentrated on my own training at the moment," he told RTÉ Sport.
"It's not only disappointing for me – the Irish public missed out on a medal."
"Hopefully it will be sorted out ASAP and we can all move on but as regards having big celebrations about it pre-Rio, I don't think so.
"My performance in London was my best performance ever and that was due to the support I got from the crowd.
"There was tens of thousands of Irish people on the course on the day. My heart rates during the race were the highest ever for a 50k. I think I went most of the race on complete adrenaline.
"It's not only disappointing for me – the Irish public missed out on a medal and I dreamt of winning a medal but I knew on that day there was nothing else I could do. It would have been like a child throwing his toys out of the cot, I had to be happy with my fourth because I gave the best performance. As it turned out it was a medal-winning performance."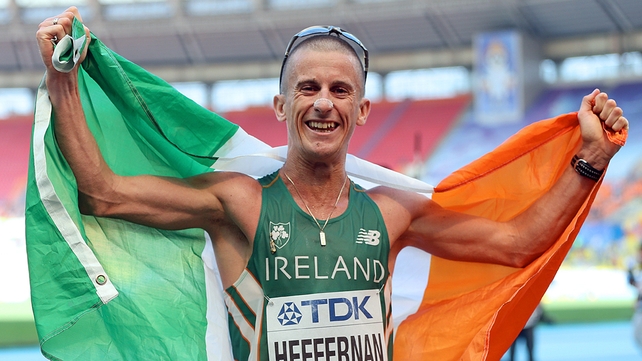 Heffernan used the agony of his Olympic fourth to propel him to World Championship gold in Moscow a year later, but he admits that the fine line between success and failure cost him his day in the sun post-London.
Although his run was received enormous praise the absence of a medal meant that it perhaps faded from the public memory quite quickly. The 37-year-old is now desperate to ensure he imprints his name in history with one more gargantuan effort at the upcoming Games.
"Commercially, people want winners. Coming home from London you're strategically placed behind the boxers because they've won medals. Coming fourth, people remember you for a couple of weeks but then you're forgotten.
"This year is all about Rio. It will be great to eventually get an Olympic medal but my focus is on Rio and that's where my head is at now. Hopefully I'll win a medal there as well.
"As far back as 2002 I've gone into every championship with the hope of winning a medal. Now I've won medals, I know how to do it. They key for me is to stay healthy and injury free and to get to the start line in Rio motivated and with my work done.
"Last year I finished fifth in the World Championships and a couple of things went wrong in my year. The couple of things that went wrong in my year definitely cost  me a medal.
"If I can eliminate that this year, which I think I will, it will definitely put me on a higher platform. And why not? It's not a fairytale or a fantasy. I've done it already. I want to go to Rio and I want to try and win another medal."