Ireland's Fionnuala McCormack finished second in the Great Edinburgh International Cross Country on Saturday.
She led home the European team, clocking 21:09 behind Britain's Kate Avery after a gruelling 6k over a muddy course at Holyrood Park.
McCormack's main aim this year is the marathon at the Rio Olympics, though this event is a part of her early season preparations.
Lizzie Lee finished ninth in 21:51, playing her part in Europe's victory over Great Britain and the USA in the team event.
The Irish quartet of John Travers [Donore Harriers], Laura Crowe [An Riocht], Eoin Everard [Kilkenny Harriers] and Kerry O'Flaherty [Newcastle] combined in the mixed 4 by 1km relay in 11:44 which was won by Scotland in 11:34.
Kevin Mulcaire [Ennis Track] bounced back from his 25th-place finish in the junior men's race at the European Cross Country Championships with an excellent second place finish over 6km in 19:25.
Mulcaire, representing Europe, led large portions of the race, before succumbing to Great Britain's Alex Yee who won in 19:23. Jack O'Leary [Mullingar Harriers] had a good run in sixth in 19:43. 
The development and underage teams were in good form in the Celtic Nations with Shona Heaslip [An Riocht] and Peter Lynch [Kilkenny City Harriers] bagging individual victories.
Heaslip won the U23 race while Lynch won the junior men's with both leading their respective teams to team glory.
In other team results the U17 men were first, the U17 women were second, the U20 women were second and the U23 men were third.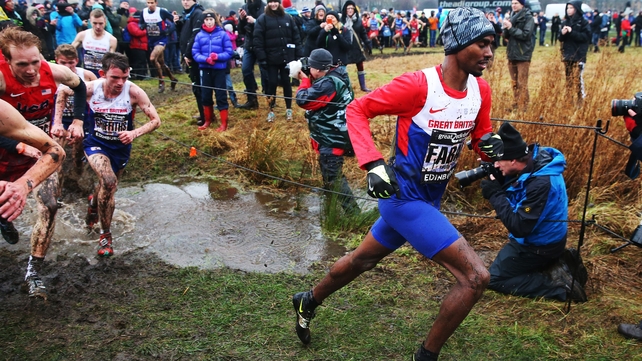 Mo Farah for once came off second best in a sprint finish as the double Olympic champion was beaten in his first race of 2016.
The 32-year-old finished two seconds behind American Garrett Heath at the men's 8k race, in 25 minutes 31 seconds.
The Briton, kicking off a year he hopes will culminate in the defence of his Olympic 5,000 and 10,000 metres titles in Rio, battled through the mud in the bitter cold, a far cry from the conditions he will face in Brazil in August.
"You don't want to lose the race, but it's better to lose now than later in the year," he said.
Heath, now a three-time winner in the Scottish capital, added: "I kept waiting for Mo to kick past me in the home stretch, because I could hear people shouting."
The finishing speed which serves Farah, above, so well on the track, though, was negated by the slippery conditions underfoot as the American held on to come home strongly.