On the day an investigation started into the former IAAF president Lamine Diack, the World Anti-Doping Association (WADA) announced it would be publishing its independent report into allegations of widespread doping in sport on Monday.
French police are investigating Diack over an alleged payment of more than €1 million to cover up doping offences by Russian athletes - one of the issues WADA's independent report has been looking into.
A prosecutor from the Parquet National Financier (PNF) - the office that handles financial prosecutions in France - confirmed that Diack is under scrutiny.
Diack and his adviser Habib Cisse have been formally interviewed and the IAAF's anti-doping director Gabriel Dolle has been taken into custody.
Officers visited the headquarters of international athletics in Monaco on Tuesday and took documents for examination.
It is understood IAAF president Lord Coe, who took over from Diack in August, was at the offices at the time and volunteered to speak to the investigators.
WADA confirmed that their Independent Commission chair Dick Pound would be making public his findings in Geneva on Monday.
The anti-doping agency has been carrying out an investigation into drugs cover-ups for almost a year and it is though that their findings could be damning.
An IAAF statement said: "The IAAF confirms that, emanating from separate ongoing investigations by WADA's independent commission and the IAAF's own independent Ethics Commission into allegations surrounding its anti-doping rules and regulations, a French police investigation has now commenced.
"The IAAF is fully cooperating with all investigations as it has been from the beginning of the process.
"As part of the French investigation, police visited the IAAF offices yesterday to carry out interviews and to access documentation."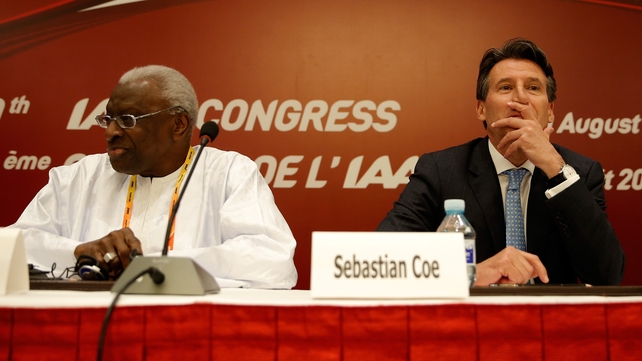 The scandal broke in late 2014 when German broadcaster ARD alleged a number of positive dope tests involving Russian athletes were covered up by IAAF officials.
Several IAAF officials are implicated in covering up Russian doping including Diack's son, IAAF marketing consultant Pape Massata Diack.
The others were Valentin Balakhnichev, the IAAF treasurer and Russian Athletics Federation president, and Cisse, who worked for the IAAF as legal adviser.
All three agreed to stand down from their positions pending an investigation.
WADA released a short statement in which it said that the investigations had been prompted by its information.
"WADA is aware of the ongoing criminal investigations relating to sport officials and allegations of corruption and money-laundering, as announced by the French authorities.
"These investigations are a result of information passed on by WADA's Independent Commission to the relevant authorities," the statement read.