Yohan Blake brought Morton Stadium to its feet tonight and predicted that Usain Bolt will beat Justin Gatlin to the World Championship, before declaring his love for Irish cricket.
Blake ran the fastest ever 100m on Irish soil with a race-winning time of 10.12 in Santry, before tipping his compatriot for glory in Beijing.
"Usain will be ready, he's training really well," claimed Blake of his training partner and the man who best him to London 2012 gold over 100 and 200 meters.
Some athletics publications have cited that Bolt is out to save athletics and defeat Gatlin, who has served doping bans, but Blake was quick to dismiss any additional pressure on the double Olympic champion and his 4x100 metre Olympic gold medal team mate.
"You know Usain can deal with all the pressure, there's always pressure on him and he will be ready and ready to win in Beijing."
"I'm a big Irish cricket fan, I love the O'Briens, they're great players"
Blake, the second fastest man in the world, surprised Morton Games organiser's last weekend with a late request to compete at the North Dublin venue.
"I've been running in big meets over the years, but I said to the meet director I would love to come to Dublin," smiled Blake.
"I love Ireland, I'm a big fan of Irish cricket, I would love to come here and give the crowd something," smiled Blake who immediately ran to the Santry crowd after winning his race.
"I'm a big Irish cricket fan, I love the O'Briens they're great players" smiled Blake before adding "and the Irish accent is wonderful."
Blake broke the 12-month old stadium record, posting 10.12 seconds ahead of Olympic gold relay winning team mate Michael Rafter.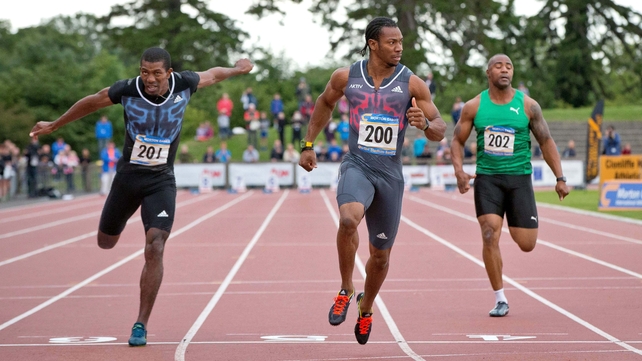 "I'm happy with how I raced and my time," explained Blake who suffered a hamstring injury after London 2012 which has prevented his return to top form.
"It was cold, which made it harder for a fast time, but I'm slowing getting back, I'm getting faster with every race and I can just focus on Rio next year now.
"It's a huge advantage to train beside Usain Bolt, he just always pushes me forward, always working to improve on things," added Blake, who Bolt nicknamed the Beast.
"I love the title he gave me, it's the way I train, I really think it's a wonderful title," he said.
Blake has already missed out on this year's World Championships in Beijing, having not impressed the Jamaican officials to gain selection, but vowed to return.
"I will definitely be back to challenge Usain in Rio," said Blake, who now moves on to a number of races around Europe looking to focus on next year's Olympic Games.