Ireland's Mark English and John Travers have secured places in Sunday's finals at the European Athletics Indoor Championships in Prague.
English comfortably qualified for the men's 800m decider (2.40pm Irish time), clocking one minute 50.54 seconds as he finished second in his semi-final.
The 21-year-old travelled well throughout, leading on the home straight before being pipped by Scot Guy Learmonth by four hundredths of a second.
"I'm through, that's all that matters," he told RTÉ Sport. "My plan was to stay close to the leaders so I kind of sacrificed a bit of my energy to get to the final 400 meters.
"I haven't thought about how I'll run the final, I just want to stay out of trouble and see how it goes.
"The whole system is getting geared up, it takes about six races for me to get into shape" admitted English. Tomorrow's final will be his sixth race of the season.
"I felt the legs were able to dig in today and I was able to get power out of them"
"I've been practising that speed all winter so thankfully I had enough to get through.
"You need to be quick over the last 200 otherwise you're out the back door so I've been working on that over the last few months."
Declan Murray finished fifth in his faster semi-final in a season's best time of 1:48.09.
"Tactically I had to just try and get out of trouble," he said. "Between 118 to 119 meters it got bunched up and tactically I made a mistake and should have tried to get out of there, but hindsight is like 20/20 vision.
"I thought I might have the legs to get past them, but I couldn't get past, I might have left it a bit too late."
Travers qualified for tomorrow's 1500m final 3.30pm (Irish time) as a fastest loser having run a personal best of 3:41.37 with a third-place finish in his heat this morning.
However, Dan Mooney failed to reach the 1500m final after finishing sixth in his heat in 3:48.96.
Speaking to RTÉ Sport in Prague, Travers said: "I'm happy with the race I ran, the best championship race I have ran so far.
"I was there or there abouts for the whole race. I've come here and I've performed so I'm happy to get the fastest loser spot.
"My previous personal best I ran the last 700 on my own. Today I ran the opening slow, if I had of gone out with a hard pace I would have gone out the back door, so I'm happy with that."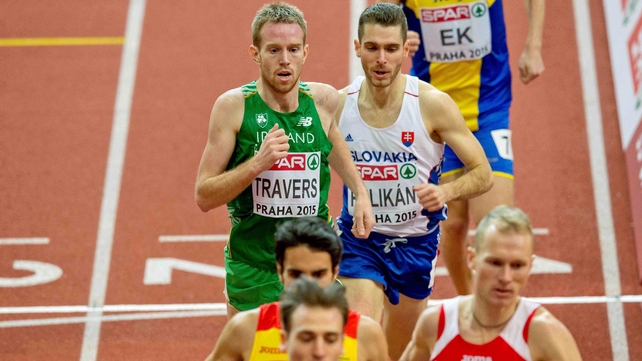 Mooney, meanwhile, was not disheartened by his failure to qualify, and said: "It was a tactical race where we should have gone fast as it was the final heat. You need a lot of pace to stick with those guys at the front.
"I stuck it out at the front for as long as I could, my legs felt good, but others felt better. It was a slow tactical race so I'm happy to get that experience."
Ciara Everard lost touch with the frontrunners after the first lap of her 800m semi-final, finishing last of the six runners in 2:06.14, over three seconds slower than the seasonal best she set while qualifying on Friday.
Switzerland's Seline Buchel won the race as reigning champion Jenny Meadows of Britain faded on the home straight to finish fourth and crash out.
Despite finishing last Everard's time was more than two seconds faster than the 2:08.15 that saw Nataliya Lupu win the other semi-final.
"That was really tough," she said afterwards. "Probably the toughest race of my career, that's definitely something to work on.
"They kept surging on me and I just couldn't get back into the race. There was a lot of jostling for the first couple of meters but I was able to get back into it.
"I lost momentum as the Swiss girl got ahead of me. I think at 800 you just have one or two moves, but I need to work on this, I need to be better."