Ireland's Michael McKillop has claimed his second gold at the Paralympic Athletics European Championships in Swansea, adding the T38 1500m title to his 800m title
McKillop won in a time of 4:16.73 ahead of Louis Radius of France in 4:21.44, and Dean Miller of Great Britain in 4:22.24.
Although the 24-year-old Antrim athlete, who is reigning Paralympic, world champion and world record holder at 800m and 1500m was the favourite on paper for today's final, championship races rarely go to plan.
Having been sidelined for the vast majority of the last year with a serious foot injury this was only McKillop third 1500m of the season.
"Championships are about medals and I'm absolutely delighted to have won both here"
The Irish athlete led them out from the gun but the pace was particularly sluggish with the rest of the field intent on tracking him throughout.
With such a pedestrian pace, and nobody keen to take it on, McKillop made a decisive move with about 650m left to race.
Despite the best efforts of French athlete Radius and Miller of Great Britain they were not able to keep up with the Irishman and were left to battle it out for silver, with McKillop stretching his lead to win impressively by almost five seconds.
McKillop said: "The race started very slow, in fact it was the slowest first lap I can remember.
"I decided to go out front to ensure I wouldn't get tripped but it just stayed so slow I decided to pick it up, and I just built it up from there.
"Championships are about medals and I'm absolutely delighted to have won both here. After a tough challenging year it's very satisfying to finish the season on such a high.
"Massive thanks and credit must go to my dad (Paddy), my coach, and all the team at SINI (Sports Institute Northern Ireland) and everyone who has had a hand in getting me back in such good shape at the right time."
The eight-strong Irish team won a total of four golds and one silver medal at these championships, with wheelchair racer John McCarthy also narrowly missing bronze in one of his events.
Two more athletes recorded a personal best and season's best in each of their events also.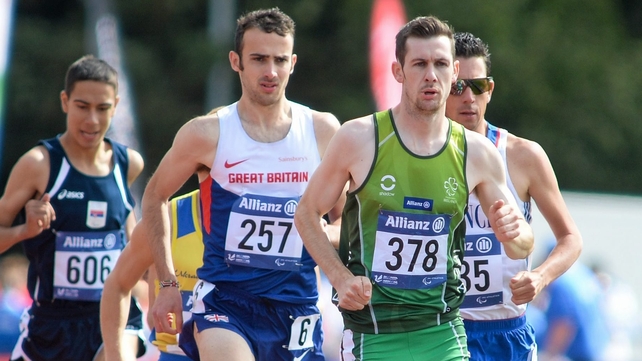 Reflecting on a very successful championships for Ireland, Head of Athletics with Paralympics Ireland James Nolan said: "Our stretch target for this week was five podium finishes.
"With all the variables in elite Paralympic athletics it is very rare to achieve your stretch target. I am delighted for the athletes, team staff and personal coaches."
After reclassification from a T13 to a T12 last weekend, Jason Smyth was quick to put the focus back on his talent by winning 100m gold on Tuesday in 10.78 seconds and followed this up with 200m gold on Thursday in 21.67 seconds.
McKillop claimed his second gold today, and Cork's Orla Barry proved her championship credentials on Thursday claiming silver in the F57 discus final.
On his major championship debut, Dubliner Andrew Flynn recorded an eight-second PB finishing seventh in the T13 5000m final.
Teenager Heather Jameson impressed to make the final of the T37 100m, and development panel athlete Lorraine Regan will be pleased to have recorded a season's best finishing fifth in the F56 javelin.
Catherine O'Neill also finished sixth in the final of the F32/F51 club throw.