Reigning 50k walk world champion Robert Heffernan will lead a team of 30 Irish athletes to compete at the European Track and Field Championships in Zurich between 12-17 August.
Last August the Cork man made history by becoming Ireland's third ever world champion when he struck gold in Moscow.
At the 2010 Barcelona European Championships, a medal eluded Heffernan on two occasions, with fourth placings in both the 20km and 50km walks.
Heffernan said: "I'm really looking forward to the huge challenge that lies ahead in Zurich, and look forward to bringing more national pride to Ireland".
He will be joined by Brendan Boyce, while Laura Reynolds competes in the 20k walk.
Twenty-one-year-old Thomas Barr, who has had a breakthrough season, smashing the Irish 400m hurdles record running 48.90, a time which currently ranks him number three on the European rankings, will also compete for Ireland.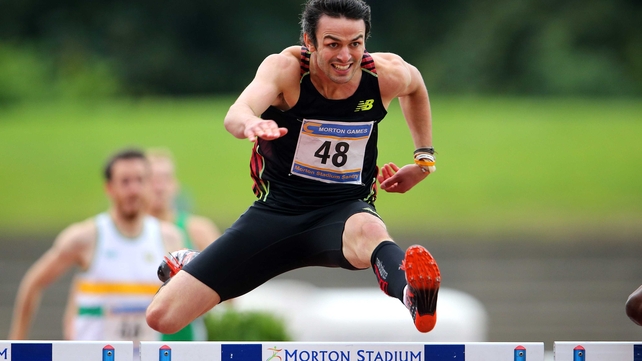 The Waterford man has added to his building reputation by beating the reigning world champion Jehue Gordon of Trinidad at the Morton Games.
Barr, who was a semi-finalist at the 2012 European Championships, is aiming first and foremost for a place in the final in the Europeans: "I will be targeting a place in the final and then I will be looking to deliver my best performance."
Mark English will make his debut European appearance with his season's best of 1:45.03, run in the 800m at New York Diamond League meeting, ranking him fourth in Europe.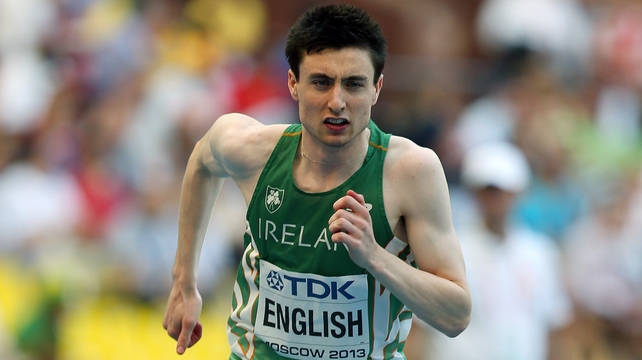 At the Morton Games, English produced another fine performance setting a stadium record of 1:45.30 when winning the 800m in convincing style from Martin Ryan of USA. The Donegal man will be joined by Declan Murray.
Ireland will be represented in the 1500m by Ciaran O'Lionaird, Paul Robinson and John Travers. This is the first time since 1986 that Ireland has three representatives in this event.
Ciaran O'Lionaird (Leevale AC), who was a world finalist in 2011, secured his place on the team by winning the GloHealth National Championships on Sunday.
Robinson has had a series of impressive runs this year including setting a new personal best in the mile of 3.54.77 at the Oslo Diamond league on 11 June.
Travers' 1500m split of 3:37.27 at the Morton Mile qualified him for the European Championships (3:39.30) and he followed this up with a third placing at the National Championships.
Former double European Cross Country champion Fionnuala Britton will contest the 5000m and 10000m at her fourth European championships, which equals the Irish record for number of appearances at the championships.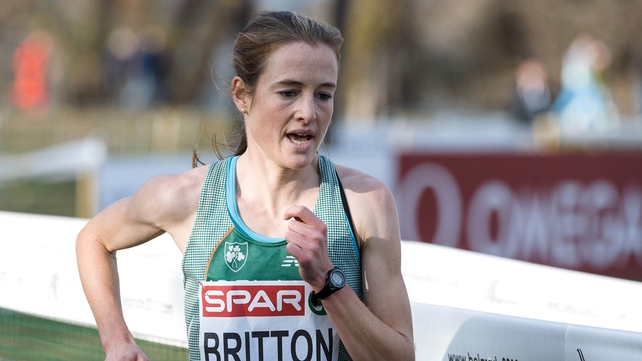 Britton placed fourth in the 10,000m in the 2012 championships. Sarah Collins has made the decision not to compete in the 5000m after an intense NCAA season.
Brian Gregan, who secured the needed standard in the final week of qualification, with 45.94, to finish sixth in the 400m at the Gugl Meet in Austria, will be looking to continue his improved run of form. He was a finalist at the 2012 Championships.
Irish record holder Amy Foster will be competing in the 100m alongside Phil Healy.
National junior record holder Sarah Lavin will line up in the women's 100m hurdles and Christine McMahon in the 400m hurdles.
National champion Zoe Brown will be the sole representative in the pole vault with Tori Pena making the decision to withdraw as the season hasn't gone as planned.
Ireland will be represented in relays with a women's 4x100m team and a men's 4x400m team.
Kevin Ankrom, Team Ireland high performance manager, said: "These European Championships will be highly competitive with all of Europe's best set to compete.
"This team has medal potential and I will be looking for our key athletes to progress through the rounds and to make finals".
He added: "For athletes like Sarah Lavin and Christine McMahon these championships will form an integral part of their performance development towards Rio 2016 and beyond"
TEAM IRELAND FOR THE EUROPEAN CHAMPIONSHIPS
(Name, event, club, coach)
Amy Foster: 100m, City of Lisburn AC, David Reid
Phil Healy: 100m, Bandon AC, Shane McCormack
Kelly Proper: 200m, Ferrybank AC, Brid Golden
Brian Gregan: 400m, Clonliffe Harriers AC, John Coghlan
Richard Morrissey: 400m, Crusaders AC, Chris Zah
Declan Murray: 800m, Clonliffe Harriers AC, Frank Gagliano
Mark English: 800m, UCD AC
Ciarán Ó Lionáird: 1500M, Leevale AC, Mark Rowland
John Travers: 1500m, Donore Harriers, Jerry Kiernan
Paul Robinson: 1500m, St Coca's AC, Robert Denmead
Sarah Lavin: 100m, UCD AC, Noelle Morrissey
Laura Reynolds: 20k walk, Mohill and District AC, Colin Griffin
Christine McMahon: 400m hurdles, Ballymena & Antrim AC, Ian Neely
Jason Harvey: 400m hurdles, Crusaders AC, Paul McKee
Thomas Barr: 400m hurdles, Ferrybank AC, Hayley and Drew Harrison
Fionnuala Britton: 5000/10000m, Kilcoole AC, Chris Jones
Brendan Boyce: 50k walk, Letterkenny AC, Robert Heffernan
Robert Heffernan: 50k walk, Togher AC, Marian Heffernan
Barbara Sanchez: marathon, Clonliffe Harriers AC Sebastien Locteau
Kevin Seaward: marathon, St Malachy's AC
Maria Cambridge: marathon, DSD AC
Nicola Duncan: marathon, Galway City Harriers AC, Nick Anderson
Paul Pollock: marathon, Annadale Striders, AC Andy Hobdell
Sean Hehir: marathon, Rathfarnham WSAF AC, Dick Hooper
Thomas Frazer: marathon, St Malachy's AC, Tony Houchin
Zoe Brown: pole vault, Raheny Shamrock AC, Jim Alexander
Women's 4x100m final pool to be announced by 27 July.
Men's 4x400m pool: Brian Gregan, Richard Morrissey, Thomas Barr, Mark English, Craig Lynch, Brian Murphy.