By David Gillick
Where do I start: a fantastic weekend for Irish athletics. The young guns are coming and it's brilliant that they are beginning to realise their potential.
There have been changes in Irish sport, and I do feel this group of home-grown talent have benefited from the recent investment into the Irish Institute of Sport with services such as physio, psychology, nutrition and strength and conditioning.
This didn't exist when I was starting out, so it's only a positive that it's in place now. It needs to evolve and hopefully Abbotstown will be built to full spec and then we can have an ecosystem of our own.
Having top-class athletes based in Ireland brings on new talent and also helps raise the standards of our coaches.
People harp on about facilities, yes they are important, but I think a lot of athletes left Ireland in the past due to a desire to find better coaching.
I'm not saying there are bad coaches here, but in order for an athlete to improve maybe they need to be with coaches that have international experience. Investing in facilities is one thing, but investing in people is another.
A positive weekend for Irish athletics
I really have to get behind the results and the positivity Irish athletics has had over last weekend; this is the type of press the sport needs. Success breeds success, and this positivity can only highlight athletes and coaches - the people that make athletics.
Track is a tough sport and in order to make a living from the sport you have to seize opportunities. Mark English epitomised this in the Diamond League in New York on Saturday when he finished second in the 800m behind David Rudisha.
It's hard for athletes to get into these races, but English has shown a lot of promise and potential and it's only right that a few top agents are sniffing around.
The role of a top agent is what an athlete like English needs. The landscape has changed and the top meetings that take place around the world are arranged with a large help from agents, get in with one and you will get into these world-class meetings.
For English, competing against the likes of Olympic and world record holder Rudisha on a regular basis, and performing, can only build confidence. Do this on a weekly basis and the belief of holding your own against the best in world thrives. Come to a championship and it's nothing new, there is no sense of awe.
English ran a tactically brilliant race, in a very competitive field, the only thing missing was a national record, which I have no doubt will come. Get the basics right and the rest will look after itself.
That includes getting into the top meetings with a decent prize money structure and all related costs looked after: the glamorous side of the sport.
Geneva: a low-key place to commence season
The other side is a small meeting in Geneva, a low-key meet with a small budget, if you're a good athlete your travel costs will be covered, but there is not much of a prize structure in place other that a Swiss pen knife. I still have mine in the drawer with the knives and forks.
Geneva has a reputation of a fast track therefore it's a popular meet, with lots of athletes looking for fast times, some will pay their own way to get a lane.
Geneva was always the first port of call to get my season going. I enjoyed its low-key approach for the first race of the season. It's a fast track which helps builds confidence and blow away the cobwebs of nine months of pre-season training.
Tom Barr went into his race on Saturday with a brilliant personal best of 49.61 from a couple of weeks ago, in the process setting a new Irish record.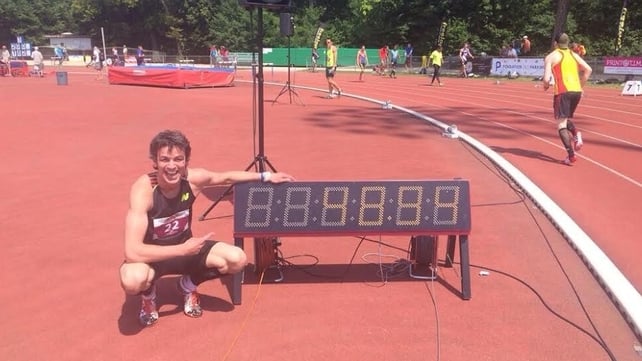 What he did on Saturday was what we call a breakthrough.
Barr has shown serious potential coming through the junior ranks, and to burn around the track in Geneva with 48.90 on the clock to take first place is amazing. Beating a seasoned medal winner in Rhys Williams shows quality and puts Barr in new a bracket.
Like English, Barr now has the quality to gain access to the top Diamond League meetings where he can rub shoulders with the best in the world and hold his own.
We also had great performances from Irish women in Geneva, including Sarah Lavin running 13.23 in the 100m hurdles, Phil Healy running 11.53 in the 100m and Kelly Proper storming around the 200m in a PB of 23.38.
Brian Gregan also got his season under way with a 46.06 in the 400m.
Both 4x100m relay teams also had good outings ahead of next weekend's European Team Championships in Tallinn, Estonia.
The new bread is coming and I like the attitude. No messing, hard working and they're letting their running do the talking.
Thomas Barr
Age: 21
From: Waterford
Club: Ferrybank
Event: 400m hurdles
Personal best: 48.90 (Irish record)
Coach: Hayley & Drew Harrison
Based in Limerick with Hayley and Drew Harrison, this year was about balancing his final year of college as well improving on the track.
Winter training went very well, all considered, even though he didn't feel as fit or well prepared as the year previous.
Barr managed to build up a solid base, bringing him into 400m PB shape by indoors, but in the National Senior Indoors he developed a plantar plate injury which set him back until about mid-April.
After a stint of physio, rehab, cross training and Alter-G treadmill sessions, Tom managed to get back on track over a ten-day warm weather training camp with his training group in Spain.
From there it was a matter of building up fitness again along with refining technique, having set a goal to kick off the outdoors at the end of May in Belgium. Little did he know it would go much better than he had expected.
Barr says he genuinely wasn't expecting anywhere near the Irish record of 49.73. But to come away with 49.61, when he didn't feel physically ready, let alone mentally, certainly wasn't something he was going to complain about.
Back into a block of training, and once more Barr took to the track in Geneva on Saturday last, and once again he was left with an unexpected feeling. He smashed his personal best and new Irish record with a scintillating time of 48.90.
He has the European Team Championships in Estonia this weekend followed by two races in France (Chambery/Tarare) in early July, some domestic meets, nationals and then the ultimate goal of the season: the Europeans in Zurich, where Barr will be hoping to make the final, and now we can realistically dream of a little more.
Running sub 49 opens doors for Barr and hopefully we will see him along with English as regulars in the Diamond League meetings.
David Gillick is a two-time 400m European indoor champion.