By David Gillick
So, a couple of weeks ago I played my first Gaelic football match in 12 years.
The last time I kicked a ball was for my local GAA club Ballinteer St Johns against local rivals St Olaf's in a Dublin senior two promotion play-off in December 2002.
Unfortunately for me I was a sub that day, I'd missed a large chunk of the summer that year, because for the first time I represented Ireland at the World Junior Championships in Jamaica, so I was dropped for the big game, disappointed, but at the same time I understood why.
The experience I had in Jamaica was immense. I missed individual qualification for the 400m by 0.4 seconds, the standard set by the world governing body (IAAF) was 48.0, and I ran 48.4 that summer.
Luckily for me Athletics Ireland decided to send a 4x400m relay team, to say I was over the moon was an understatement. I never represented my country before, never made any of the schools international teams coming up through the ranks, so to finally get the green vest was an amazing feeling, proud as punch.
I will always remember receiving my bag of kit. I arrived home with a massive bag and laid it all out on the floor in the front room, I then showed it off to everyone.
The experience I had in Jamaica planted the seed, I loved it. As a relay team we did ok. We didn't make the final which was always a big ask, but we competed with distinction and represented our county with dignity.
It whetted my appetite for more, I watched a 16-year-old called Usain Bolt ignite a stadium and also a country, this was amazing and I wanted more. At that moment I decided I would give up the GAA at the end of the year and concentrate on athletics. Playing for Dublin would have to wait, for a few years anyway.
After Jamaica I came home, stuck the boots on and went out and played a game. I struggled, felt so unfit, which I couldn't get my head around. I just came back from the World Championships. I was fit, but not football fit. I found out about the difference the hard way, and there was a difference.
Fast forward 12 years, and I was running out for Ballinteer onto the same pitch I played my last game at back in 2002 - O'Toole Park. First round of the Dublin Senior Club Championship, a million miles away from the Bird's Nest Stadium in Beijing and Berlin's Olympic Stadium, and I was nervous!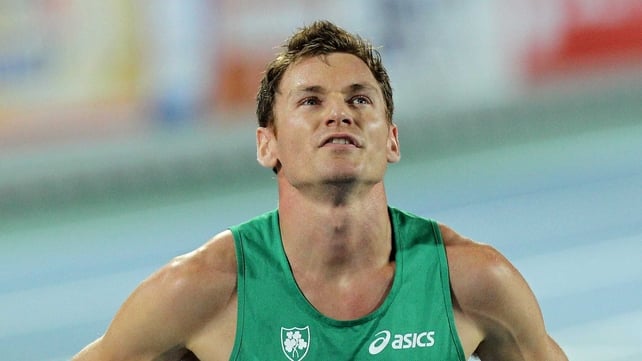 How did I get here? Well after returning home to Ballinteer, St John's asked me to help out training the team. My brother John was on the team and if it meant I could inflict pain on him, I'd do it. Before I knew it, I was running with them, kicking a ball and next of all I had a pair of boots on my feet and they felt comfortable.
We had a challenge game coming up and I said to the manager, "Throw me in for a bit for the craic."
He started me in midfield and didn't take me off. Baptism of fire! To my surprise I did well. I didn't score but fielded a lot of ball and played well.
I really enjoyed it and after being injured from athletics for two years I got a buzz that I hadn't had in a while. The next morning was a different story, I couldn't move. My body didn't know what had happened; I was so used to running in a straight line, no jumping, no running left or right and certainly no lads trying to smack you. I was nowhere near match fit, an hour of stop-go, stop-go was new to me and it hurt.
Coming from athletics, I have the ability to run efficiently and effectively which enables me to get around the pitch, plus explosively react and get to the ball first, the difference is GAA is very hamstring dominant.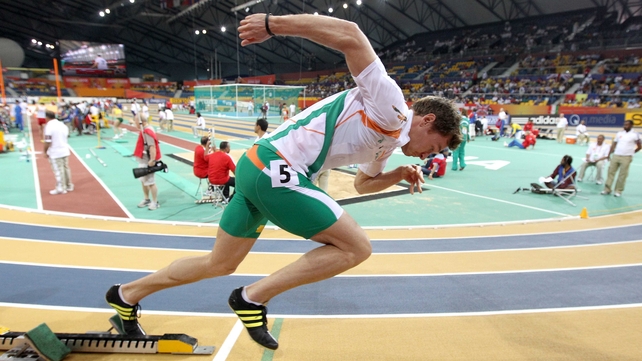 Bending down to pick the ball up and soloing the ball when you are already putting the hamstring under load as you run.
It's no surprise that hamstring injuries are amongst the three most common in GAA along with hips and knees.
What I have noticed is a lot of players are hitting the gym and focusing on what I call beach weights. Getting the big arms and forgetting about anything below the waist. Being top heavy has a profound effect on the lower limbs when jumping and turning at pace on the pitch, it's almost like an upside down triangle - unstable!
The game had changed since I last played it, much faster and a lot more hand passing and possession. Plus I definitely forgot how big a GAA pitch was, therefore the strength and conditioning aspect to the game is important.
Athletics is at the forefront of these aspects and running is the base for a lot of field games, and speed is a great asset to have on the pitch.  I have a lot of work to do on some of these along with kicking a few scores before Jim Gavin gives me a call but as Bernard Brogan said "he likes a man with speed" so you never know! I'll take the number eight jersey in a medium, I like it tight.
At club level, one of the big issues is getting everyone out for training; it tends to be the same lads turning up. Coming from athletics I find this odd, even at club level. I think athletes understand the value of training and preparation, the ability of having a structured training programme, knowing when to really up it and when to relax, and believing that what you put in is what you get out.
Team sports can provide the right cover for one or two lads to be hiding and reap the rewards without really pushing themselves. In athletics you would be found out fast. There is always a measure against a time, a height or a distance. An athlete's mentality is always focused on both for training and racing. You reap what you sow.
It was new and refreshing, a challenge and having 14 other lads around you as a team was something I hadn't experienced in years.
I still love athletics and when it goes well you as an individual take all the plaudits, but this was different, my local team and winning the first round of the Dublin championship that sunny evening in O'Toole park against O'Tooles, it doesn't matter how many are there watching, it's the way it makes you feel inside, and that evening I was smiling.