Ireland's Paul Pollock has finished 21st behind Uganda's Olympic champion Stephen Kiprotich in the marathon at the World Championships in Moscow.
Kiprotich, the surprise winner at last year's London Games, became the first non-Kenyan to win the title since 2005 when he crossed the line in two hours nine minutes 51 seconds.
Ethiopia's Boston marathon winner Lelisa Desisa was second in 2:10:12 and compatriot Tadese Tola took third a further 11 seconds back on a warm sunny day in the Russian capital.
On his debut in the competition, Pollock finished just shy of his personal best with a time of 2:16:42.
Of the European contingent, only Spain's Javier Guerra finished ahead of the Holywood athlete.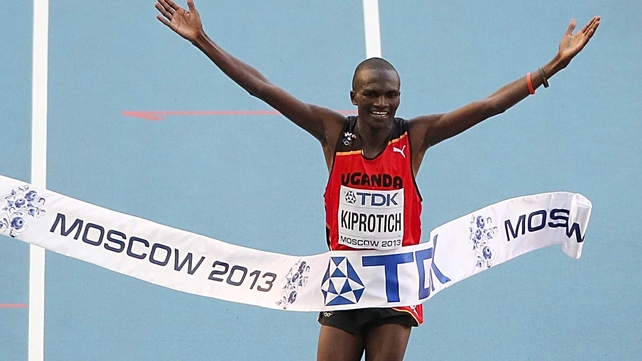 "It was a very hard race, but I definitely think there's a lot more there, running in temperatures of 30 degrees can add a couple of minutes to your time," Pollock, who will put his career in medicine on hold until the 2016 Rio de Janeiro Olympics, said.
"The plan was to run the first half conservatively, go through in about 66, 67 minutes.
"I went through in about 67:45, felt fairly comfortable. I was pouring water over myself all the way, but I coped okay with the conditions.
"Myself and my coach thought we could be top 10 coming in, but that was unrealistic looking now at all the Africans up front.
"21st and second European though, I have to be happy with that. It's a step in the right direction."
Peter Some in ninth was the first Kenyan finisher for a team that was missing two-time world champion Abel Kirui through injury.