Rob Heffernan has become Ireland's third ever World Athletics Championships gold medal winner following his victory in the 50km walk this morning.
The Irish athlete pulled clear of second-placed Mikhail Ryzhov shortly after the 40km mark and never looked in danger of relinquishing the lead in the closing stages.
Heffernan finished over a minute clear of the silver medal and his winning time of 3:37.56 was the world's leading time this year.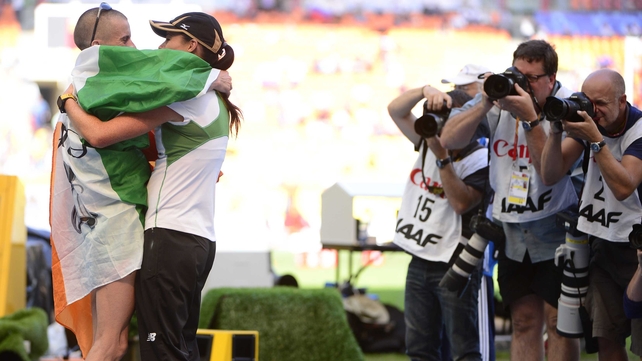 The Cork man's victory is Ireland's first gold medal at the World Championships since Sonia O'Sullivan's 5,000m victory in 1995. Ireland's only other world gold went to Eamonn Coghlan. He took gold in the 5,000m in Helsinki exactly 30 years ago - on 14 August 1983.
After a composed start, Heffernan was with the leading pack at the halfway mark and, when that group broke up, he went toe-to-toe with Ryzhov.
The 35-year-old, who was one warning away from disqualification, held his nerve and saw off the home favourite with an eventual 62-second margin.
"It's surreal, it's just a great feeling," Heffernan said. "When I came into the stadium it just felt like an out of body experience. It's hard to take it all in at the moment. I'm delighted."
"I felt as if I was watching myself on the outside, looking at myself on the big screen and thinking, 'This fella looks good'."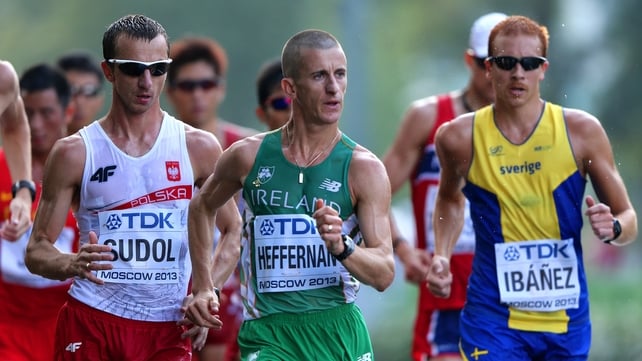 He added: "I knew I was motivated. People go on about medals, for the last 11 years I've been motivated and challenging for a medal. For some reason or other I hadn't won one.
"I was prepared for everything coming into it. I stayed thoroughly motivated this year after London when a lot of people take their foot off the gas.
"I was very conscious of training hard and I had to be more motivated, because there was less hype for the World Champs. I was prepared for that mentally."
Ireland's other competitor in the race, Brendan Boyce, recorded a personal best time of 3:54.24 to finish 25th.
Heffernan finished an agonising fourth at the London Olympics last summer and also recorded fourth-placed finishes over 20km and 50km at the 2010 European Championships.
However, he now becomes just the third Irish athlete to win World Championship gold, after Coghlan and O'Sullivan.
Ireland's other World Championships medals were won when Olive Loughnane won silver in the 20km walk in Berlin in 2009, Gillian O'Sullivan also took silver in the 20km walk in 2003, while Sonia O'Sullivan won silver in 1993 in the 1500m.