Ethiopia's Tirunesh Dibaba bided her time before letting loose on the final lap with an awesome display of speed to complete a hat-trick of world championship 10,000m titles on Sunday.
Olympic champion Dibaba who is now unbeaten in her 11 outings over the distance won in 30:43.35.
Kenya's Gladys Cherono was second in 30:45.17 and fast-finishing Ethiopian Belaynesh Oljira pipped Emily Chebet for bronze in 30:46.98.
Arguably the greatest women's distance runner, Dibaba also won the 10,000 in 2007 and did the distance double at the 2005 worlds.
Long-time race leader Hitomi Niiya of Japan bravely pushed the pace as lightning flashed over the Luzhniki stadium and heavy rain began to fall.
Her Herculean efforts had whittled the leading group down to herself and the four Africans at the bell, but Niiya was no match for Dibaba in full flow and she was left trailing home in a distant fifth.
Eaton secures decathlon title
American Ashton Eaton cemented his position as the world's greatest athlete when he won the world decathlon title, completing a spectacular hat-trick having won Olympic gold and broken the world record last year.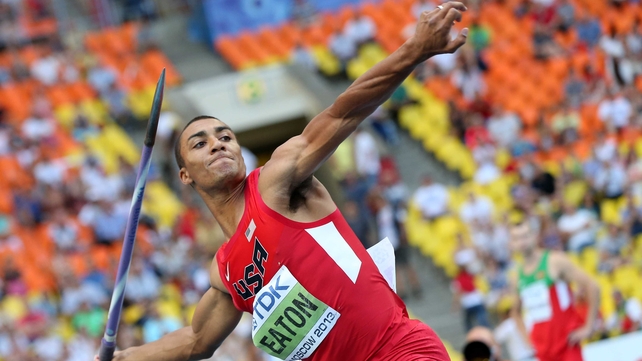 Eaton led from the first event on Saturday morning when he laid down a marker with a 10.35seconds 100 metres, completing the first day with the fastest 400m ever run in a decathlon world championships having been given a dressing down by his coach after "lacking motivation."
He poured on the pressure on Sunday with impressive performances in the pole vault and javelin opened a virtually unassailable lead and he made no mistake in the 1,500m finale to triumph with 8,809 points,
Germany's Michael Schrader took silver with 8,670 while Canadian Damian Warner of Canada got bronze with 8,512 - both personal best tallies.
"I needed that third javelin throw to secure a solid victory I think," Eaton said after he had been heavily pressured by Schrader in the penultimate event.
"They're all great competitors and when you come across that finish line it's nothing but friends and accomplishments.
"I can just relax now, there's certainly no thought of retirement, maybe I can just keep trying to improve and maybe score 9,000 points again."
The second day's action began in a surreal atmosphere with just a few hundred fans dotted around the vast 81,000-capacity stadium.
Reese creates long jump history
Brittney Reese unleashed the beast in one giant leap to become the first woman to win three long jump titles at the world championships on Sunday.
Reese, gold medallist in 2009 and 2011, had scraped into the final on countback after a below-par showing in Saturday's qualifying but the American, known as the 'long jump beast', had no intention of losing her crown.
After opening with a foul, the American rose to the occasion with a leap of 7.01 metres, which was enough to secure victory and ensure she went one better than long jump greats Heike Drechsler, Jackie Joyner-Kersee and Fiona May who all won two world titles.
"Right now it feels good. I'm in the history books because I've done something nobody's ever done," the 26-year-old told reporters.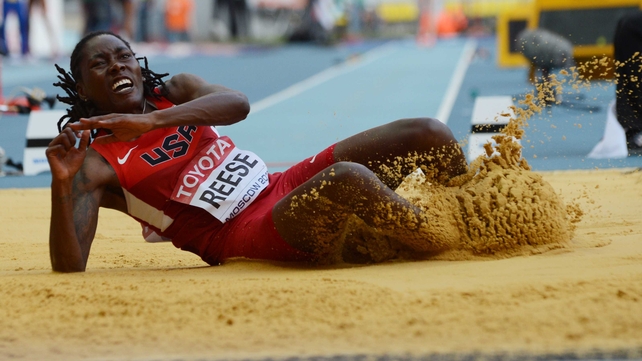 "I'm just excited I got the last spot yesterday to show the world that was not the Brittney Reese they know and today was.
"I feel really blessed that I finally surpassed people like that and I've got my own place in the history books now."
Reese pulled off the only seven-metre jump of the competition and left Nigeria's Blessing Okagbare, who briefly led in the first round with 6.89 and later improved to 6.99 on her penultimate effort, with silver.
Serbia's Ivana Spanovic was third with a national record 6.82 metres on countback from Belarussian Volha Sudarava.
Before celebrating, Olympic champion Reese put on a t-shirt bearing the words 'unleash the beast', hugged Okagbare and then holding the Stars and Stripes flag, posed for photographers.
"This is my 'Team Reese' shirt," she said pointing at the words printed on her white top.
"On the back it says 'unleash the beast'. That's my nickname 'the long jump beast' I put that on my Facebook, 'unleash the beast' - people love it and I love it."
Before the world championships, Reese had said her plan was to nail the gold with her first jump having been called "the sixth-round knockout queen".
"It didn't go as planned," she said. "I thought that seven metres was going to hold and give me a medal... and I'm glad I didn't wait till the last minute and give everybody a scare."
Perkovic crowned discus queen
Croatian Sandra Perkovic went into the world championships as one of the hottest favourites in Moscow and duly delivered on Sunday as her 67.99 metre throw added the title to her Olympic gold of last year.
Perkovic, who missed the last world championships through a doping ban, had the four longest throws of the year to her name before Moscow and her nearest challenger, China's Siyu Gu, then failed to make the final.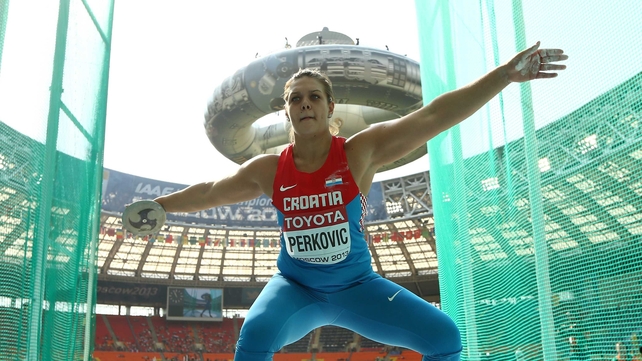 The Croat took that tally to five with her second-round throw of 67.99 and was never seriously threatened.
Melina Robert-Michon won her first major medal 15 years after finishing second in the world juniors as the 34-year-old Frenchwoman took silver with a national record 66.28, half a metre beyond her previous best.
Cuban Yarelys Barrios threw 64.96 to add another bronze to her collection.