Brendan Boyce won the 10,000m walk at the Woodie's DIY Senior Championships at Morton Stadium today in superb fashion.
Robert Heffernan may have been missing from the walk, but his presence was still felt as Boyce (Letterkenny AC) powered his way to victory in a time of 42:40.19, a new personal best by 14 seconds.
Chasing him home was Luke Hickey (Leevale AC) in 43:34.61, well inside his previous best of 44:18. Both athletes are coached by Heffernan in Cork.
McCullough takes hammer title
Conor McCullough (Crusaders AC) produced three throws over 70m to win the men's hammer competition with his best effort measured at 70.75m.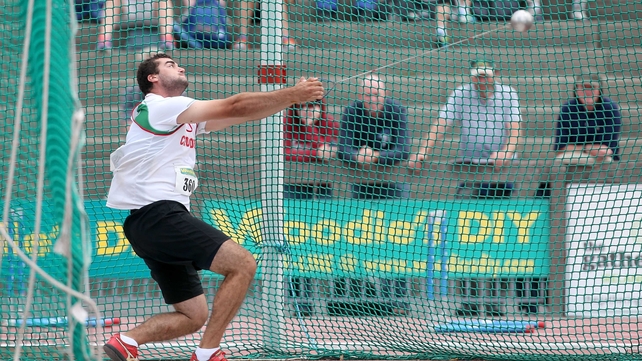 Fahey secures long jump glory
Eamon Fahey (Donore Harriers) won the long jump with a jump of 7.20m, a big improvement on his previous best of 7.09m.
Barr family dominate the 400m hurdles
The men's 400m hurdles was a thriller as Thomas Barr (Ferrybank AC) and Jason Harvey (Crusaders AC) rose to the last hurdle together.
The run to the line was epic as Barr just managed to edge ahead to win in an excellent time of 49.78 to Harvey's 50.13.
Jessie Barr (Ferrybank AC) kept the gold in the family when she won the women's 400m hurdles in 57.48, with Nessa Millett (St Abban's AC) in third setting a new Irish junior record with a time of 59.00 to improve on the 59.45 of Fiona Norwood in 1997.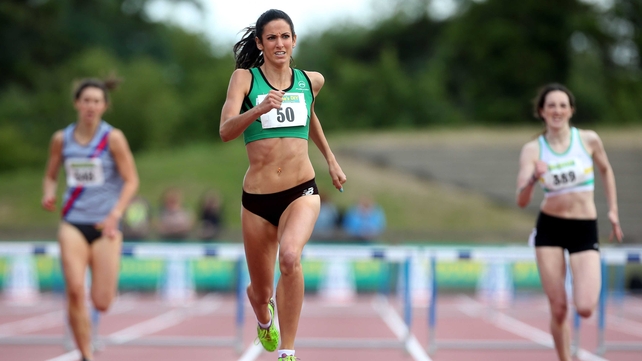 Fitzgerald comes out on top in the shot
Clare Fitzgerald (Tralee Harriers) had a throw of 13.33m to win the shot and add to yesterday's discus win and javelin bronze.
Crossey and Robinson take 800m titles
Junior athlete Aislinn Crossey (Newry AC) was a good winner of the women's 800m in 2:07.49, with another junior Alanna Lally (Galway City Harriers) a close second in 2:08.12.
Pre-race favourite Paul Robinson (St. Coca's AC) timed his race to perfection to win the 800m in a time of 1:48.92.
Donegan still the best in the pole vault
David Donegan (Clonliffe Harriers) successfully retained his pole vault title with a clearance of 4.65m.
Lavin and Carey take 100m hurdles golds
European junior silver medallist Sarah Lavin (Emerald AC) was foot perfect as she added the senior 100m hurdles title to her medal collection in a time of 13.61. Tom Carey (Shaftsbury Harriers) won the men's 110m hurdles in 14.77.
Murphy defeats English in men's 400m
Brian Murphy (Crusaders AC) retained his 400m title in a time of 47.14, but he had to fight all the way to the line as Mark English (UCD AC) matched him stride for stride all the way down the home stretch for second in 47.27, well inside his previous best of 47.56.
It was a successful weekend for the Murphy family as sister Deirdre (Leevale AC) flew in from Boston on Friday and won silver in the discus.
Carey on song in women's 400m
Jennifer Carey (Dundrum South Dublin AC) won the women's 400m in 53.46 from club-mate Sinead Denny in 54.04.
Double women's 100m gold for Proper
Kelly Proper (Ferrybank AC) made it a highly successful weekend when she stormed to victory in the 100m in a time of 11.78 from Ailis McSweeney (Leevale AC) who was second in 11.88. Proper also won gold when Ferrybank won the 4x100m relay.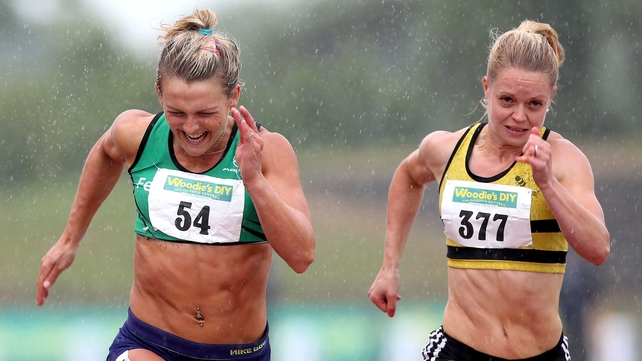 Hynes holds off Colvert in men's 100m
The men's 100m was a much closer affair as David Hynes (Menapians AC) successfully held off the strong finish of Steven Colvert (Crusaders AC) to win in 10.64, just two hundredths clear of his rival.
Corcoran edges 3,000m glory
The heavens opened during the men's 3,000m with the runners absolutely drenched as they finished. The result couldn't have been closer as Andrew Corcoran (Star of the Sea AC) just got the victory in 9:11.40, the exact same time as Mitchell Byrne (Rathfarnham WSAF AC) in second.
Christie takes 5,000m with ease
Mark Christie (Mullingar Harriers) made a welcome return to the winner's enclosure when he cruised to victory in the 5,000m in a time of 14:07.18.
Crowe and Everard take 1,500m victories
Laura Crowe (An Riocht AC) won the 1,500m after a solo effort in a time of 4:13.96, but the men's race was a much closer affair as David McCarthy (West Waterford AC) took over the lead well before the bell, but could not shake off the close attentions of Eoin Everard (Kilkenny City Harriers) who overtook him close to the line to win in 3:44.58.