Fionnuala Britton finished 14th behind Emily Chebet of Kenya in today's World Cross-Country Championship in Bydgoszcz, Poland.
Britton, the two-time European champion, raced prominently from an early stage, even taking the field along for a period. But when the race began in earnest, the Kilcoole AC athlete was unable to maintain her position.
After falling outside of the top ten, she worked hard to try and get back with the leaders but was unable to break the African stranglehold on the race.
Emily Chebet, who also won gold when the championships were last held in Bydgoszcz in 2010, produced a very strong late run to reel in Hiwot Ayalew of Ethiopia, who tried to steal the race by breaking from the field a long way from the finish.
But Chebet was full of running as the tape loomed, and Ayalew had no answer to the finishing kick. The winner stopped the clock in a time of 24m24s, with Ayalew second and the runner-up's compatriot Belaynesh Oljira back in third.
Speaking to RTÉ after the race, Fionnuala Britton was unable to hide her disappointment.
"I suppose my immediate reaction would be disappointment," she admitted. "I put myself in a good position at the start and I couldn't hang on to it, which was kinda disappointing. But I think we ran well as a team and definitely think we justified being sent.
"Probably the [finishing] position [disappointed most] because I don't feel like I gave up in it - I just didn't have it. I was stuck in the same pace and couldn't get going again.
"I suppose you'd have to go back and think about it afterwards, but you know when you cross the line the first thing you wish is that you were further up in the positions, because that's what cross-country is all about.
"It's about where you come in the places – it doesn't matter about times, it doesn't matter about who was in front of you or who was behind you, it just matters who you can beat on the day. And when you don't beat as many people as you want to beat on the day you're going to be disappointed.
"When they started to pull away, I was like 'okay, I can't panic now, I just need to pick people off' but I was struggling to pick people off and when you passed one person, they'd pass you back again.
"And I think that's the way the course was. There were parts that suited people at different times, and sometimes you could be caught out.
"Someone would slide around the corner in front of you and you'd nearly have to take a step back to get by them.
"It was difficult, but I still think it was a nice course. Every course is fair because we're all running on the same course. This is what cross-country is and I don't think it should be easier than this. I like it like that."
"I don't feel like I gave up in it - I just didn't have it. I was stuck in the same pace and couldn't get going again" - Fionnuala Britton
The Irish team took fifth place behind Kenya, Ethiopia, Bahrain and USA, confirming its status as the leading European team.
"That's brilliant," added Britton. "We knew coming here, as European Champions, we wanted to be able to say that we could be a top European team.
"But we can also look at it realistically and say, in December we won on count-back, so it all depends on what happens on the day.
"It's not like we were way out in front of any other [European] teams, so to be able to prove it again I suppose yeah [it was brilliant]."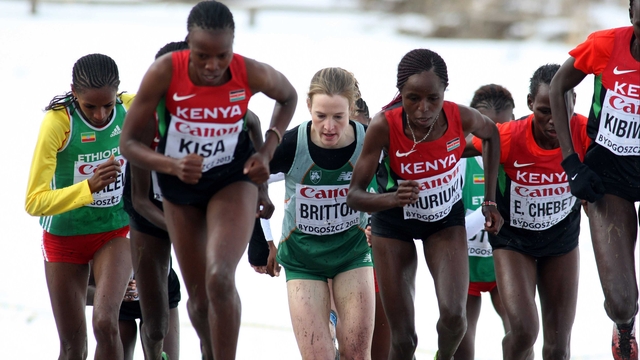 Her coach, Chris Jones, added: "She set out to execute a plan and for the first part of the two laps she was going to try and be there.
"She knew the critical moment was coming off the hill, and you could see by the time she was coming down the hill, she was just struggling to stay with the pace, which was constantly putting her under pressure to chase and get back on.
"It's a world cross-country and when they started to ramp up the speed, she was left a little bit wanting. I think that's where it was at.
"I thought she looked a little bit flat today – I don't think she looked quite as bouncy as she normally does."