The Poetry Programme Saturday 24 December 2016
Olivia O'Leary explores the diverse and vibrant world of poets and poetry in The Poetry Programme on Sundays at 7:30 pm.
You can contact the Poetry Programme by emailing poetry@rte.ie, tweeting @PoetryProgRTE, or on our Facebook page www.facebook.com/RTEPoetryProgramme.
The spring 2020 series of the Poetry Programme has now ended. The programme will return for a new series in the autumn.
You can also listen back to all previous programmes in the Programme Archive (see above right).
The Poetry Programme: For everyone who loves poetry. And those who just don't know it yet.
A Rockfinch production for RTÉ.
Series Producer: Claire Cunningham. Researcher: Adam Wyeth. Executive Producer for RTÉ: Elizabeth Laragy
The Poetry Programme, Saturday 24th December
The Poetry Programme joins members of the Irish Literary Society in London to explore that city's influence on Irish poetry. A special, one-hour programme at 7pm on Christmas Eve.
Our guests on our one-hour special are:
Bernard O'Donoghue, poet, literary critic and President of the Irish Literary Society.
Roy Foster, historian , Vice-president of the ILS and author of a widely acclaimed biography of William Butler Yeats.
Martina Evans, poet, novelist and teacher. Her most recent collection, The Windows of Graceland, New & Selected Poems, was published by Carcanet in May 2016.
Declan Ryan, poetry editor at Ambit. He also teaches at King's College London.
He was named one of the Faber New Poets in 2014.
Siobhán Campbell, poet, critic and lecturer. She is the author of five works of poetry and co-editor of a recently-published book of essays on the work of Eavan Boland.
Cahal Dallat's poetry has been widely published in journals and anthologies. As well as being a poet, he is a critic and musician.
In addition to hearing work by the poets taking part in the programme, there's a wide range of readings from right through the past century, including work by Yeats, Tynan, MacNeice, Clarke, Boland and many more.
And even some button accordion.
Some photos from the recording of the Poetry Programme in London as guests of the Irish Literary Society.
Poet and musician Cahal Dallat , poet Siobhán Campbell and reader Donal Cox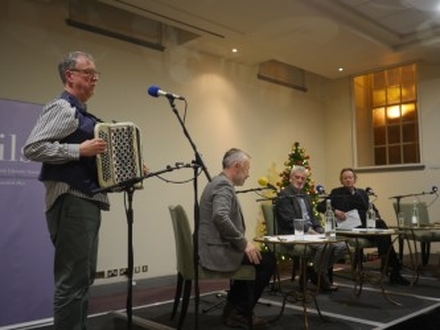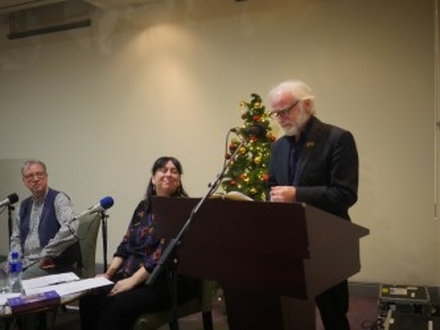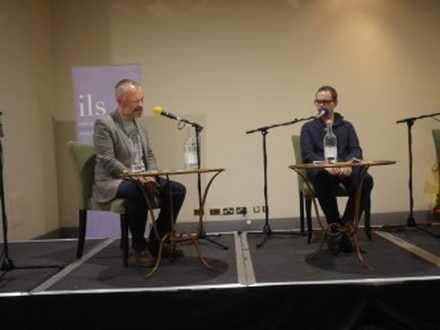 About The Show
Olivia O'Leary explores the diverse and vibrant world of poets and poetry. A Rockfinch production for RTÉ.