The Poetry Programme Monday 1 June 2020
Olivia O'Leary explores the diverse and vibrant world of poets and poetry in The Poetry Programme on Sundays at 7:30 pm.
You can contact the Poetry Programme by emailing poetry@rte.ie, tweeting @PoetryProgRTE, or on our Facebook page www.facebook.com/RTEPoetryProgramme.
The autumn series of the Poetry Programme will begin on Sunday 11th October at 7:30 pm on RTÉ Radio 1.
You can also listen back to all previous programmes in the Programme Archive (see above right).
The Poetry Programme: For everyone who loves poetry. And those who just don't know it yet.
A Rockfinch production for RTÉ.
Series Producer: Claire Cunningham. Researcher: Adam Wyeth. Executive Producer for RTÉ: Elizabeth Laragy
The Poetry Programme, Poems in a Pandemic. Monday 1st June
Poems in a Pandemic: a Poetry Programme Special, presented by Olivia O'Leary,brings us a selection of poems responding to the Covid 19 crisis.
Jessica Traynor reads her new poem Banana Bread. Steve Denehan reads Into the Third Week, and his eight-year-old daughter, Robin, her poem The World is Empty Now. Keith Payne's poem is Lucy's work took her as far…
In Thomas F Walsh's poem, Just a Passing Thing, his experience of cocooning brings to mind a childhood memory, while in Jailbreak Trish Bennett describes her mother's urge to rebel against cocooning.
Kerry Hardie's poem, News from Ireland, 1348, The Black Death, evokes a pandemic from centuries ago, while Eiléan Ní Chuilleanáin describes a more recent outbreak of disease in her poem The Polio Epidemic, from her 2009 collection The Sun-fish, published by The Gallery Press.
Adam Wyeth's poem, First Weeks of Lockdown, is a diary of recent events. In his poem, More Than Ever, Mark Roper looks to the changes in nature in spring, while Paddy Bushe spots an unusual work of art on the beach in Corona Sculpture.
Owodunni Mustapha's poem, My Happy Place, reflects the comfort we find with our loved ones, while Jane Clarke in First Earlies and Enda Wyley in Through the Window remember some of those we have lost.
The programme ends with On a Quiet Day in the Future by Peter Sirr.
A number of the poems in the programme are available on the www.pendemic.ie website or are part of the Write Where We Are Now project: https://www2.mmu.ac.uk/write/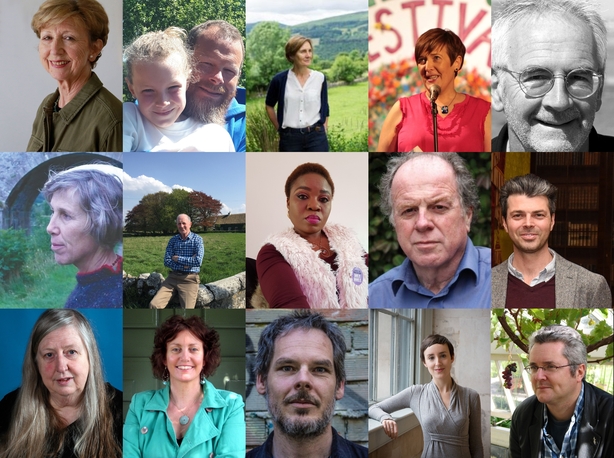 Top row l-r: Olivia O'Leary, Steve Denehan and Robin Denehan, Jane Clarke, Trish Bennett, Mark Roper
Middle row: Kerry Hardie, Thomas F Walsh, Owodunni Mustapha, Paddy Bushe, Adam Wyeth
Bottom row: Eiléan Ní Chuilleanáin, Enda Wyley, Keith Payne, Jessica Traynor, Peter Sirr
The Poetry Programme is available to listen back to after broadcast on the RTÉ radio player.
The Poetry Programme is a Rockfinch production for RTÉ. This episode was produced by Claire Cunningham and Julien Clancy.
About The Show
Olivia O'Leary explores the diverse and vibrant world of poets and poetry. A Rockfinch production for RTÉ.