The Poetry Programme Tuesday 25 December 2018
Olivia O'Leary explores the diverse and vibrant world of poets and poetry in The Poetry Programme on Sundays at 7:30 pm.
The Poetry Programme is currently off air and will return with a new series in the spring of 2019. Date to be confirmed.
Until then, our previous shows are available to listen back to in the archive. (Top right.)
You can contact the Poetry Programme by emailing poetry@rte.ie, tweeting @PoetryProgRTE, or on our Facebook page www.facebook.com/RTEPoetryProgramme.
You can also listen back to all previous programmes in the Programme Archive (see above right).
The Poetry Programme: For everyone who loves poetry. And those who just don't know it yet.
A Rockfinch production for RTÉ.
Series Producer: Claire Cunningham. Executive Producer for RTÉ: Elizabeth Laragy
The Poetry Programme Christmas Day Special 2018
At 5pm on Christmas Day Olivia O'Leary presents an hour-long, festive Poetry Programme, produced in association with Poetry Ireland and recorded in the magnificent ballroom of Farmleigh House, the official Irish State guest house managed by the Office of Public Works.
Olivia's guests are poets Colette Bryce and Billy Ramsell, psychologist Ian Robertson, and actors Andrew Bennett and Cathy Belton, while music is provided by singer Eimear Quinn and guitarist Robbie Overson.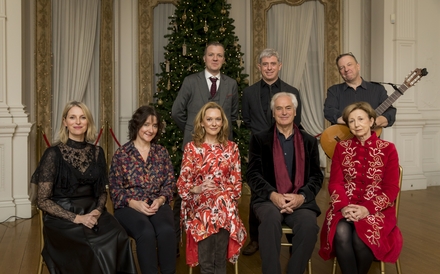 Back row, left to right: Billy Ramsell, Andrew Bennett, Robbie Overson
Front row, left to right: Eimear Quinn, Colette Bryce, Cathy Belton, Ian Robertson, Olivia O'Leary
Derry-born poet Colette Bryce reads her poem 'Woman and Turkey', the first poem she ever published, which compares the clammy skin of the turkey to touching a dead bishop. Not for the faint-hearted!
Cork poet Billy Ramsell recalls spotting an otter in the River Lee on Christmas Day, and celebrates the Christmas goodwill he and his wife experienced on their first Christmas in their new house.
Glasgow-born psychologist Ian Robertson is the perfect choice to deliver a powerful reading of the poem 'Trio' by the former Scottish National Poet Edwin Morgan.
Actors Cathy Belton and Andrew Bennett read a selection of Christmas-related poems, including six that remember poets we have lost over the past year: Matthew Sweeney, Richard Murphy, Macdara Woods, Philip Casey, Liam Ó Muirthile and Marie Cadden.
Eimear Quinn, accompanied by guitarist Robbie Overson, sings 'Winter, Fire and Snow', Brendan Graham's setting of a Macdara Woods poem, thrilling the audience with her pure voice.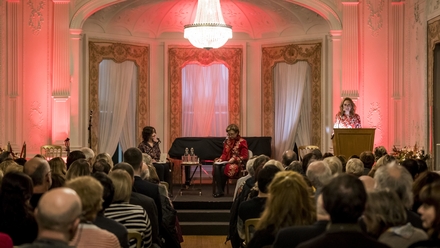 Colette Bryce, Olivia O'Leary & Cathy Belton
The programme is available to listen back to on the RTÉ Radio Player.
CREDIT for all photos: Tristan Hutchinson
About The Show
Olivia O'Leary explores the diverse and vibrant world of poets and poetry. A Rockfinch production for RTÉ.